As the world's movers and shakers convene in Hangzhou for the G20 summit come September, they will likely find themselves far less familiar with the city than with others in China, such as Beijing and Shanghai, where most major political and economic forums are usually held.
This, however, gives them the perfect opportunity to explore and experience a new Chinese city afresh – one with a distinctly different feel and flavour from all others.
Hangzhou goes by many names. It is one of China's eight ancient capitals. It is known as the country's most romantic city as well as the oriental leisure capital. It has been called China's Silk City as well as China's Silicon Valley. Marco Polo called it the world's finest city; Yuan dynasty poet Yang Chaoying went as far as to liken it to paradise.
But does the city really live up to its many names? We check out the many different facets of the city – its rich culture, natural beauty, infectious energy – and leave you to decide.
The scenic West Lake is a place of legends, the most famous being the Legend of the White Snake.

The Broken Bridge, where Bai Suzhen and Xu Xian met, according to legend.

Leifeng Pagoda, where the snake spirit Bai Suzhen the snake spirit was trapped for decades.

People enjoy a boat trip out on the West Lake.

Hefang Street is also featured in the Legend of the White Snake.

It is the city's most popular snack street.

A shop sells tofu pudding along Hefang Street.

Statues on the street depict life in ancient Hangzhou.
WHAT TO SEE
Hangzhou is a place of legends, mostly tragic romances set around the West Lake (or Xihu in Chinese), a vast freshwater lake in the city centre, surrounded by temples, pagodas and gardens against a mountainous backdrop.
The most famous of these is the Legend of the White Snake, one of China's four great folktales. The legend tells the love story between Bai Suzhen, a snake spirit, and Xu Xian, a humble, impoverished scholar, who meet and fall in love on the Broken Bridge on the West Lake.
However, Fa Hai, a jealous turtle-spirit-turned-monk, creates trouble for the unlikely couple, imprisoning the White Snake in Leifeng Pagoda after a fierce battle. Bai Suzhen regains freedom only decades later after the pagoda collapses.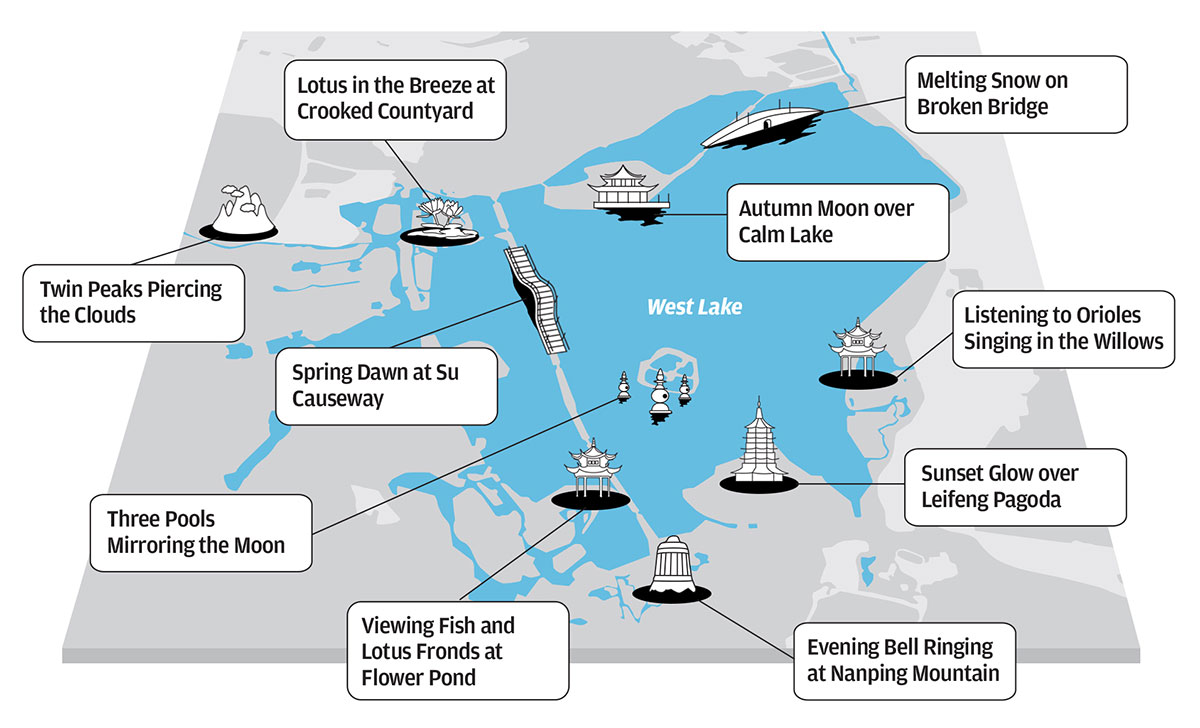 Today, the Broken Bridge and Leifeng Pagoda are among the top 10 scenic spots around the West Lake, each marked by a four-word epithet written by the Qianlong Emperor during the Qing dynasty (1644-1911). The lake itself is a Unesco world heritage site for its exceptional blend of natural beauty and cultural relics.
Also famed as a setting in the Legend of the White Snake is Hefang Street, one of ancient Hangzhou's best-preserved urban areas and the most popular among the city's many snack streets today. According to the legend, Xu Xian worked as an apprentice at the Baohe Tang pharmacy along the street. A copper statue of Xu Xian stands outside the shop, depicting the scholar holding an umbrella and heading towards the West Lake to meet his lover. Tourists throng the street daily to try its traditional local snacks.
For souvenirs, the Silk Market Silk Market
杭州中国丝绸城 Entry at corner of West Jiankang Road and Fengqi Road, Xiacheng
下城区 西健康路(南起凤起路,北至体育馆路) +86 571-85100192 (larger map)is one popular attraction. Hangzhou is known as China's Silk City, having been a silk production centre since the Qing dynasty, with the Qiantang River area a natural habitat for silkworms. It produces more than 200 types of silk of excellent quality, including satin, which are exported to more than 100 countries around the world. The Silk Market – China's biggest silk wholesale and retail market boasting over 600 shops – sells a wide range of silk products, such as pure silk fabric, ready-made cheongsams, scarves, ties, parasols and more.
Hangzhou is also known for its tea. Its Xihu Longjing tea (literally West Lake Dragon Well Tea) is considered the very best among China's top 10 famous teas. The Longjing tea is a variety of pan-roasted green tea from the village of Longjing near Hangzhou. The most authentic variety is thought to be grown within the West Lake area. The best varieties of the tea, which are produced entirely by hand, have a unique green colour, light, calming aroma, and a mellow sweetness that lingers even minutes after a sip. We attend a tea-brewing session at Duibai Tea House Duibai Tea House
对白茶舍 256-1 Manjuelong Road, Xihu
西湖区满觉陇路256-1号) +86 156 5881 7772 (larger map), one of the tea houses close to the Longjing tea fields.
Hangzhou also has a flourishing arts scene. The city has always been the cradle of Chinese calligraphy and ink art, its picturesque scenery a favourite spot for China's landscape painters. It is home to the country's top art university, the China Academy of Art China Academy of Art
中国美术学院 218 Nanshan Road, Shangcheng
上城区南山路218号 +86 571 8707 9585 (larger map), which was founded in 1928 to help make art replace religion. The academy is said to be so important to Hangzhou that the institute's president is higher in rank than the city's mayor.
Hangzhou boasts a fair number of museums that detail the founding of arts and culture in the city, the most popular among them are the China National Silk Museum China National Silk Museum
中国丝绸博物馆 73-1 Yuhuangshan Road, Xihu
西湖区玉皇山路73-1号 +86 571-8703 5223 (larger map) , the China National Tea Museum China National Tea Museum
中国茶叶博物馆 88 Longjing Road, Xihu
西湖区龙井路88号 +86 571 8796 4221 (larger map) and the Zhejiang Provincial Museum Zhejiang Provincial Museum
浙江省博物馆 25 Gushan Road, Xihu
西湖区孤山路25号 +86 571 8539 1628 (larger map) on the West Lake's Gushan Island, which carries a collection of antiques, calligraphy and painting from Chinese masters.
"There is inspiration aplenty [in Hangzhou] where intoxicating beauty and creativity can be found emanating from a pot of ink or a pot of tea."

– a South China Morning Post article on the city's arts scene
WHERE TO EAT
Song dynasty poet Su Shi, also known as Su Dongpo, once wrote that the world's best banquets undoubtedly served Hangzhou cuisine. "There is no city like Hangzhou that has such a prosperous dining environment," he wrote. Hangzhou food – a branch of one of China's eight great regional cuisines – is characterised by its lightness, freshness, soft flavour, mellow fragrance and delicate preparation methods. Ingredients are typically sourced from the city's main scenic spot, the West Lake.
Hangzhou's signature dishes include West Lake carp in vinegar gravy, shelled shrimp with Longjing tea, Dongpo pork, Beggar's Chicken and honey lotus root stuffed with glutinous rice. Each dish usually has a story behind how it was made or how it got its name.
West Lake carp in vinegar gravy

Shelled shrimp with Longjing tea

Dongpo pork

Beggar's Chicken

Honey lotus stuffed with glutinous rice

Top-grade Xihu Longjing tea

Fried eel and shrimp

Shan Wai Shan restaurant's famed fish head soup
Beggar's Chicken, for example, involves stuffing a whole chicken with fried pork and other ingredients and wrapping it in lotus leaves, soaking it in Shaoxing wine and then coating it with mud before roasting. When the chicken is done, the mud is cracked open and removed to reveal the tender, juicy chicken with a fresh lotus fragrance. The dish is said to have been developed based on beggars' methods of cooking fowl they had stolen from farmers.
The origins of West Lake carp in vinegar gravy can be traced back to a folktale involving two fishermen brothers, surnamed Song, who lived under the oppression of the local tyrant, Zhao. One day, Zhao killed the elder Song in order to satisfy his lustful desire for the latter's beautiful wife. After the widow and the younger Song failed to get a fair trial through a local magistrate, the woman advised her brother-in-law to leave Hangzhou to avoid further trouble with Zhao. Upon the younger Song's departure, the widow served him West Lake carp in vinegar gravy, saying: "This dish will remind you of the sweet and sour aspects of life. When you've found sweetness in your new life, don't forget the sour struggles that your brother and I have been through."
Dongpo pork, named after the Song dynasty poet, is prepared using Shaoxing wine to braise thin pieces of streaky pork in a sealed pot. The dish, when ready, produces moist, red pork with a thick, savoury sauce.
Many of the best places to sample traditional Hangzhou cuisine are located around the West Lake area. Among them are Lou Wai Lou Lou Wai Lou
楼外楼 30 Gushan Road, Xihu
西湖区孤山路30号 +86 571 8796 9682 (larger map) (tower beyond tower), a time-honoured restaurant whose history dates back to 1848, and Shan Wai Shan Shan Wai Shan
山外山菜馆 8 Yuquan Road, Xihu
西湖区玉泉路8号 +86 571 8799 5866 (larger map)(mountain beyond mountain), renowned for its fish head soup.
Locals are also fond of more affordable regional chains like Grandma's Home and Old Man's Fried Shrimp, which serve up their own popular creations of Hangzhou dishes. Zhi Wei Guan, founded in 1913, also offers local delicacies including snacks like shallot-stuffed pancake. If it isn't enough simply sampling Hangzhou cuisine, one can head to the China Hangzhou Cuisine Museum Chinese Hangzhou Cuisine Museum
中国杭帮菜博物馆 9 Fenghuangshan Road
凤凰山路9号 +86 571 8792 2227 (larger map) for a deeper understanding of the city's food culture.

The G20 light show along the banks of Qiantang River.
WHAT TO DO AT NIGHT
In the day, Hangzhou is bright, cheery and vibrant. Come nightfall, the city is every bit as dazzling as the skyline lights up along three major scenic spots: the West Lake, Grand Canal and Qiantang River. Tourists and residents alike take leisurely strolls in serene parks near these bodies of water, enjoying the sights and sounds. With the city all decked out for the G20 summit, the West Lake's upgraded music fountain and the G20 light show along the banks of Qiantang River add an extra shimmer to Hangzhou's splendid night scene.
Hangzhou's nightlife is testament to the ancient city's modernity. If sitting by the West Lake enjoying the music fountain or walking along Qiantang River marvelling at the light show isn't quite your cup of tea, the metropolis also offers a wide variety of lively dance clubs and watering holes. Shuguang Road and Nanshan Road are the most popular areas for live music and a beer or two. Performances range from Western jazz to Chinese folk music and are put on by local and foreign bands alike. We check out two bars, Eudora Station Eudora Station
亿多瑞站 101-7 Nanshan Road, Shangcheng
上城区南山路101-7号 +86 571 8791 4760 (larger map) and Jz Jazz Club Jz Jazz Club
黄楼爵士酒吧 6 Liuying Road, Shangcheng
上城区柳营路6号 +86 571 8539 1628 (larger map), along Nanshan Road.
THINGS TO NOTE
Weather
The climate in Hangzhou is generally warm and mild year round, with plenty of sunshine and rain. Spring, which starts in March, tends to be short and rainy. Hot, humid summer goes on from June to August, followed by a clear, cool autumn. Winter, which begins towards the end of November, is dry and chilly.
The four seasons in Hangzhou.

The four seasons in Hangzhou.

The four seasons in Hangzhou.

The four seasons in Hangzhou.
Tourist peak season occurs over spring (March to May) and autumn (September to November), when the average temperature is about 17 degrees Celsius. But in a typical year, the city sees on average more than 30 days of high temperatures (over 35 degrees), 15 days of heat waves (over 37 degrees) and more than 140 days of rain.
Many were surprised when the 2015 documentary Under The Dome revealed that Hangzhou – purportedly China's most beautiful city – saw more than 200 smoggy days a year. Local media confirmed that the city experienced 238 days of smog in 2013, with most of the air pollution coming from automobile emissions. But according to the city's latest annual environment report, the number of such days dropped to just over 120 last year.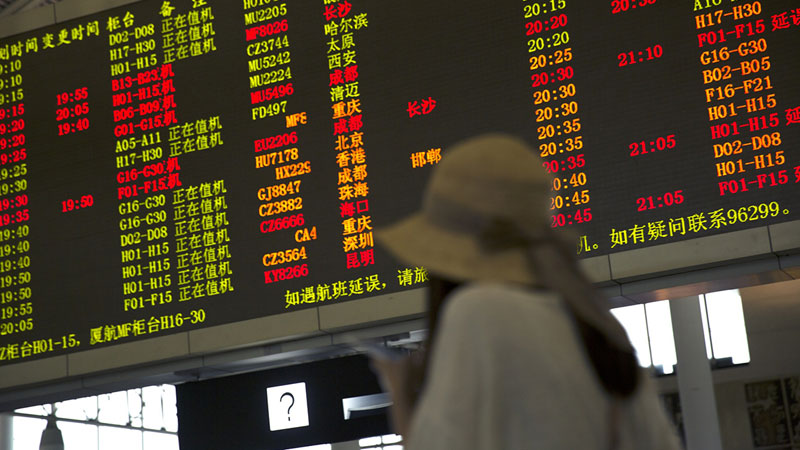 Traffic
In terms of traffic, Hangzhou ranked fourth among China's most congested cities in 2015, according to a report by mapping platform Gaode. It also experienced the longest traffic jams – more than six hours a day, totaling more than 1,600 hours a year – worse than Beijing and Shanghai, which ranked first and seventh respectively among the country's most congested cities.
The rankings weren't news to locals, though. In 2013, the local government said one in every three people in Hangzhou owned a car – the highest number among all other Chinese cities – resulting in its frequent traffic jams.