The world is waking up and taking action against plastic pollution as it continues to grow; some with policies to reduce the use of disposable plastic, and others with sustainable solutions to address plastic waste.
July 13, 2020
The world is finally in a panic over plastic waste, which is just as it should be.
The latest move – on March 1 – saw New York state, in the United States, introduce a total ban on retailers distributing single-use plastic bags.
In January, China – one of the world's biggest users of plastic – announced that the use of non-degradable plastic bags will be banned in its major cities by the end of this year and in all other cities and towns by 2022.
Thailand, which began the year with a ban on single-use plastic bags at major stores, aims to oversee a complete ban in 2021 to help reduce plastic waste polluting the sea.
Last May, the Malaysian government said it was sending back about 3,000 tonnes of waste that it had received for processing from nations including the United Kingdom, the US, Australia, Spain, Canada and Germany. "Malaysia will not be the   dumping ground of the world," Yeo Bee Yin, the country's environment minister, said.
So, what's causing this global frenzy? Why are authorities around the world now in damage-control mode?
Our planet's plastic pollution problem
The amount of plastic we have on Earth at present is staggering. Over eight billion tonnes of plastics have been produced since the 1950s, experts say.
Of these, 79 per cent has ended up either in landfills or the natural environment including the world's oceans, according to the UN Environment.
If this trend continues, our oceans could contain more plastic than fish by 2050.
The problem of plastic waste was especially jarring for Indonesian "ecopreneur" David Christian only in 2015 – when he returned to Jakarta after studying in Canada for four years at the Canadian College in Vancouver.
"If I hadn't left to live in an environment that's mostly clean – and seen with my own eyes that other world – I don't think I'd have even noticed the amount of trash in my home city," Christian, 27, says.
"I was so used to the surroundings; it was my norm for a long time."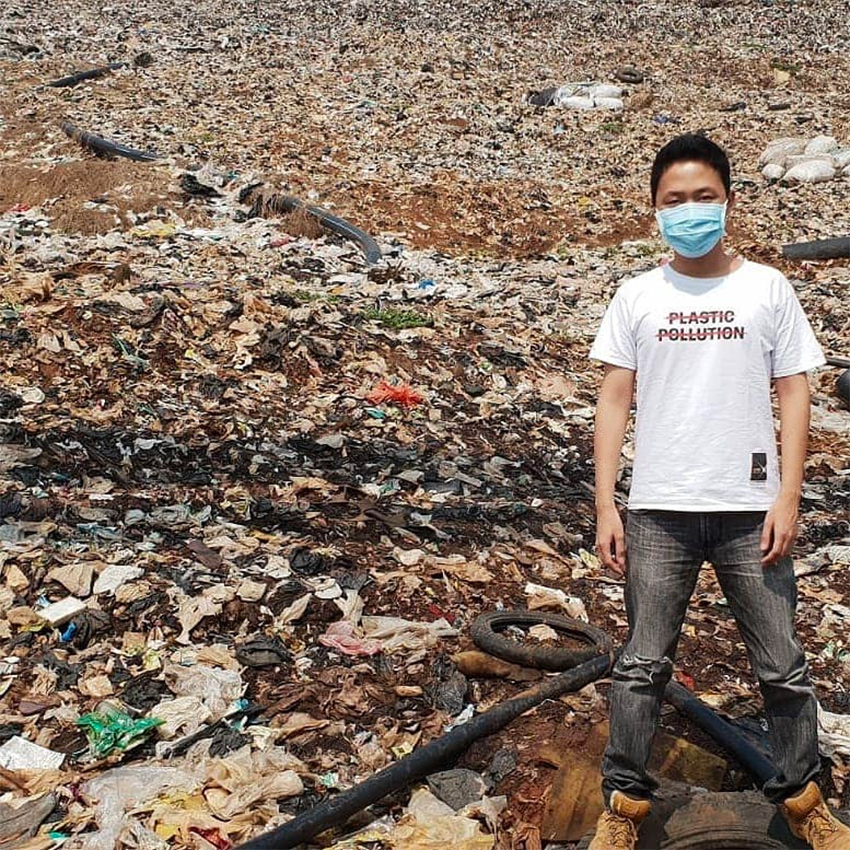 A huge part of the city's rubbish comprises plastic waste, says Christian, who was born in the Javanese city of Bandung, 140km (85 miles) southeast of Jakarta.
Yet that should surprise few people; Indonesia is the world's second-largest contributor of plastic waste in the world's oceans after China, according to a 2015 study by United States-based Jambeck Research Group.
If I hadn't left to live in an environment that's mostly clean – and seen with my own eyes that other world – I don't think I'd have even noticed the amount of trash in my home city
David Christian, co-founder, Evoware
In fact, about half of all of the plastic waste that ends up in the oceans comes from just five developing countries – China, Indonesia, the Philippines, Thailand and Vietnam – where rapid economic growth also meant higher consumption of plastic goods.
The issue becomes increasingly dire when some of the biggest producers and consumers of plastics are not managing their waste effectively. Plastic waste, which does not break down in the environment, gets ingested by marine animals, blocks waterways and causes flooding, and when burnt, releases harmful toxins and causes air pollution.
Christian was inspired to research the subject of plastic pollution, including how microplastics have already contaminated oceans, rivers and the creatures that live there and – much to his horror – are tainting much of what humans eat or drink.
I could not just ignore the problem. I knew I needed to do something – to try at the very least
David Christian
A recent global survey found that cigarette butts – which contain tiny plastic fibres in their filters – were the most common type of plastic waste found in the environment. This is followed by plastic drink bottles – one million are bought every minute around the world – bottle caps, food wrappers, grocery bags, drink lids, straws and stirrers.
"Previously, I wasn't aware, so I didn't care," he says. "But now that I am, I could not just ignore the problem. I knew I needed to do something – to try at the very least."