By the time the Skyluck had arrived in Hong Kong, its cargo of more than 2,600 refugees had been at sea for two weeks, surviving on little more than watery rice soup and hope. Getting food and medical care to them was a priority, and doctors from the Auxiliary Medical Services were dispatched to what the South China Morning Post described as the "battered and shabby" ship now moored in the West Lamma Channel, between Lamma and Cheung Chau islands.
Soon, the refugees on board had decorated the 105-metre-long Skyluck with signs, banners and painted messages proclaiming, "Life is precious, but freedom is more valuable"; "SOS. Please help us refugees from Vietnam. Thanks a lot"; "We are extremely hungry, but we need freedom more"; and "Food and Medicine save refugee lives".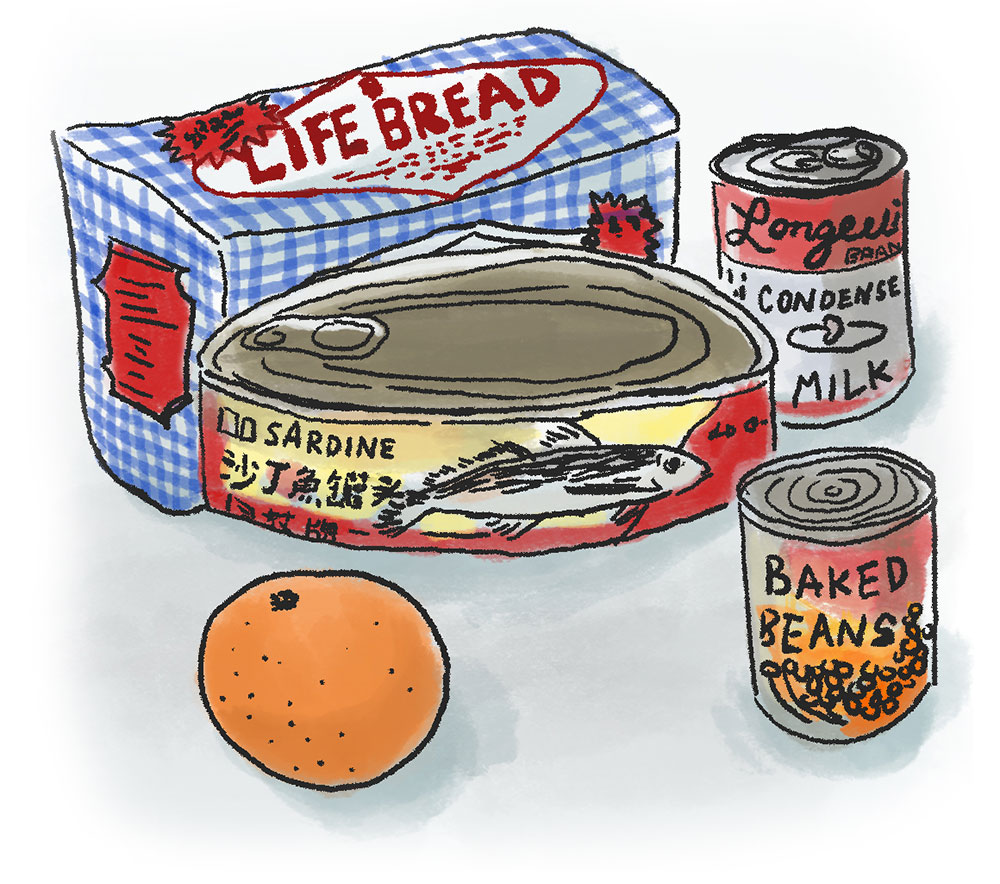 A pontoon was lashed to the ship to facilitate food delivery. Supplies were mostly canned and included sardines, pork luncheon meat, baked beans and condensed milk, as well as oranges, dry crackers and sliced bread. By the end of the day after the Skyluck's arrival, some 2.4 tonnes of provisions had been reported as delivered (by February 12, total supplies would top 13 tonnes, and be estimated to be costing Hong Kong HK$5 per refugee per day).
After that initial burst of activity, provisions were delivered to the pontoon every two days, to be distributed by the refugees themselves. Skyluck passenger Mai Tran, now aged 55, speaking from his home in Fort Collins, Colorado, in the United States, remembers, "Four people share a can of beans, four people share a can of ham, four share a can of condensed milk, two people share an orange, two or three pieces of bread per person, some crackers …"
The Skyluck passengers expected to be held on the ship for some days: it was standard procedure for boatpeople arriving in Hong Kong to be kept at anchorage for a week, effectively quarantined at sea. Due to the ship having entered the harbour illegally and covertly, thereby embarrassing those charged with keeping track of such arrivals, the refugees were informed, on February 9, 1979, that they would not be allowed to land any time soon.
While essentials would continue to be delivered, and the refugees' medical needs met, the Skyluck would be guarded around the clock by at least one police launch. And so began a stand-off that would last for the best part of five months – until, in late June, the frustrated refugees, their tempers fraying and patience stretched, would take matters into their own hands in the most swashbuckling fashion.
"It was a terrible life," Quan Tran, a 71-year-old survivor of the Skyluck's journey who eventually resettled in Maryland, in the US, says of their months held in maritime purgatory, adding that he, his wife and their four-year-old daughter and two-year-old son would be squeezed into an area "like a king bed; it was so small".
An instructor at Saigon's mechanical engineering school before being drafted into in the South Vietnamese army for two years of the Vietnam war, serving as a lieutenant, Quan Tran had chosen to escape the country of his birth to provide a better future for his family.
"We were like a big sardine can, with each one of us a sardine," he says, of life on board the Skyluck.
One highlight in each day was what Mai Tran – who was 16 while on the Skyluck and travelling with his 14-year-old sister – describes as "a kind of flea market" that sprang up on deck, testament to the Vietnamese and Chinese instincts for commercial enterprise, both of which had been repressed under the totalitarian regime at home.
"After we landed in Hong Kong, the food supply was pretty good. Bread, canned beans, milk, but some families would not need milk, while kids would need more milk, so we started exchanging food," recalls Andy Tran, now aged 60 (and 20 when he fled his homeland in 1979). Andy Tran resettled in San Jose, in California's Silicon Valley, with siblings and cousins also making new lives in the San Francisco Bay Area.
"'Hey, I'll give you my bread, how about you give me your milk.' A system or pricing was established – for one can of milk, pay maybe half a loaf of bread – because currency doesn't mean anything on the ship."