Garments have always reflected a culture's social and historical evolution. Ancient Chinese rulers imposed strict codes in each era, which were usually linked to their ethnic traditions and identity. Each dynasty had stipulations for the material, colour, decorative patterns and style of dress that distinguished royal, civil and military officials from commoners. Anyone defying the dress code was severely punished. The Ming rulers (1368-1644), for example, forbade anyone to wear the Mongol attire of the previous dynasty. The Qing dynasty (1644-1911) imposed substantial changes in dress to reflect their Manchurian origins, which were met with strong resistance from the Han people
MING DYNASTY (1368-1644)
The attire during this period reflects the loose fitting and elaborate style of the ancient ethnic Han people. Buttons became popular during the Ming dynasty, along with circular collars. Jackets became longer. Light colours were popular in the early era, with the front of garments decorated with accessories made from gold, jade and pearls. Men's clothes adopted a form of chador and circular collar. Garments featured broad sleeves, inlaid black brims and cyan circular collars. Most were made of silk. Ming was the last dynasty in which men wore a skirt.
During this period, clothing for men and women became more voluminous: long robes with wide sleeves for men and a shorter robe worn over a wide skirt for women. For much of its three centuries, the Ming period featured great prosperity and the production of all manner of goods expanded.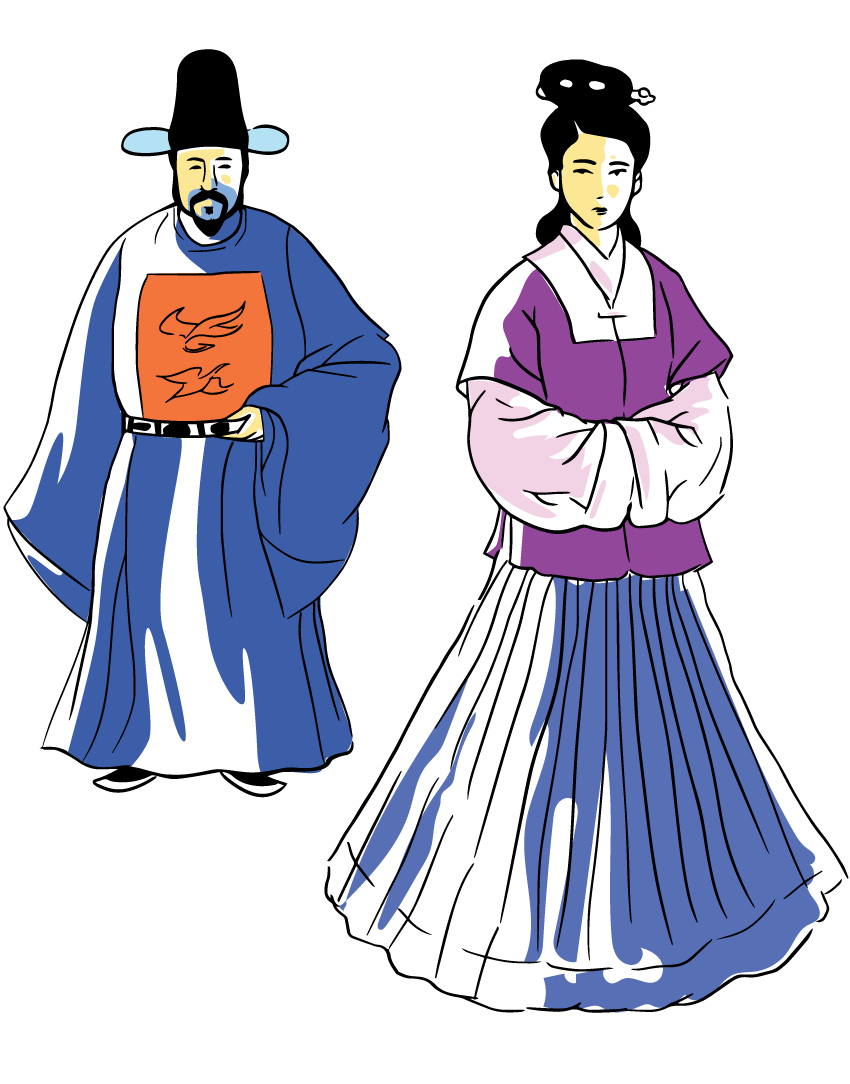 CIVIL AND MILITAR FEATURES
Symbols of rank and office were mandatory in China since the Tang Dynasty, when the first, and only, female emperor of China, Emperor Wu Zetian, ordered all officials to wear embroidered gowns; birds were embroidered on the gowns of civil officials while military officials donned gowns decorated with beasts. The Ming dynasty continued the tradition, distinguishing types and ranks of officials with buzi – embroidered cloth – attached to the chest and back of gowns.
The Buzi (ornamental patches)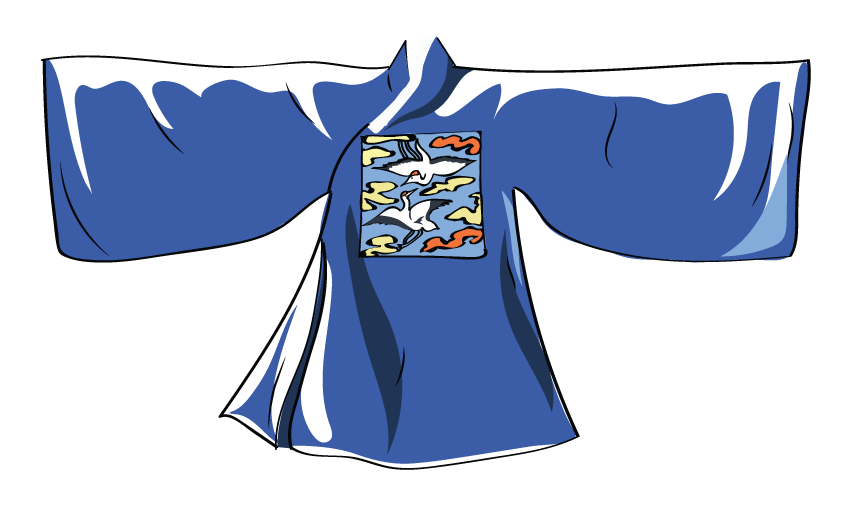 These striking-looking ornamental patches depicted all manner of real and mythical beasts. Of all the features on the uniforms of Chinese officials, the buzi most eloquently expresses the relationship between clothing and power. Cranes, golden pheasants, peacocks, wild geese, silver pheasants, egrets, larks and quails were used, as were exotic mythical birds that resembled a cross between an egret and a peacock on the civil officials buzis. The crane is a symbol of longevity because it has a long lifespan, with its white feathers standing for old age. The buzi used on military officials' clothing depicted tigers, lions and panthers, as well as beasts from the outer reaches of an artist's imagination. Animals were used to signify different ranks – nine ranks for civil and nine for military officials.