On the way from the town of Gualaquiza to Tundayme village, in the southeast of Ecuador, the only thing as heavy as the trees and vegetation on either side of the road are the showers that often drench them.
Interspersed among the waves of green are small settlements of single-storey houses, known as Shuar centres after their inhabitants, Ecuador's second-biggest indigenous group. Also making their home here are pumas, parrots, monkeys and toucans.
It's an unassuming part of the country, with few cars on the roads. Tourist leaflets describe this region as the "Pearl of the Amazon", ready to be discovered by intrepid travellers – but that is not what it has become most known for.
The biodiversity that makes it stand out, some fear, may soon be gone thanks to the country's largest mine.
Humans are making their presence felt in the middle of the jungle, where tall electricity transmission towers have sprouted among the trees. The lively green fields and woodlands are now dotted with signs warning that the area is private property. By the road, construction signs can be found in both Spanish and Chinese.
This development is the result of the Mirador project, a US$1.4 billion open-pit mega mine set up to extract primarily copper but also silver and gold. The mine, located in the Cordillera del Cóndor mountain range – in the eastern branch of the Andes and the lowlands of the Ecuadorean Amazon – is being built and operated by EcuaCorriente S.A., a subsidiary of state-owned Chinese consortium CRCC-Tongguan Investment Co.
Although concessions have been awarded since the 1990s for the development of an exploration programme in the area, the country's first ever large-scale mining contract was only signed in March 2012. "Comrades, today marks the beginning of a new era in Ecuador," former president Rafael Correa said at the time.
Ecuador is not traditionally a mining country, but the industry was given a more prominent role during the Correa administration. His government, which was marked by strained relations with the United States, looked into diversifying the economy from its dependency on oil exports by attracting external investment to tap into the country's rich mineral reserves.
Although Mirador is considered the country's most significant mining project, several concessions for major projects have been granted in recent years, many of them to Chinese companies.
At some 16 million people, Ecuador's entire population is smaller than that of Beijing – but despite its size, the country isn't just attractive to investors from the Middle Kingdom, it has rung up a huge debt with China. Out of 15 countries in Latin America that have received Chinese funding, Ecuador is among the top three borrowers, with a total of 15 loans estimated at US$18.4 billion.
As of last year, only Brazil (US$28.9 billion) and Venezuela (US$67.2 billion) – both major players in the region – received more money from China than Ecuador, according to the China-Latin America Finance Database.
While deeply in debt, Ecuador is also struggling to cope with corruption, environmental problems and an increasing number of critics who have cast doubt on its deals with Chinese companies.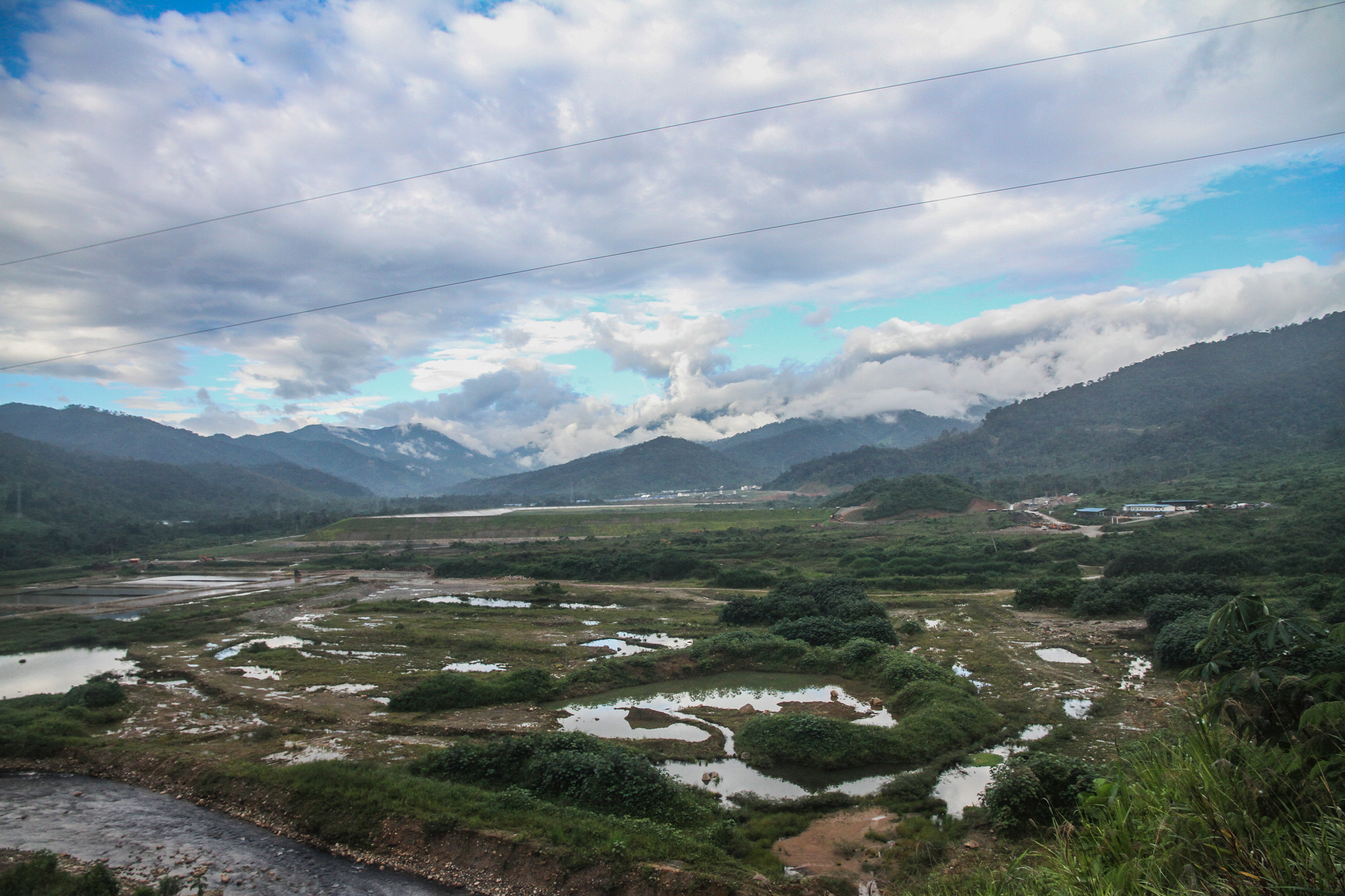 THE LAST MAN
Tundayme, in the province of Zamora Chinchipe, has become the most visible face of the country's new political and economic direction. But while some welcome the Mirador project and believe it will boost Ecuador's economy, others argue it has so far brought more damage than development.
In February, Vice-minister of Mines Fernando Benalcázar said 75 per cent of the project had been completed, and that production was expected to begin in December.
The mine covers some 10,000 hectares, and the Ministry of Mining calculates it will produce 3.18 million tonnes of copper, 843.21 tonnes of silver and 105.44 tonnes of gold.
Residents of Tundayme claim the Mirador's impact is already visible, even though the project is in the early stages of operation. The region's mountains are being carved up, there is ongoing deforestation and rivers are being discoloured by run-off from the mine.
Mariano Mashendo, a stiff man who rarely smiles, has seen it all. He used to live fairly close to the community of San Marcos, which was evicted to make way for the project.
To get to his house – the only dwelling for several kilometres – it is necessary to descend a hill, brave thick vegetation and jump over a small river.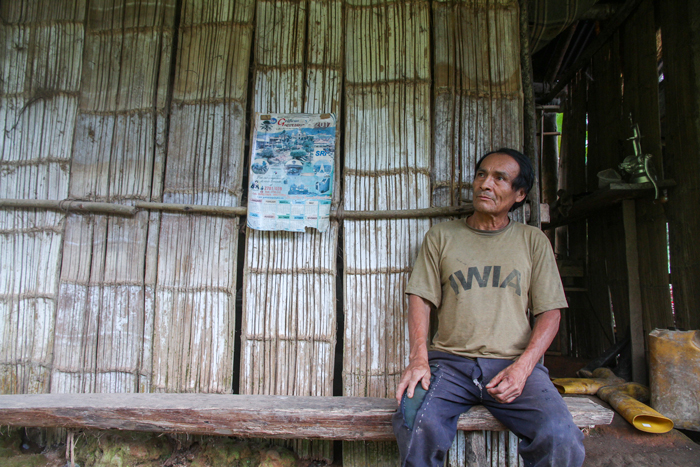 Mashendo, 65, is a Shuar – one of the biggest ethnic groups in the Amazon region, with between 35,000 and 40,000 people living mainly in the southeastern provinces of Ecuador. They have been one of the most strident indigenous groups fighting against intrusive projects in their territory.
Visible from where Mashendo lives is a mountain known for its resemblance to an indigenous person's face. Further below are some new signs of human encroachment. "Those were built by the mining company," he says, pointing to small white constructions on the slope of the mountain.
Ducklings and chickens walk around Mashendo while he sits on a wooden bench, their quacking and chirping almost as loud as his voice.
"As you can see, I am here alone after they destroyed the community," he says, referring to San Marcos, whose residents had their land seized by the government. "I rarely have visitors. I spend eight or 15 days without seeing people. Living alone is bad."
Mashendo, who mostly lives off bananas he grows and his poultry, says he has also been told to leave.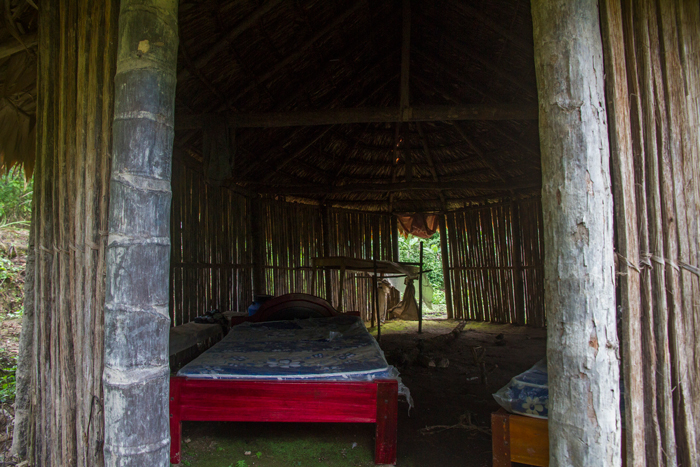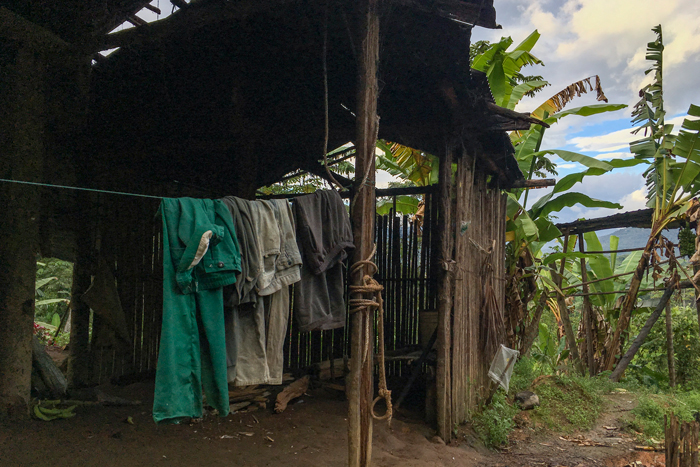 "They are starting the works now … Things will get worse," he says. "I feel sad, because if they force me to leave, I do not have anywhere to go. I would be like a dog and die in a place that I don't know.
"They should go away from here. I am Ecuadorean … I belong to this land."
LAND GRABS
Some of the most dramatic episodes in Tundayme happened between 2014 and 2016, when more than 100 people were forced out of their homes.
The negotiation and purchase of rural properties in the region began several years earlier. Some land owners received financial compensation for their properties and voluntarily moved out, but others did not agree to sell their land.
EcuaCorriente then filed for right of way through the area, and subsequently asked the government to evict the remaining property owners – mechanisms allowed under the Ecuadorean mining law.
About 26 families were evicted from San Marcos and the surrounding areas, according to experts, involving 116 people – 52 children and teenagers among them.They all lost their homes as well as their cultivation areas, which were for many their only means of subsistence.
William Uyuguari, 37, was among those who were forced to leave in September 2015.
"There was never a consultation. And we were evicted overnight without being able to do anything about it," he says, using his work-worn hands for emphasis.
"They took us from our houses as if we were criminals. And they gave us five minutes to leave – with children and elderly seeing the machines coming and demolishing our houses."
The Ecuadorean government and authorities have insisted no violence was used, and that they strictly followed legal procedures. Authorities also say people will be allowed to return to their land after the project is complete – which is expected to take more than 20 years.
"It may take decades. And in what condition is our land going to be? It will be destroyed," says Uyuguari, who has become the leader of Cascomi – Comunidad Amazónica Cordillera del Cóndor Mirador – an organisation of subsistence farmers and indigenous people who are opposed to the project.
Uyuguari and other members of the community argue that their rights were violated. "We are campesinos, people who are used to working the land, that's how we survive. What we asked was to be relocated to similar areas. But instead [EcuaCorriente] went there, offered some money [to the people in the area as compensation for their land] and that was it," he says.
"Many of us don't care about money," Uyuguari insists. "What we care about is to have a dignified house and land to work on. They don't understand this and, unfortunately, the judiciary here in Ecuador is all in favour of the big companies. The policies don't take into consideration campesinos like myself."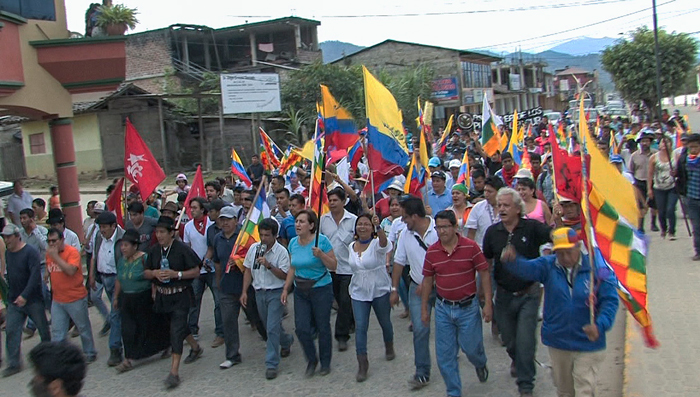 Since he left his home, Uyuguari says he has lived in seven different rented houses in Gualaquiza – a town about half an hour away by car – and that he is struggling to make ends meet.
In San Marcos, he did not have to pay rent. He had a house, land to farm and fresh food. He even used to shower in the river. Now, he has to pay for all of it.
"I take any job that comes up, because if there is a day I don't have work, I can't eat. I am being forced to have a very different lifestyle and getting used to this is very tough," Uyuguari says.
"This has all been very painful," he says quietly, as his voice breaks and his dark eyes fill with tears. "But I still hope for justice."
HOPE AND DISILLUSION
While some of those who were evicted are struggling to find their feet, many Tundayme residents drift between disappointment and a lack of better options.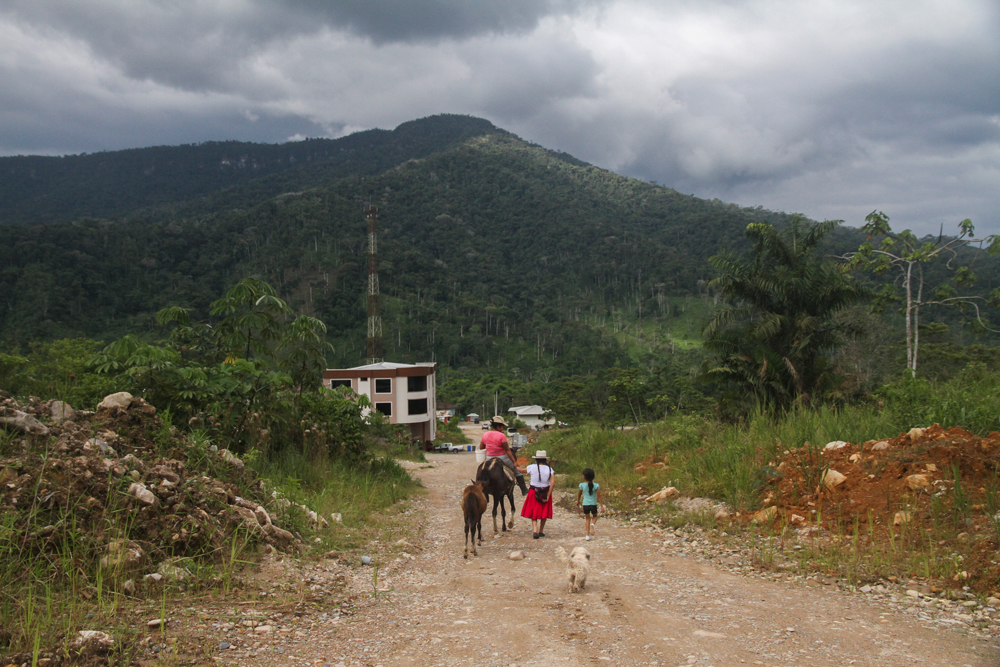 The contract between the Ecuadorean government and Chinese firm EcuaCorriente was signed in 2012, and the construction of the mine began three years later. Many remember the optimism that followed. There were promises of new roads, schools and hospitals.
"About two years ago, we believed that there would be a big development here. Many people even moved to Tundayme, built houses here, set up businesses," says a 35-year-old business owner.
"But now many of these houses are empty," she says, asking not to be identified for fear of reprisals from the mining company. "My business has not improved, not even a bit. The Chinese never bought anything from me. They don't support the local businesses."
A 27-year-old woman, who moved to Tundayme expecting it to be developed, also says her business has seen better days.
She used to sell bread to the mining company, but has since stopped. "They don't care about the quality, they just want a very low price," she says, also requesting anonymity. "The business here is really slow now. It was better about a year ago, before the camps were built."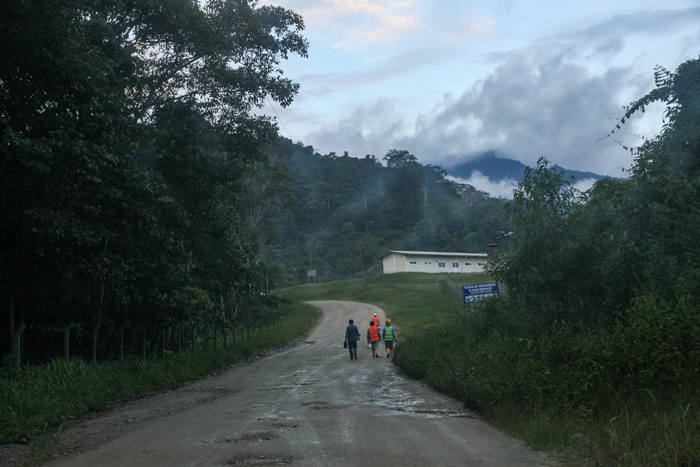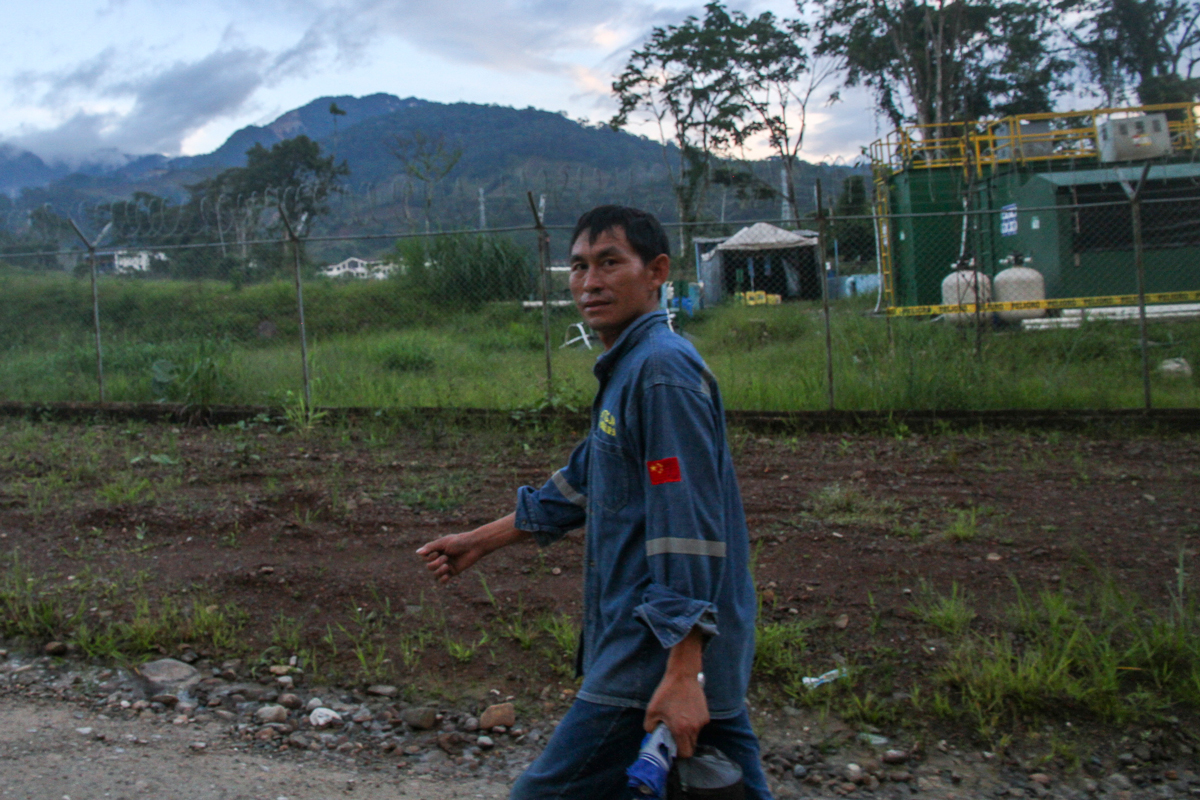 She's referring to camps built within the mining compound, where most workers eat and sleep.
Tundayme residents also say there is a stark cultural gap between locals and Chinese workers that is hard to overcome, and interactions between the two are limited due to the language barrier.
There were exploration works in the area for many years before the Chinese took over in 2010. "When the Canadians were here it wasn't good, but there was some equality," said a 30-year-old former worker at the mine. "They spoke more Spanish and they ate our local food."
EcuaCorriente is the main source of jobs in the region, so most people fear openly criticising the firm because their businesses or livelihoods rely on it. Even if they don't work for the mine, chances are that one of their relatives does.
In January, the company's vice-president Mauricio Núñez said the Mirador project had directly generated 2,400 direct jobs, and that thousands of other jobs linked to the project had been created.
It is unclear how many of those employment opportunities have been taken by Ecuadoreans, particularly those from the surrounding region. Residents and some workers estimate the percentage of Chinese workers to be around 40 per cent.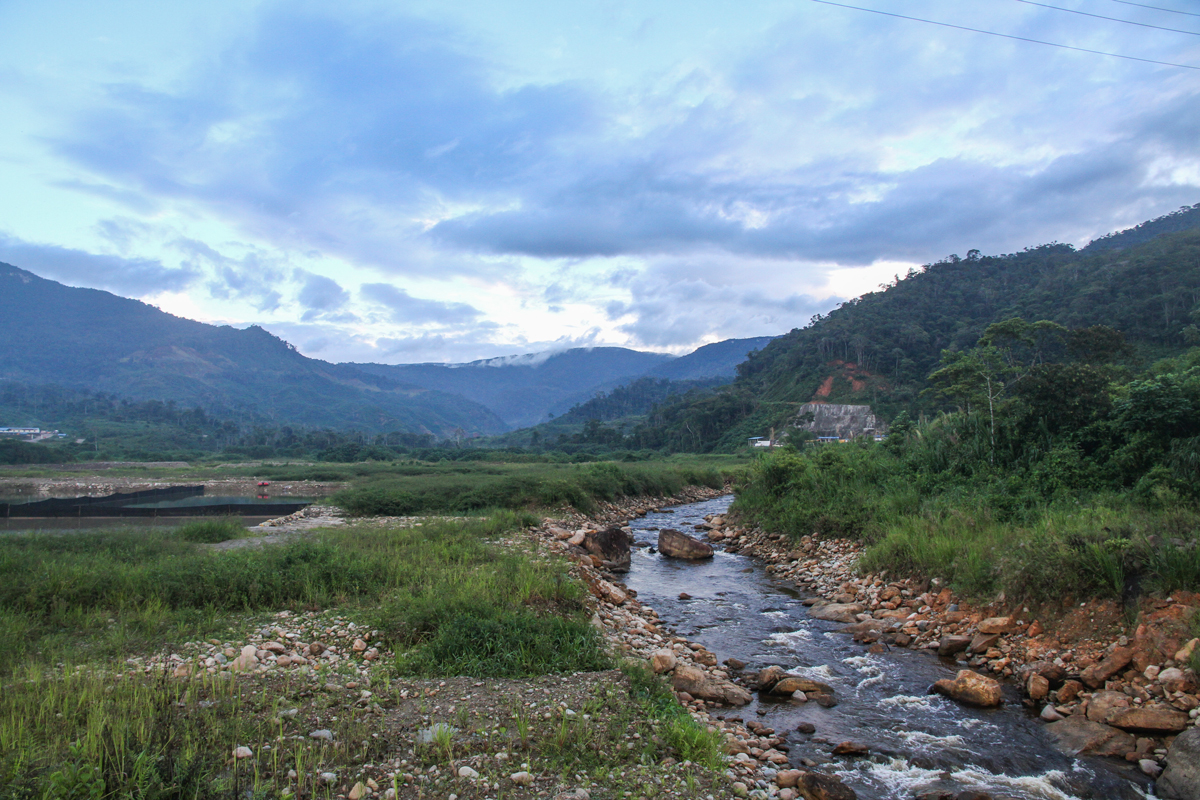 Some current and former workers have complained about low salaries, wrongful dismissals, long working hours and violation of safety regulations. Last year alone, at least three drivers died in accidents at the mine.
A 31-year-old man, who provides transport services for EcuaCorriente, claims he has been poorly paid. "I make about US$300 a month … And if I complain, I know I won't have any work," he says, adding that he has to spend a third of his pay on bills every month.
"I am not against the mine," the worker says, noting its importance for the region. "But many things have not been done properly. We Ecuadoreans are barely benefiting from this project."
A full-time driver for the company, Victor Quinatoa, 33, says he enjoys his work and has few complaints.
"It's a sociable working environment," he says, briefly, about the relationship with his Chinese colleagues.
Quinatoa moved from Quito, the Ecuadorean capital, to Tundayme for work about three years ago. "It's true that there are people who are against the project. There will always be opposition, but we are trying a new form of subsistence, a new type of work that is profitable," he says.
Although he acknowledges the mine may not be the best solution for the region, Quinatoa says "given our local economy, it's the best at the moment".
FROM PROMISES TO REALITY
The village of Tundayme is mostly quiet, with few businesses open and not many people in the streets. But by the main road, the presence of the Mirador project becomes obvious, as there is a steady stream of trucks and cars related to the mine.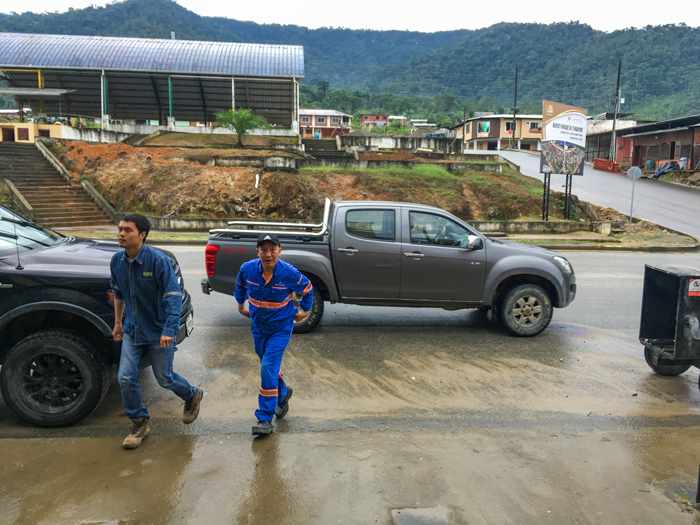 A billboard by the main road reads "La Nueva Era del Cobre" – the new era of copper – announcing a US$307,144 park being built and sponsored by the firm.
Multiple promises of development have floated around. Chinese state-run news agency Xinhua published a piece in August claiming that EcuaCorriente "has raised funds to build hospitals, schools, parks and other infrastructure. It has also established a university scholarship programme for local youths and encouraged Chinese to teach at local schools."
Hu Jiandong, president of EcuaCorriente, told the agency the company had strictly followed regulations and respected protected areas.
"Over the years we have striven to strengthen environmental protection, support for the community, and communication with the authorities," he says. "In addition, we strictly abide by labour regulations and tax payments, and we are committed to fulfilling our social responsibilities."
EcuaCorriente's social media pages are filed with job advertisements and photos of its various contributions to the community.
In April, for instance, the firm posted on Twitter that it had supported a team of public doctors who had provided medical care to over 100 Shuar people in Tundayme.
Other online posts show the distribution of resources worth thousands of dollars to local communities, including computers, food for animals, work-safety training and school uniforms as well as subsidies for educational programmes.
However, many residents in Tundayme say they have yet to feel such a commitment.
"It's true that they built roads, but it's for the convenience of the company," says a 35-year-old who was born in the region.
"They also made many promises for the school. But look at it … We don't even have a library," she says. "Also, there was a professor teaching Mandarin for a few months but he left and he was never replaced."
Three students at the courtyard of the local school had a more supportive view of the Mirador project. They are all children of workers at the mine.
"There is more work for the people from here now. But it's true that it is contaminating the rivers, the jungle … there is more rubbish," says 15-year-old Michele Ambuludi.
The children also say there is a lack of better options for their parents. "If there were no jobs, they would have to migrate and go elsewhere," says Joseline Tomin, also 15.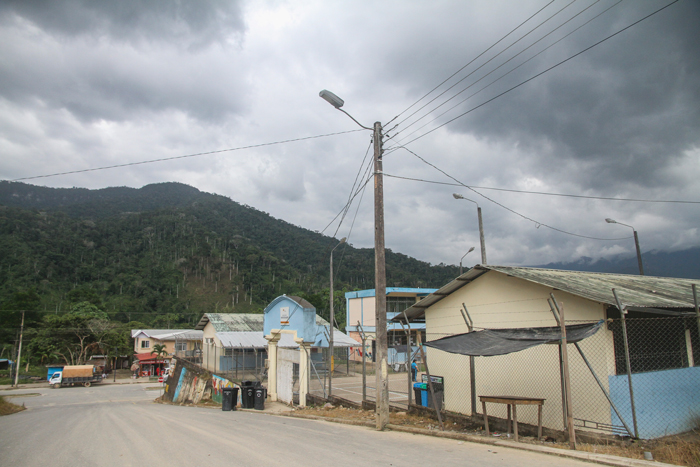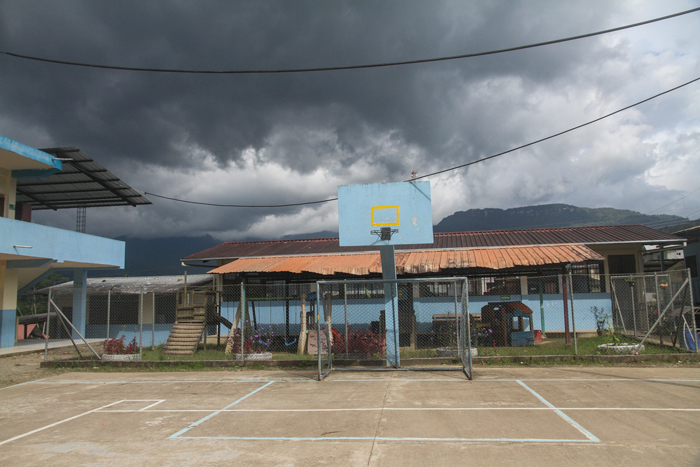 The three agree that since the company came to their village, their school has improved. "Now we have two more areas for classes. There are still no labs … but it's much better," says Elvis Lopez, a 16-year-old who wants to become a soldier.
But the president of Tundayme parish, Ángel Arévalo, 64, seems not very impressed. Instead, he talks about the deforestation and pollution the Mirador project has brought to the region.
Last year, the Ministry of Environment suspended 40 per cent of the project's construction works due to the violation of 31 environmental regulations, including a lack of reforestation. As of February, 15 per cent of the project remained suspended, according to local newspaper El Comercio.
The environmental group Amazon Watch estimates that total deforestation in the region affected by the mine from 2010 to the end of 2017 was 1,307 hectares.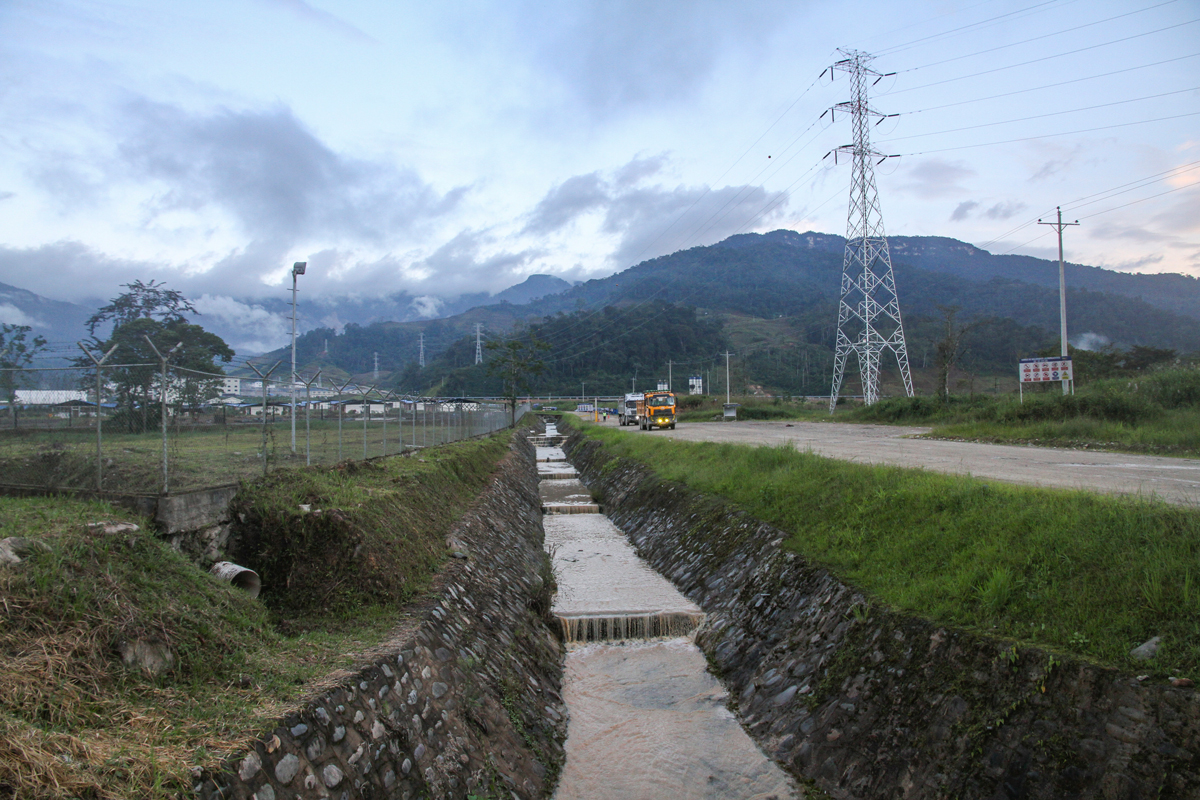 Along with environmental damage, "this project has sparked many social problems and tensions. It really changed our community," Arévalo says. Many families and even villages have been split because some support the mine and others don't, he adds.
"The only one that is really benefiting from it is the state. They are the ones getting the money, but the population here is not benefiting from it," Arévalo says.
"In a few years' time, we will have a country that is poorer, left destroyed … that's the only future. And we can't do anything about it. We feel powerless."
LEGAL FIGHTS
A number of protests and legal measures have been taken against the Mirador project in recent years, mostly by community-based organisations with the support of non-governmental groups and pro bono lawyers.
However, many of those actions have failed.
In the latest court decision related to the San Marcos evictions and lack of consultation, a Quito judge in January concluded that the people living in Tundayme should not be considered indigenous.
Such groups in Ecuador receive greater constitutional protection, and the government has to conduct a prior consultation before extraction projects go ahead on their land. But in some cases this has not happened, and advocates now fear this requirement may be further avoided by the current administration as a new mining policy is being introduced.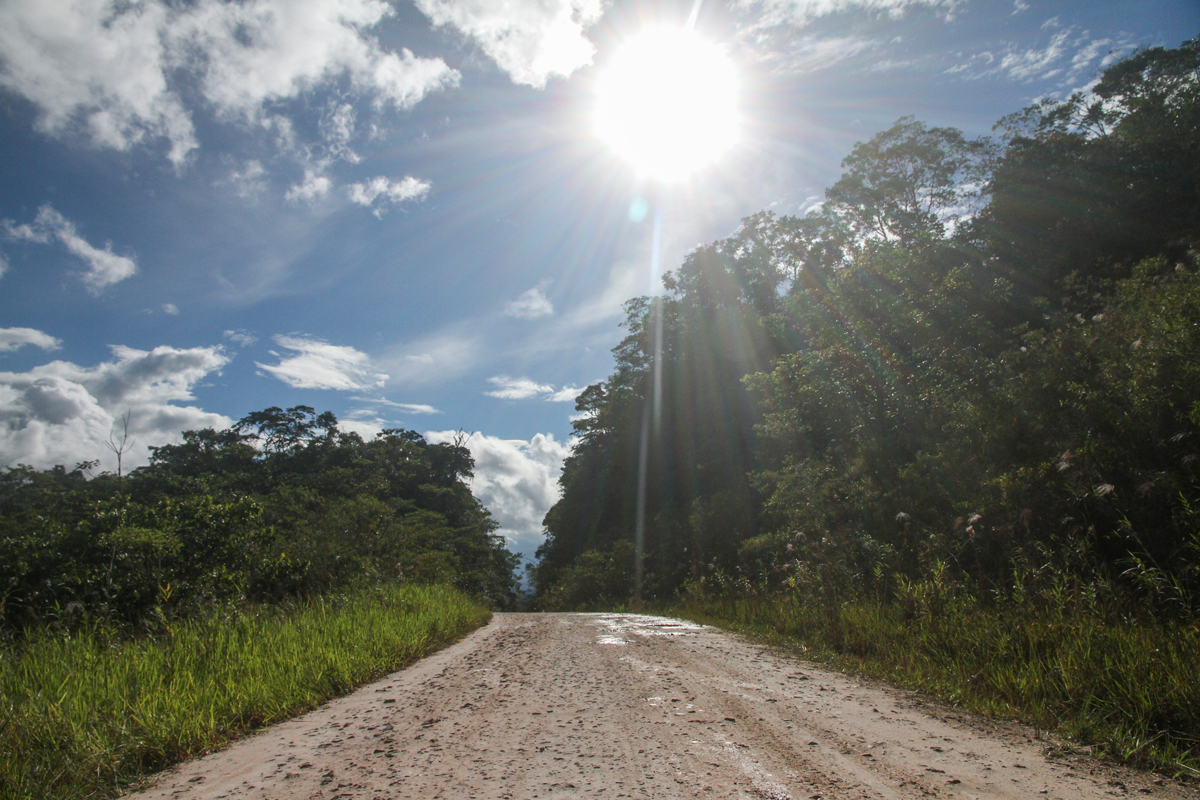 Despite the court's decision, the former residents of San Marcos insist on their ancestral roots, many defining themselves as descendants of the Kichwa, the country's biggest indigenous group, which has lived alongside the Shuar in the region.
Francis Andrade, the lawyer who represented the community, says she is disappointed with the latest decision.
"This is the largest mine in the country, it's a strategic project and the government is going to hold on to it. But human rights protected by our constitution have been violated along the way," she says.
"There was no prior and informed consultation and the right to a dignified house has been infringed."
Meanwhile, in March, an environmentalist and a lawyer filed a request with the Ecuadorean court to suspend the construction of the Mirador's tailing dams – the only barrier protecting nature from the toxic waste generated by mining operations.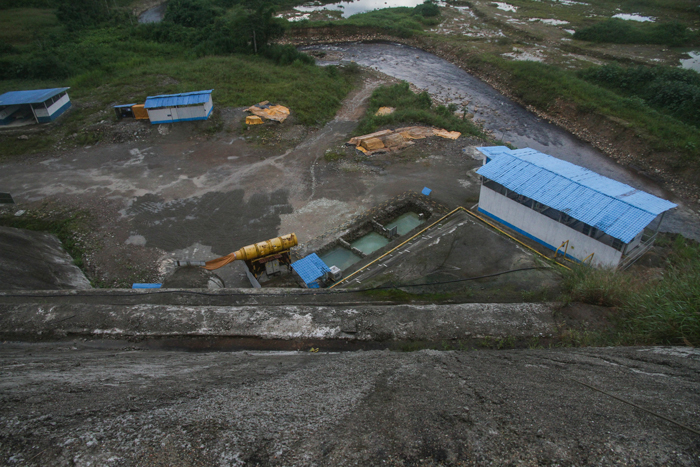 David Dene and Julio Prieto, experts who are part of the United Nations network Harmony with Nature, argue that the current design of tailings dams is not adequate for the area's natural conditions, and that there is a high chance of failure.
"The construction method of the dams that [EcuaCorriente] is building at the Mirador mine is so risky that its construction is illegal in Chile and, a few weeks ago, was declared illegal in Brazil," Prieto says. The case is now being dealt with by Ecuador's Constitutional Court.
This Week in Asia sent 15 questions to EcuaCorriente and exchanged multiple emails with the company's staff over the course of a month, but did not receive any answers.
The Ecuadorean embassy in Beijing also did not respond to requests for comment.
DEATHS AND THREATS
While several court cases are still ongoing, some members of the community say they have been threatened, harassed, offered money and told to be silent.
Community leader Uyuguari says he has grown more careful about his movements. "I don't know what will happen to me … But I won't give up," he says. "I have been fighting for something that my parents built with a lot of effort."

The fight against the Mirador project took a dramatic turn at the end of 2014, when Shuar leader José Tendetza was found dead in a river near his house.
According to Francisco Hurtado, a human rights lawyer who followed Tendetza's case, a first autopsy concluded he had drowned, but a second autopsy requested by his family showed that he died of strangulation and that his body was thrown in the river with his hands tied behind his back.
Ecuador's interior minister at the time, José Serrano, called for the investigation into Tendetza's death to be independently overseen by the indigenous Shuar federation, and a reward of US$100,000 was offered to anyone who could provide reliable information about the crime.
Two EcuaCorriente workers were charged, but after a lengthy process no one was convicted. Till today, many believe Tendetza's killing was connected to the fact that he was an outspoken voice against the mine.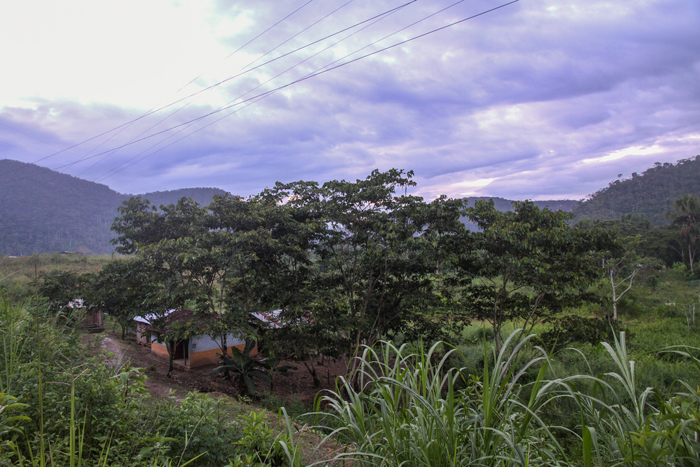 Hurtado says the investigation into his death was riddled with flaws. "I am convinced there has been a deliberate action from the government for the case to remain unpunished," he says.
Members of Ecuador's government have starkly denied that the state was complicit in this crime or attempted to hide evidence.
Tendetza's case has been submitted to the Inter-American Commission on Human Rights, but no decision has been made yet.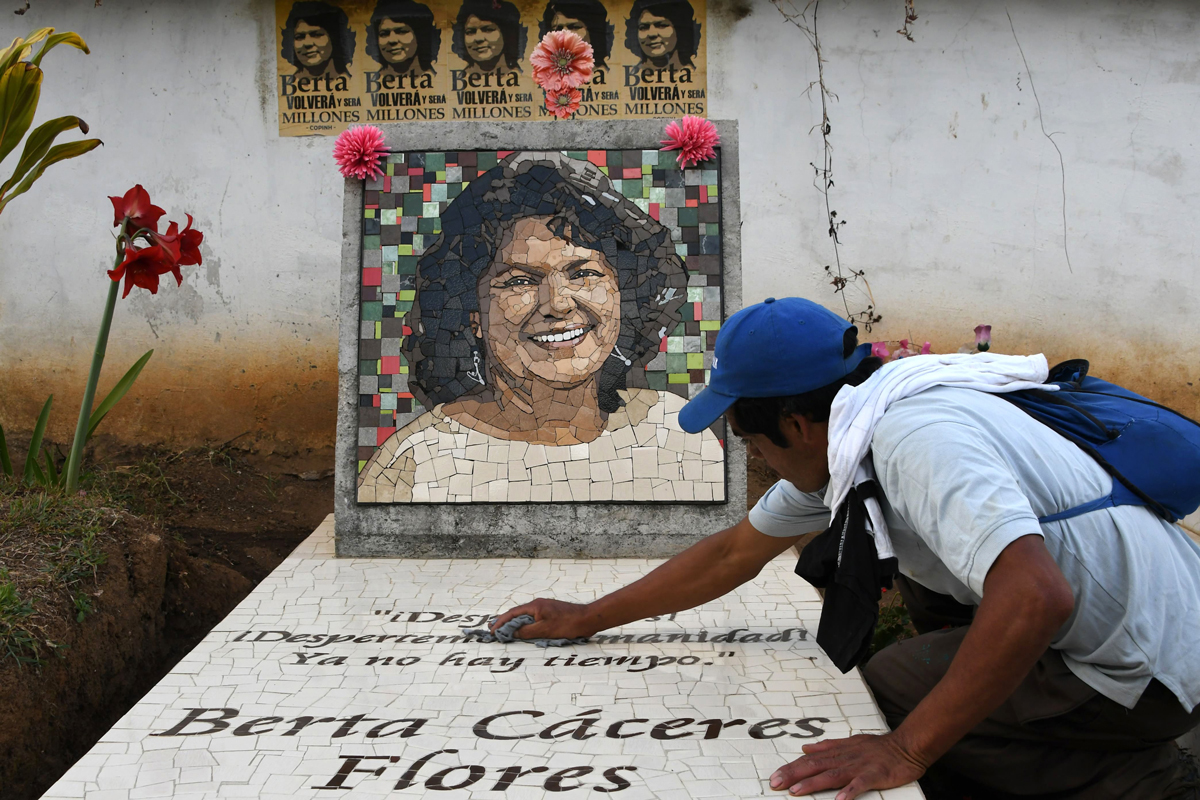 His death is, however, far from being an isolated event. Dozens of environmental and human rights activists opposed to multinational projects have been threatened and killed across Latin America, as investigations are often dropped for lack of evidence.
Mario Melo, a leading human rights lawyer and professor at Pontificia Universidad Católica del Ecuador, says authorities have used force disproportionately, and that members of the communities who have opposed projects across the country have been intimidated and threatened. Some were even accused of terrorism.
"The judicial apparatus has been used to persecute social networks," says Melo, who is also the co-author of a book about Chinese investment in the Ecuadorean Amazon. "There has been great repression."
Hurtado, meanwhile, fears that Tendetza's efforts will soon be forgotten. "The fact that José Tendetza was killed, that this case remains unpunished and that his family was silenced and isolated is profoundly racist, classist and violent."