Explore Macao through an artistic lens and discover the city as a destination for the world's cultural explorers.
Chen Zhifo – Chinese master of meticulously realistic bird and flower paintings – takes 'flight' at Macao exhibition
Credited for reviving the detail-oriented 'gongbi' technique, the artist had far-reaching influence on modern Chinese paintings as an educator. The show features 166 items including paintings, sketches and preparatory drawings to illustrate the master's own evolution in style
A white eagle with fine and translucent feathers is caught standing on an autumn tree waiting to strike. Its claws are clutching firmly on the rough branch while cautiously eyeing its prey, a petite Chinese blue flycatcher flapping its wings, unaware of the presence of the predator behind its back.
Winter is approaching and food will be scarce: the white eagle must charge at the perfect moment in order to survive.
This could have been a vivid scene from a wildlife documentary but it is actually a dramatic painting by Chinese painter Chen Zhifo.
Tilt your mobile/move your mouse left to right to scroll through the pictures

Titled Eagle Eyes on Flying Bird, the painting created in 1944 is not only a classic illustration of Chen's acute observation of nature and imagination. It is also one fine example of how 20th-century Chinese artists strived to revive some of the greatest Chinese artistic roots by infusing modern elements and ideas.
"Chen's greatest achievement was his dedication to the revival of the meticulous gongbi technique [focusing on a careful realistic style], which went into decline during the Ming (1368–1644) and Qing (1644–1911) dynasties," said Wan Xinhua, curator at Nanjing Museum, which is home to the painting, and a specialist in the works by Chen.
"His paintings are the outcome of a beautiful marriage between the gongbi technique and Japanese pattern design, which he learnt while studying in Japan."
"Chen Zhifo is the greatest artist in the realm of gongbi paintings in the 20th century"
– Wan Xinhua, curator and director of exhibitions, Nanjing Museum
The striking Eagle Eyes on Flying Bird is among the 166 works now on view at Macao Museum of Art as one of the programme highlights of the mega international arts and cultural event, Art Macao.
"Quietness and Clarity: Works of Chen Zhifo from the Collection of the Nanjing Museum", the largest retrospective of the artist staged outside mainland China, aims to introduce the art of the master of modern gongbi to a wider audience.
For better experience please use your headphones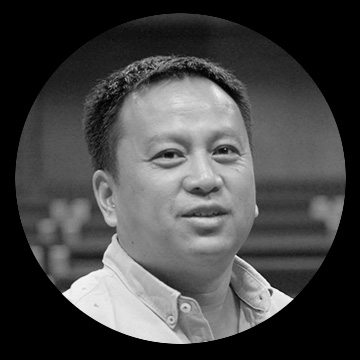 Wan Xinhua,
curator and director of exhibitions,
Nanjing Museum

"From the perspective of traditional Chinese paintings, Chen Zhifo was trained in a lineage of traditional huaniao hua - which is translated as bird-and-flower paintings. And then he took inspiration from nature, our everyday lives"
The 20th century was a golden era of Chinese paintings. The political and social upheavals led intellectuals and artists to reflect on their cultural roots in the context of modernity, especially those who had had the opportunity to be trained abroad.
Some artists resorted to the Western medium such as oil paintings, while others, including Chen, fused their foreign influences with the aesthetics and techniques developed from the Chinese literati traditions.
Born in 1896, Chen grew up during the turmoil of the late Qing period and the early Republican era after the 1911 Revolution. He graduated in 1916, having studied textiles at an academy in Hangzhou, but stayed on as a teacher until 1918 when he became the first Chinese to travel to Japan to study pattern design after receiving a government grant.
He returned to China in 1923 and became an art educator, training artists at various acclaimed institutions including the Shanghai Art School, Shanghai Art University, the National Central University and the National College of Art, where he also served as the principal.
At the time Chen had already established himself as a well-regarded art educator and pioneer of Chinese modern applied arts. In his 40s he went on to pursue his passion for the gongbi technique.
The meticulous technique of gongbi is one of the finest in the tradition of Chinese paintings, Wan said.
"The gongbi paintings of flowers and birds were at their peak during the Song [960–1279] and Yuan [1279–1368] dynasties," he said.
Chen studied a vast range of paintings by acclaimed masters from this period, particularly those with Song roots. He also kept a garden to grow plants and raise birds.
Wan said that the elegant pictorial compositions of Chen's gongbi paintings were influenced by the pattern design and water splash technique he had learnt in Japan.
"His impeccable skills in the gongbi technique, his detailed observation of real flowers and birds and the application of his knowledge in modern pattern design made his paintings not only a vivid portrait of the beauty of nature, but also a modern rendition of some of the greatest traditions of Chinese art," he said.
The Macao exhibition features not only paintings, but also sketches, preparatory drawings or fenben, as well as materials that inspired Chen's works and also his tools.
Wan said the exhibition is curated to introduce audiences to Chen's artistic trajectory by highlighting not only some of his finest works from the collection donated by his family, but also the evolution of his paintings. 
The exhibition of Eagle Eyes on Flying Bird, for example, includes not only the stunning final outcome, but also various sketches and drawings that served as the blueprints for the final painting.
In contrast with the sombre mood of Eagle Eyes on Flying Bird, Chen was even better known for paintings with a celebratory and festive feel.
Wan said in Peaceful Spring (1960), for example, Chen created a harmonious and joyful atmosphere with his fine portrait of spring plants and flowers as well as the gathering of a group of pigeons. Despite the relatively large number of pigeons, they are grouped in order but in a lively way – an auspicious sign of spring in traditional Chinese belief, he said.
The Warm Water of Spring River, also from 1960, depicts a colourful duck enjoying itself in the river, flirting with the brightly coloured spring plants characterised by the auspicious red colour.
Wan said the eye of viewers follows the flamboyant flower branch from the top left-hand corner and reaches the bottom half of the painting, which is dominated by a contrasting cool tone.
"The contrast between warm and cool, active and quiet, creates a refreshing and harmonious composition for a fine Chinese painting," he said.
Chen lived through one of China's most storied periods in modern history and his painting style changed to reflect the social changes of his time.
The evolution of his aesthetics was broadly divided into pre-1950 and post-1950 stages, and the exhibition reflects the transformation with two sections. "The Cold Scent of Solitude" showcases his earlier works and "The Bright Scene of Opulence" features pieces from his later years.
Follow Wan Xinhua, curator of the Nanjing Museum, on a guided tour and listen to his chronological description of five of Chen's most significant paintings that are on show.
To navigate the gallery please press left and right arrow icons
Today, despite the acclaim for Chen's mastery of modern gongbi, the market price for his paintings – unlike those of his peers from the same period, such as Li Keran, Fu Baoshi or even Zhang Daqian – remains relatively low.
The sale price of HK$812,500 (about US$103,000) for his 1948 painting Perching by Winter Blossoms at a Sotheby's auction in October 2018 was already one of the top prices for his work at an internationally recognised sale.
Wan said despite market prices for fine Chinese paintings having gone up dramatically in recent years, art auctions are not the only criteria to assess the value of an artist's achievements.
Chen, who began creating gongbi paintings in his 40s, was unable to produce that many works before he died aged 66 in 1962.
"Chen did not leave us that many of his gongbi paintings," Wan said.
"These meticulous paintings that are so refined take ages to make.
"This exhibition is one great opportunity to experience Chen's determination in the pursuit of truth and beauty through his paintings."
Enjoying Morning Studio graphics?
Here are some other digital native projects you might want to visit