Green Games: how Beijing 2022 is going carbon-neutral
The 2022 Winter Olympics in Beijing was among several Games that have committed to the goal of carbon neutrality since a 2020 report by the International Olympic Committee (IOC), which mandated that Games after 2030 must be "climate positive". The IOC has also required all upcoming Games to be carbon-neutral. Tokyo's Summer Olympics in 2021 managed to go "beyond carbon neutrality".
According to the Beijing 2022 Winter Olympics pre-games sustainability report, several arenas from the city's 2008 Summer Games are being reused for this month's competitions. Fuel efficient and clean-energy vehicles will account for more than 80 per cent of all vehicles.
Carbon dioxide emissions at the 2022 Winter Olympics
(Throughout the preparation and post Games)
The 16-day sporting event, which officially opened on February 4, is the world's second "pandemic Games" after the Tokyo Summer Olympics. China has taken aggressive measures to control outbreaks, including limiting spectators at the Games.
Number of Games spectators
Each dot = 100 people
Afforestation
Carbon sinks generated by afforestation projects are meant to compensate for emissions from the Games, through offsets. Beijing and Zhangjiakou authorities have planted 47,333 and 33,000 hectares of green areas respectively. About 530,000 and 570,000 tonnes of forestry carbon sequestration credits have been provided to Beijing 2022 to compensate for its residual carbon emissions.
The Beijing 2022 ski runs have been constructed in the Songshan National Nature Reserve in Yanqing, with an area bigger than a thousand football pitches. The construction required the removal of more than 24,000 trees in 2017.
A 20-hectare (200,000 square metre) ex-situ conservation base has been reserved in a nearby village. More than 90 per cent of the trees survived the move.
Forest relocation map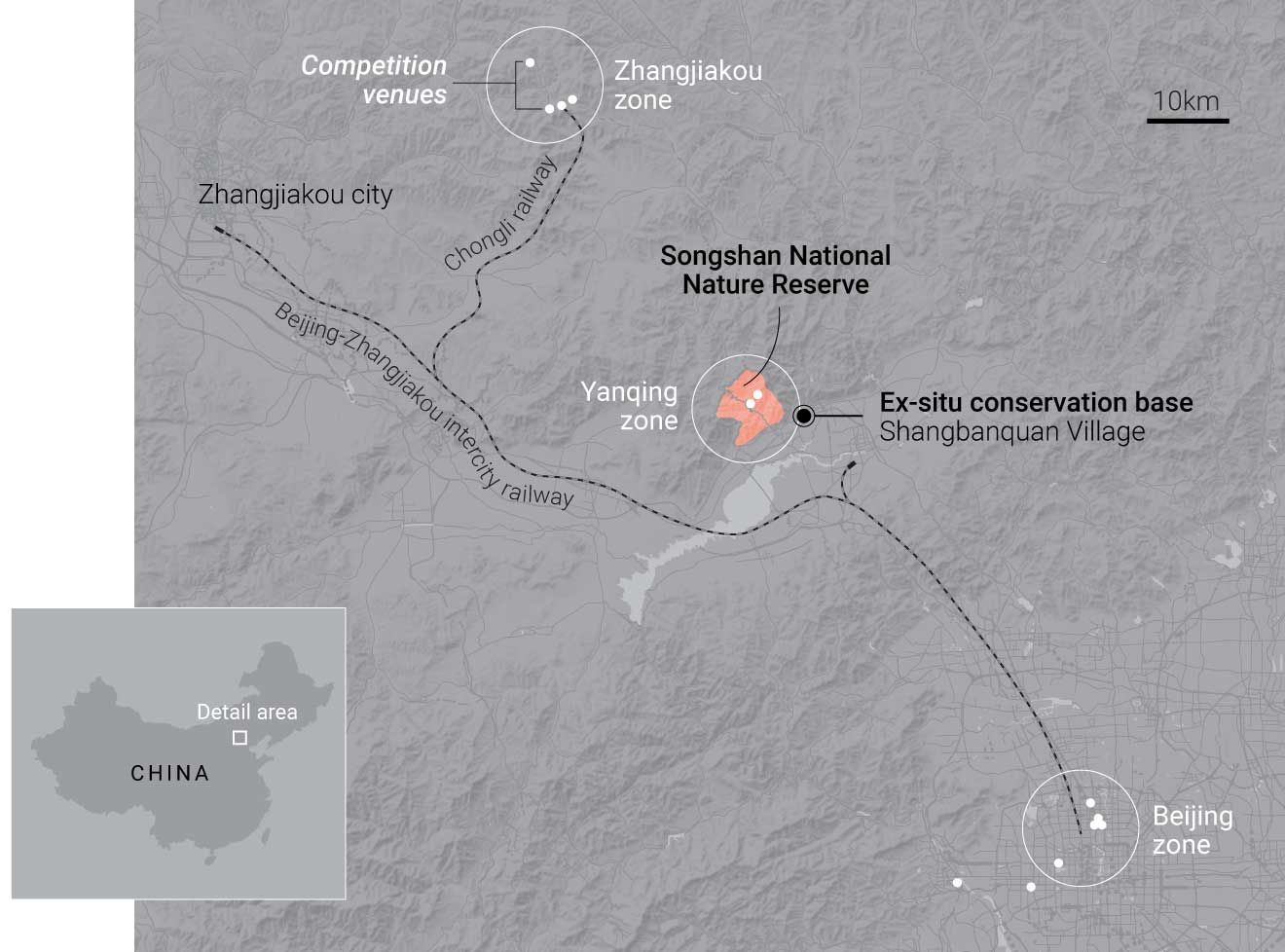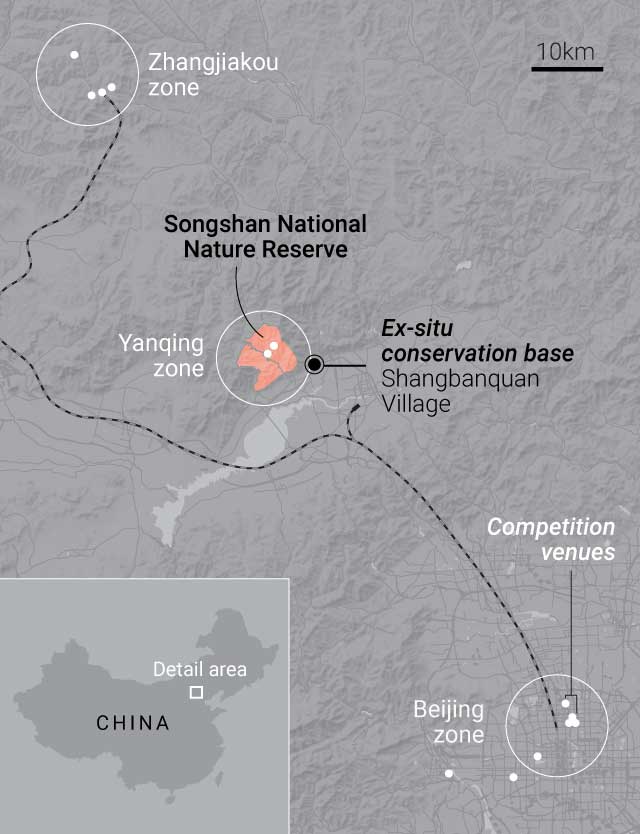 Artificial snow
Beijing has a major problem when it comes to hosting the Winter Olympics: very little snow. Yanqing and Zhangjiakou, where skiing and snowboarding events are held, are cold and dry in winter, but there's usually not enough precipitation for snow.
Average snowfall throughout the recent year in Zhangjiakou (cm)
Beijing organisers have pumped millions of litres of water into the arid surrounding mountains to create fake snow for ski competitions. To ensure the production of fake snow wouldn't stress water regional water supplies, other measures include the recycling of wastewater and the use of reservoirs to collect rain and snowmelt. Zhangjiakou needs more than 1.2 million cubic metres of snow for Olympic events. Around 10 per cent of the snow there is natural, the rest is artificial. In Yanqing, nearly all the snow is artificial.
Beijing is notoriously dry and relied almost entirely on fake snow, the first Winter Olympics to do so. Dozens of snow cannons create the snow in Yanqing, using water piped from a nearby reservoir. Previous Winter Olympics have used fake snow, including Sochi 2014 (80 per cent fake) and Pyeongchang 2018 (90 per cent fake), to ensure tracks met standards.
How artificial snow is made
The 2022 Winter Olympics needed about 2.8 million cubic metres of water - enough to fill 1,000 Olympic-sized pools. The organising committee says the Games will use much less than 10 per cent of the water resources of the Yanqing and Zhangjiakou regions.
Artificial snow water consumption
Creative Director Adolfo Arranz
Edited by Andrew London

Sources: International Olympic Committee, Nature, TechnoAlpin, World Weather, Associated Press