Israel-Gaza war explained
Gaza, a narrow strip of land wedged between Israel, Egypt and the Mediterranean Sea is home to more than 2.3 million people. The Palestinian enclave has become a focus of the conflict between Israel and Hamas after the militant group's fighters launched a cross-border attack from there on October 7, 2023, killing more than 1,200 Israelis and taking more than 240 hostages. Vowing to destroy Hamas, Israel unleashed the heaviest air strikes ever on Gaza, killing thousands, before launching ground operations in what it called "stage two" of the war. Here is a closer look at Gaza and the latest war between Israel and Hamas.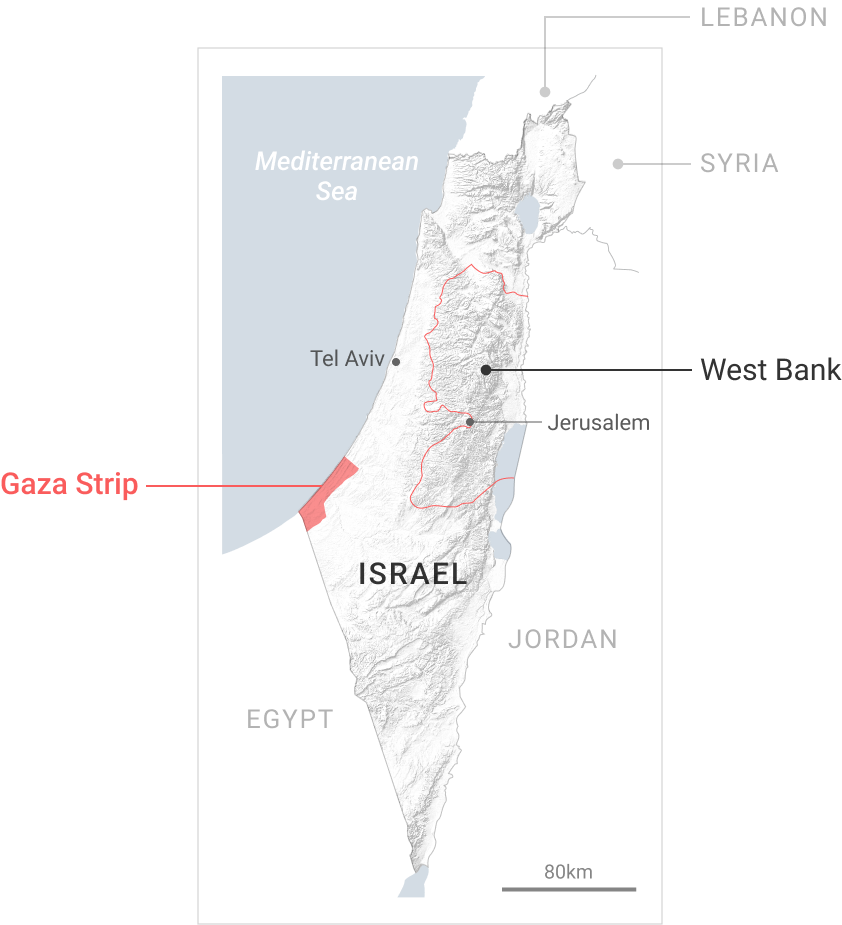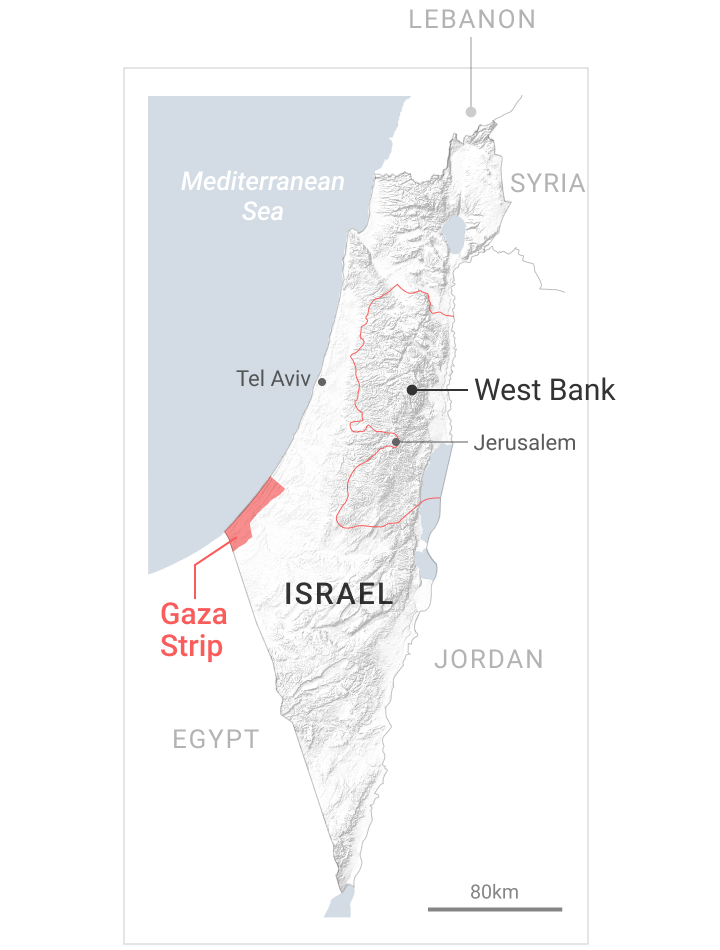 Evolution of Israel's borders
The founding of Israel in 1948 followed a period of British rule over Palestine, a region taken from the Ottoman Empire. This was accompanied by the implementation of the Balfour Declaration in 1917, when Britain expressed support for a "national home for the Jewish people". Conflicts with the Arab population ensued.
Egypt governed Gaza for almost 20 years under military rule until Israel took control of it in 1967, along with the West Bank and East Jerusalem. In 2005, Israel withdrew all its troops and settlers from Gaza, and effectively isolated it from the outside world with a fence. The following year, Hamas emerged as the dominant political force in Gaza after winning the Palestinian legislative election.
In 2007, Hamas expelled its rival faction, Fatah, and assumed control inside the territory. Since then, Egypt has helped enforce an Israeli blockade that restricts the movement of people and goods in and out of Gaza.
1917
*BRITISH MANDATE
Balfour Declaration
commits Britain to the establishment of a
Jewish national home in Palestine
1946
*BRITISH MANDATE
Jewish migration from Europe accelerates, and
settlements grow in Palestinian territories
1947
UN Partition Plan
proposes an
Arab state
, a
Jewish State
, and a UN-administered
Jerusalem
1948-1949
Israel declares independence
, triggering the
Arab-Israeli War
involving Egypt, Syria, Iraq, Lebanon and Jordan. War leaves historic Palestine divided into three parts
1967
The Six-Day War
, pitting Israel against Egypt, Jordan and Syria, results in
Israeli control of Gaza
, the
Sinai peninsula
,
West Bank
,
Golan Heights
and
East Jerusalem
Present
The blockade of Gaza, the expansion of
Jewish settlements
in the occupied
West Bank
and the status of Jerusalem remain flashpoints
Gaza today
Hamas governs Gaza, but Israel maintains full control over its borders, airspace and territorial waters. Following the October 7 attack, Israel imposed a "total siege" on Gaza, preventing the entrance of food, water and fuel - creating a dire humanitarian situation. Many of Gaza's residents are refugees from previous wars with Israel, living in poverty and reliant on food aid. Limited UN aid deliveries resumed through the Rafah crossing with Egypt on October 21. But Israel has repeatedly said it will not allow any fuel to reach Gaza, fearing militants will use it for their own purposes.
Hamas has been designated a terrorist group by the United States and European Union. The Islamist group, which has sworn to destroy Israel, has launched thousands of rockets at Israel over the years.
Israel and Hamas have fought three wars before, in 2008-9, 2012 and 2014, and Israel invaded Gaza twice, but never tried to wipe out Hamas completely.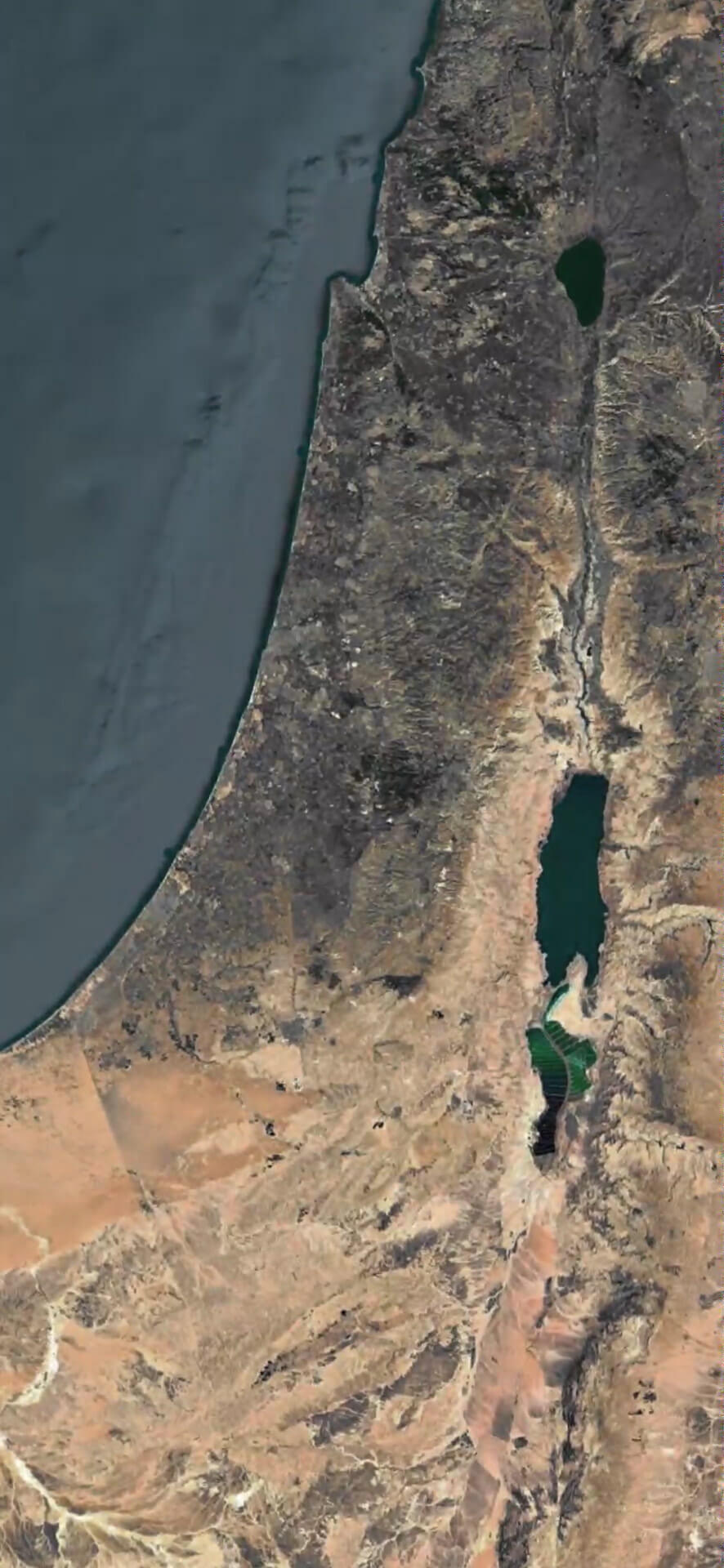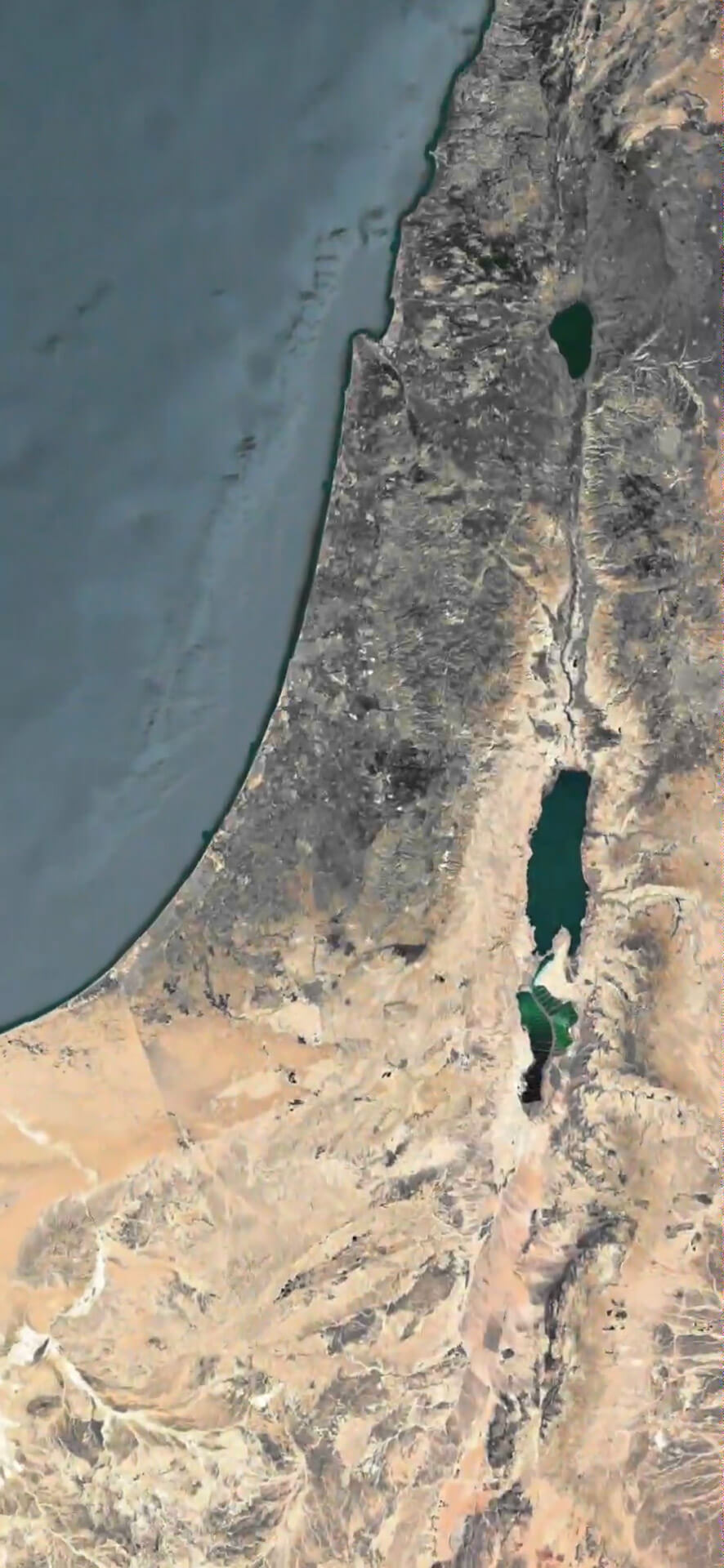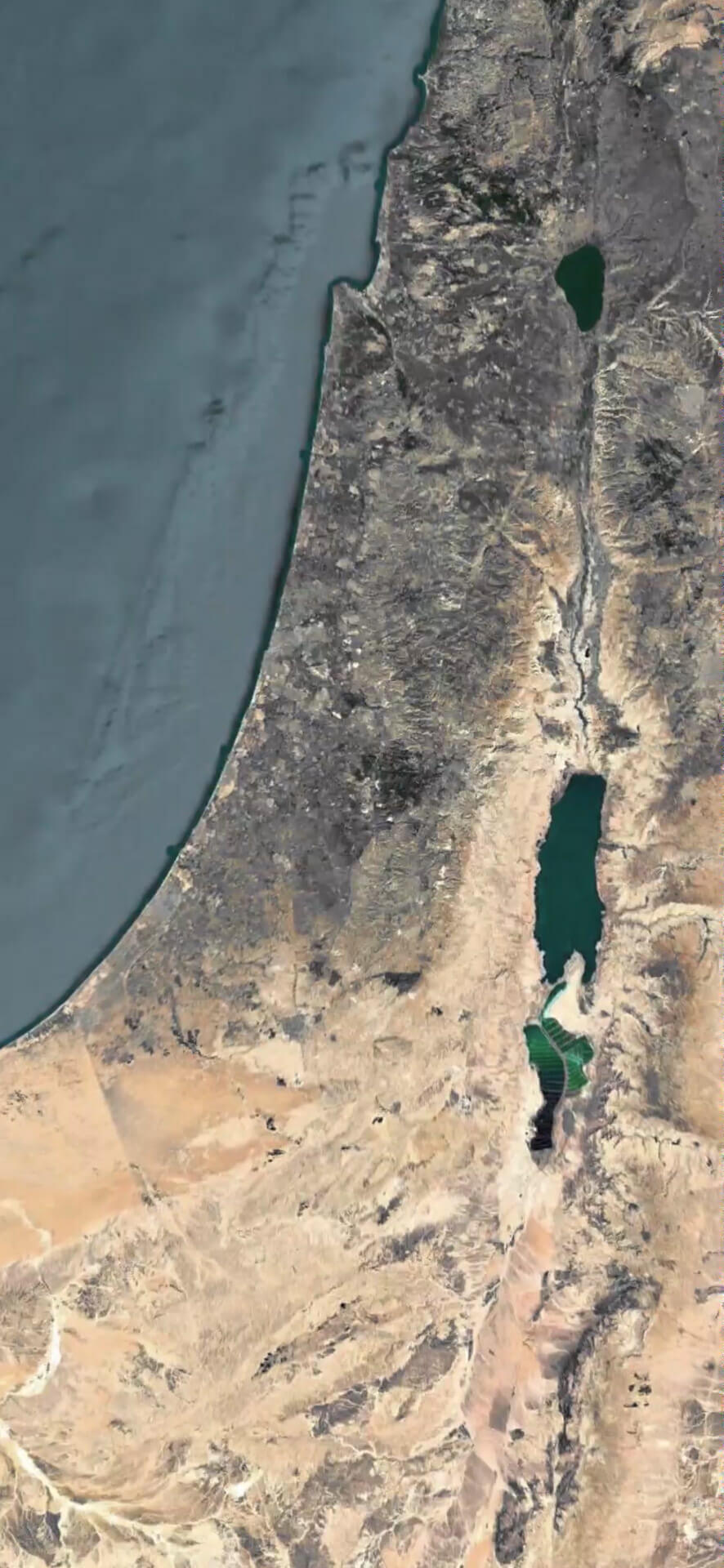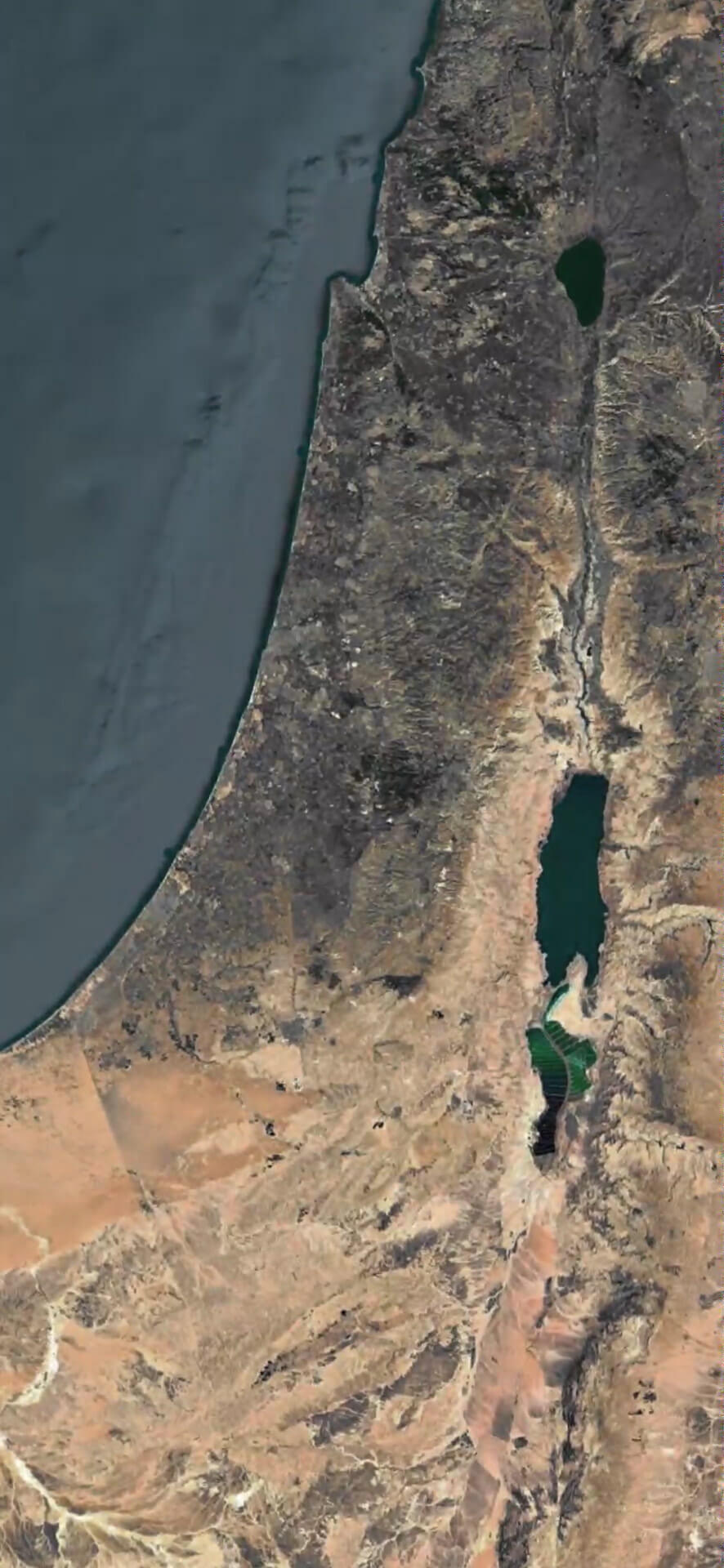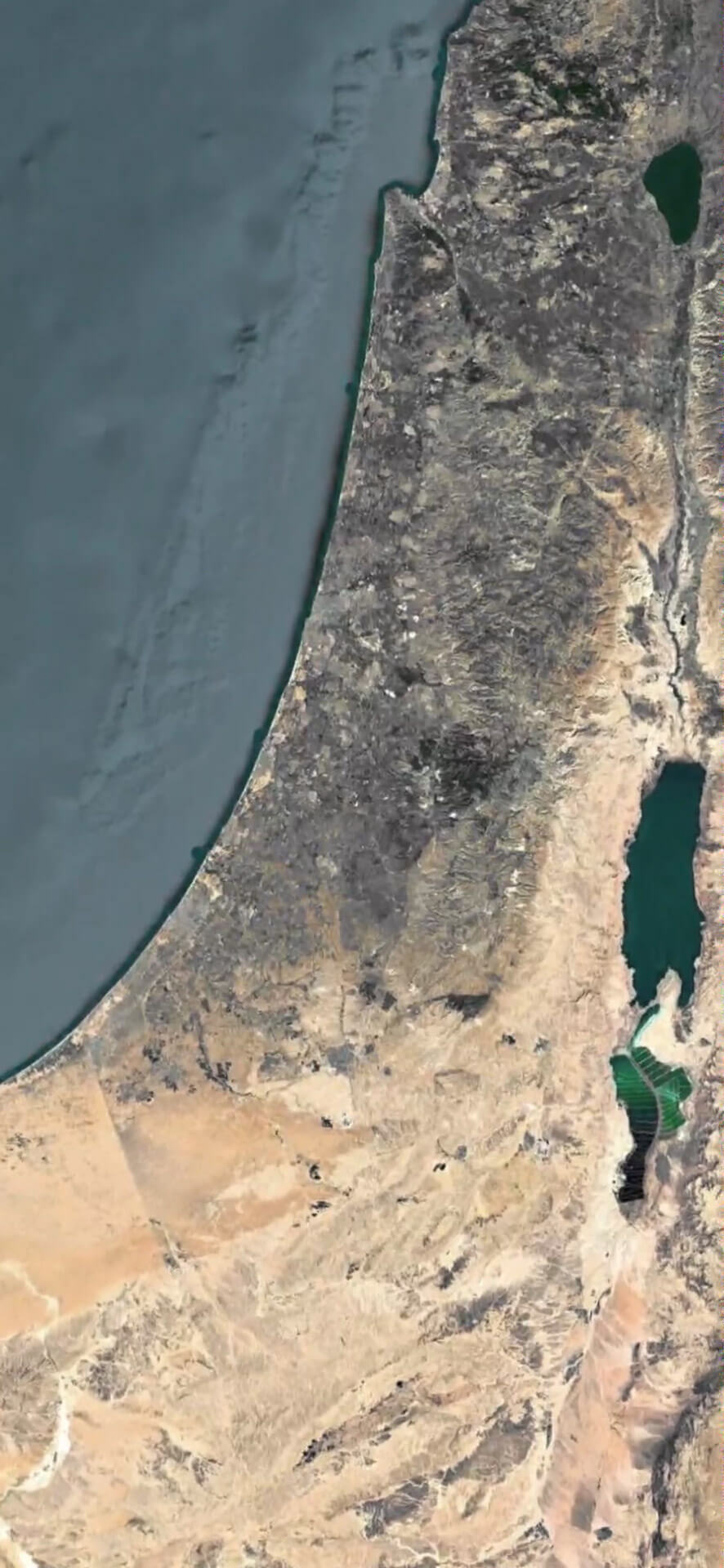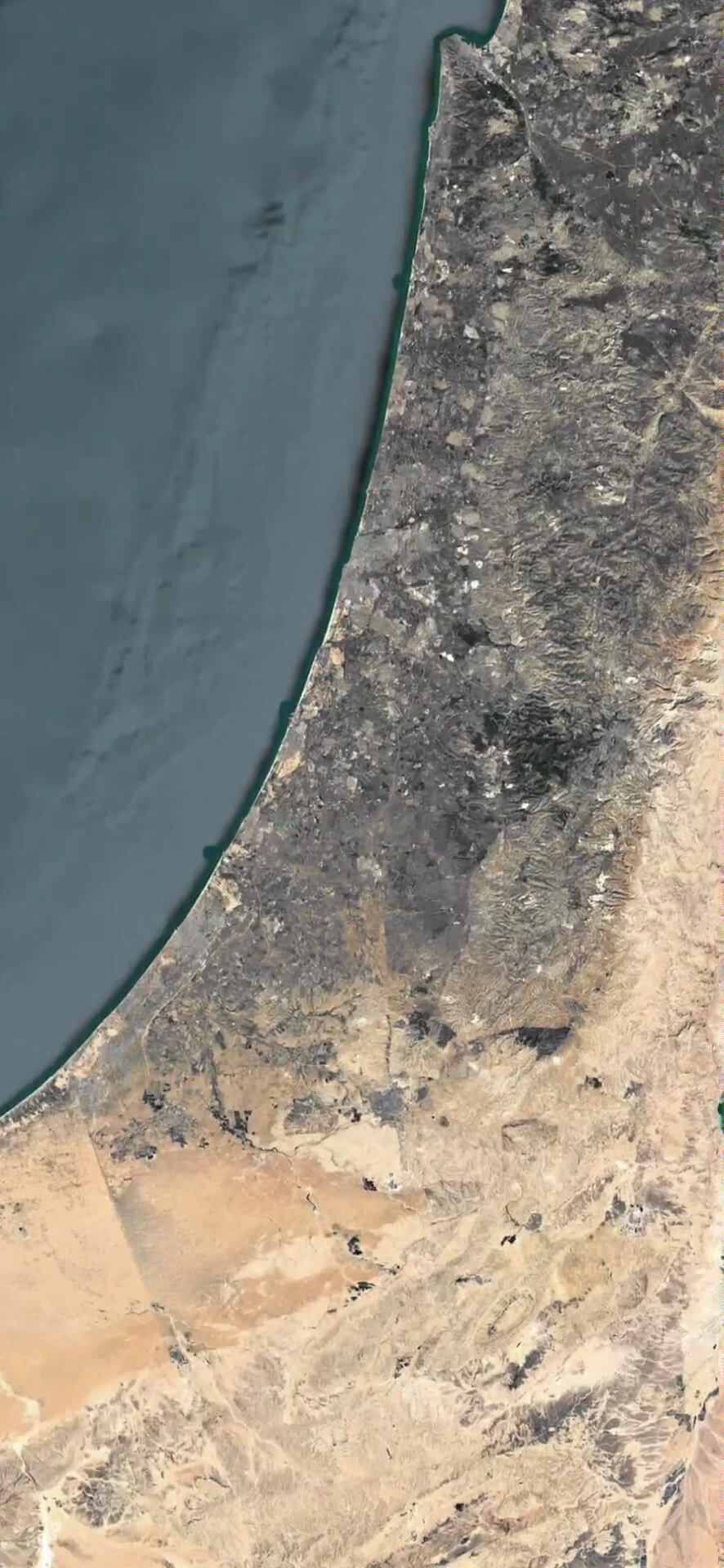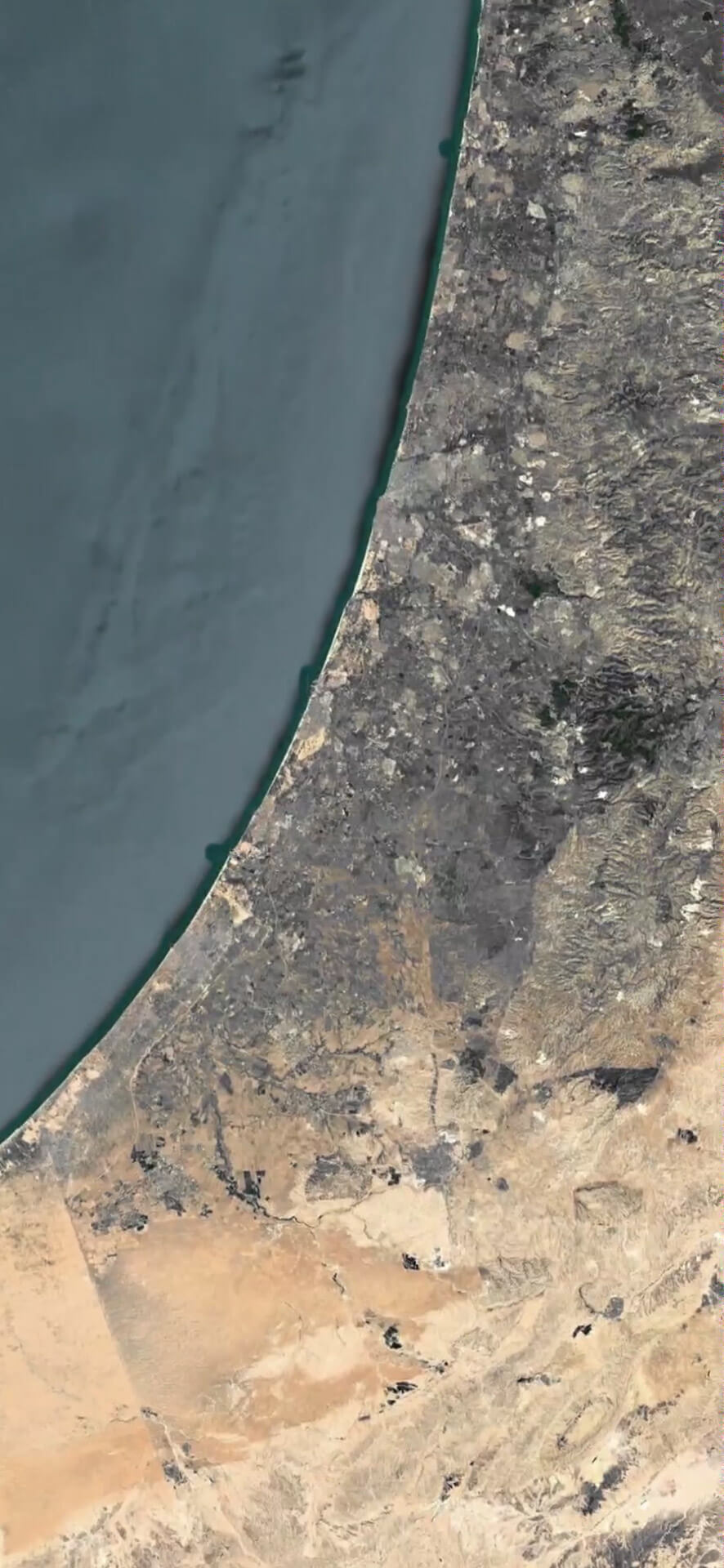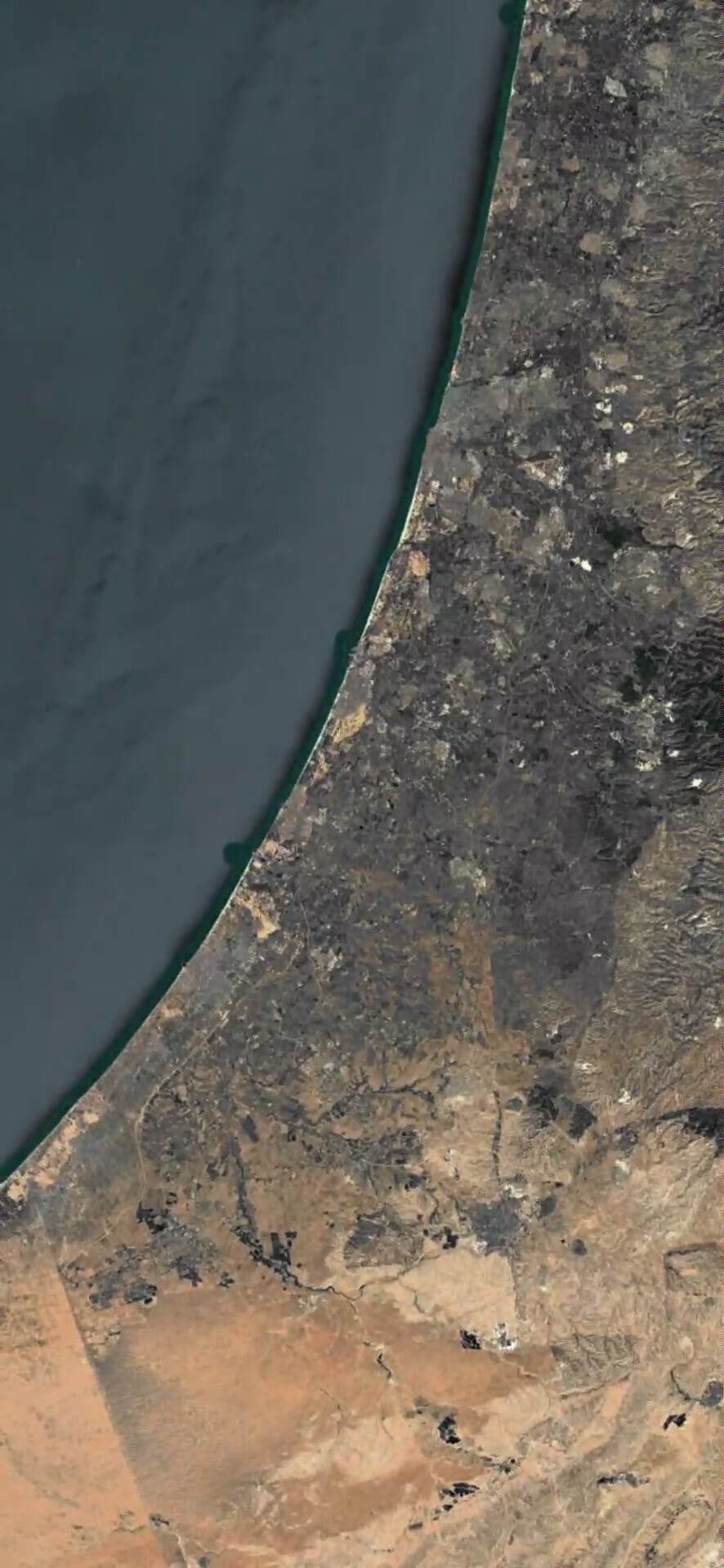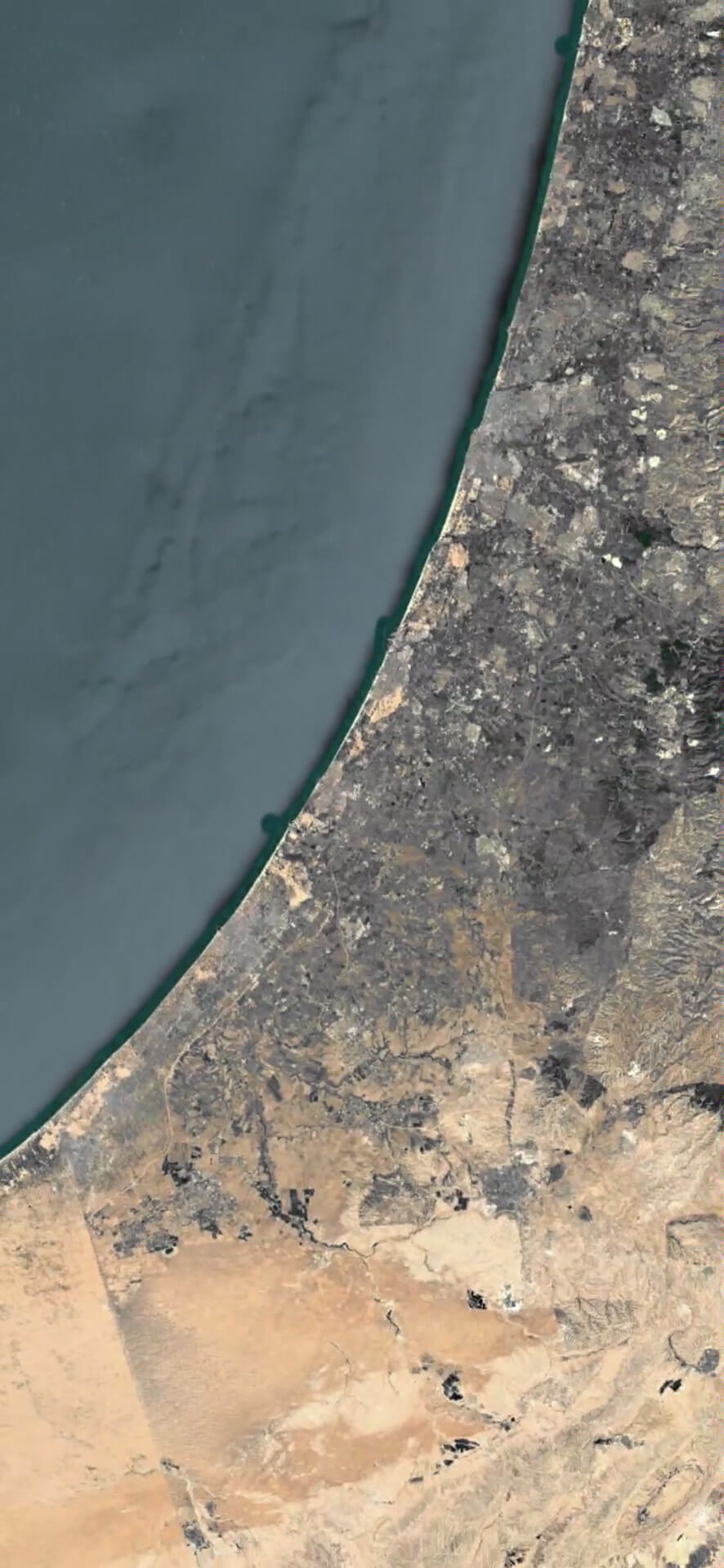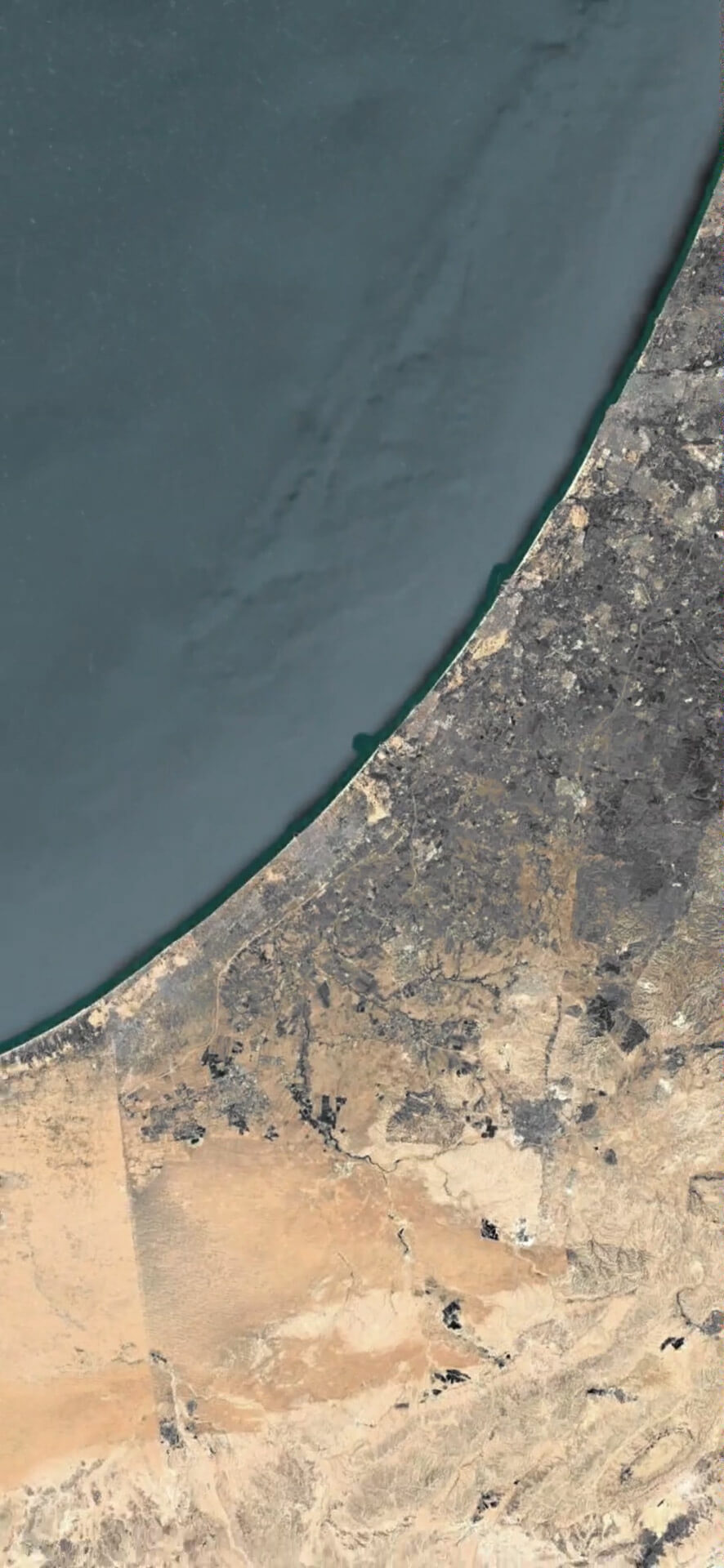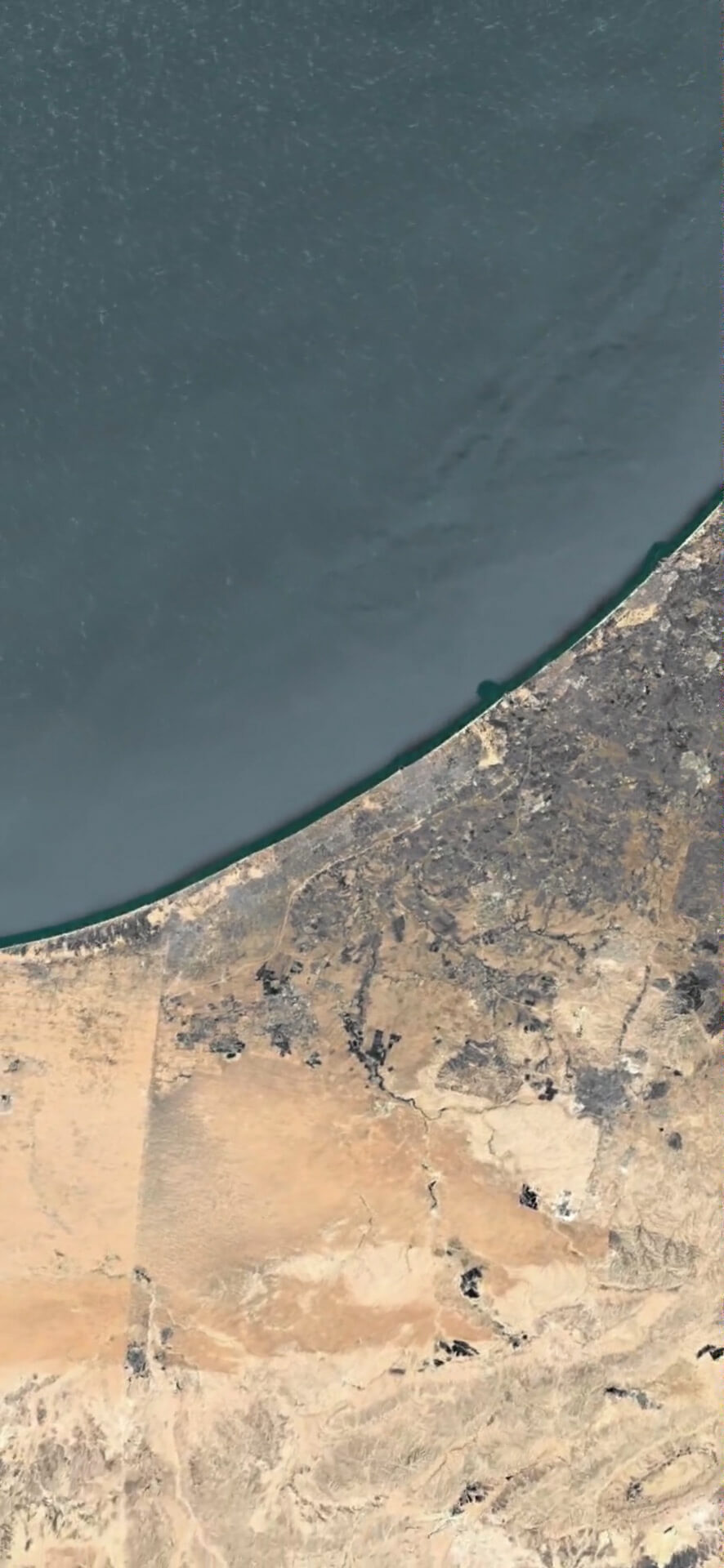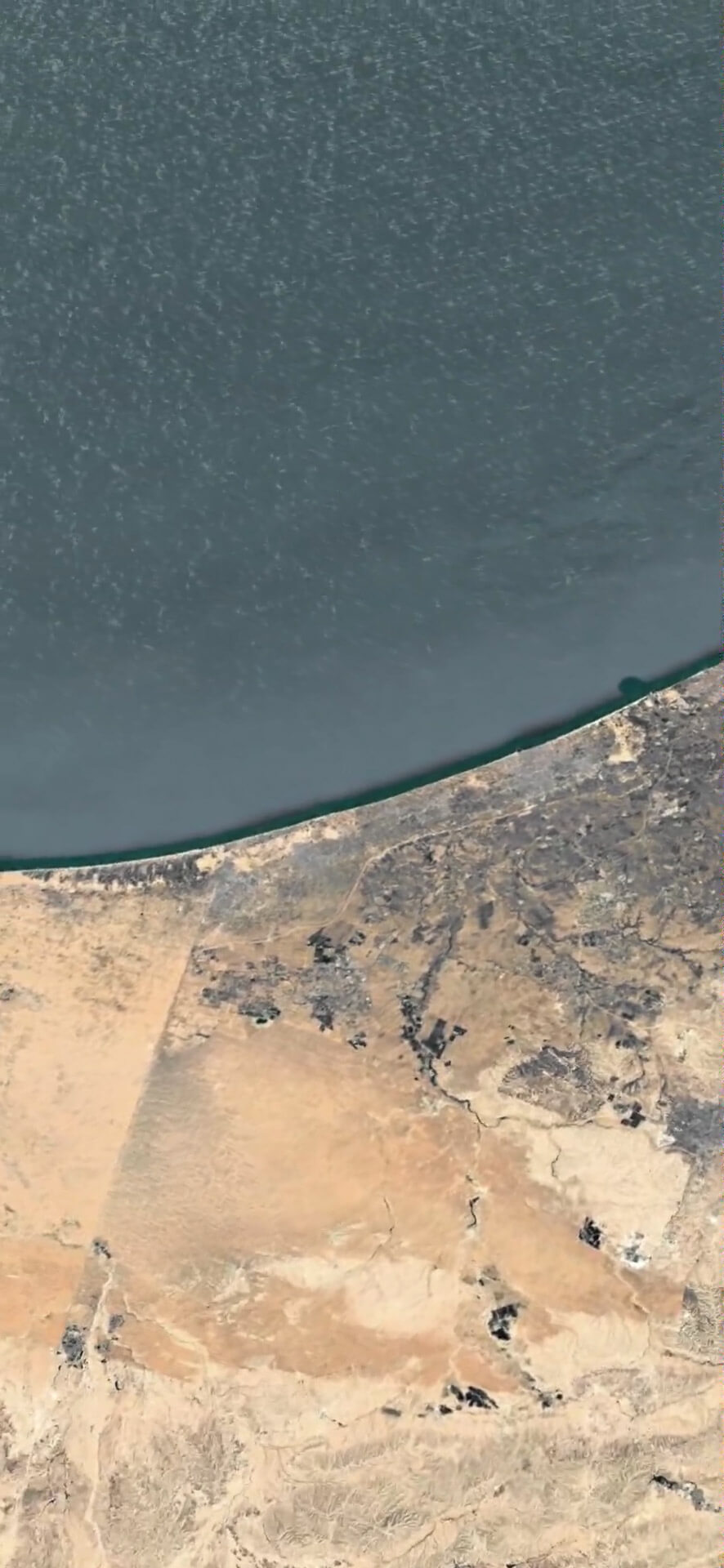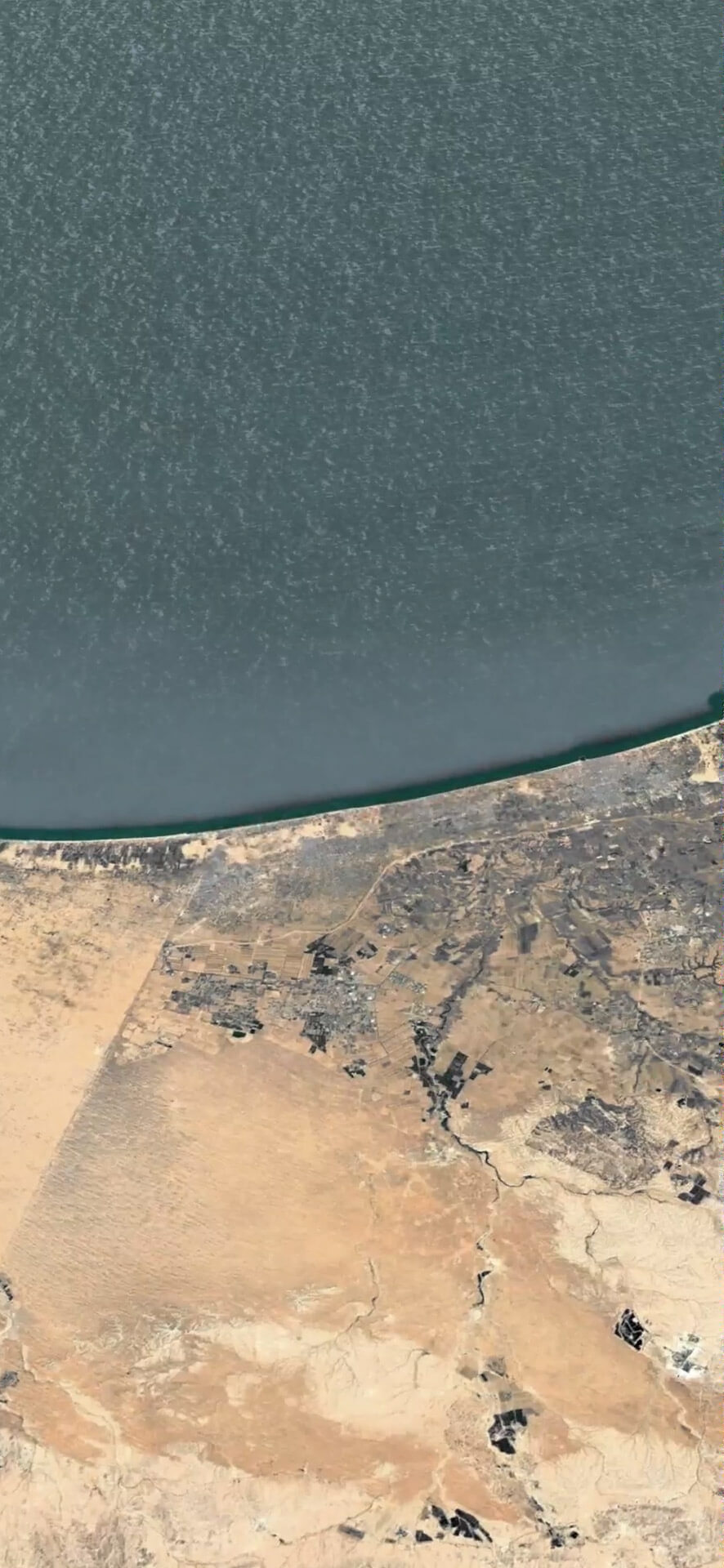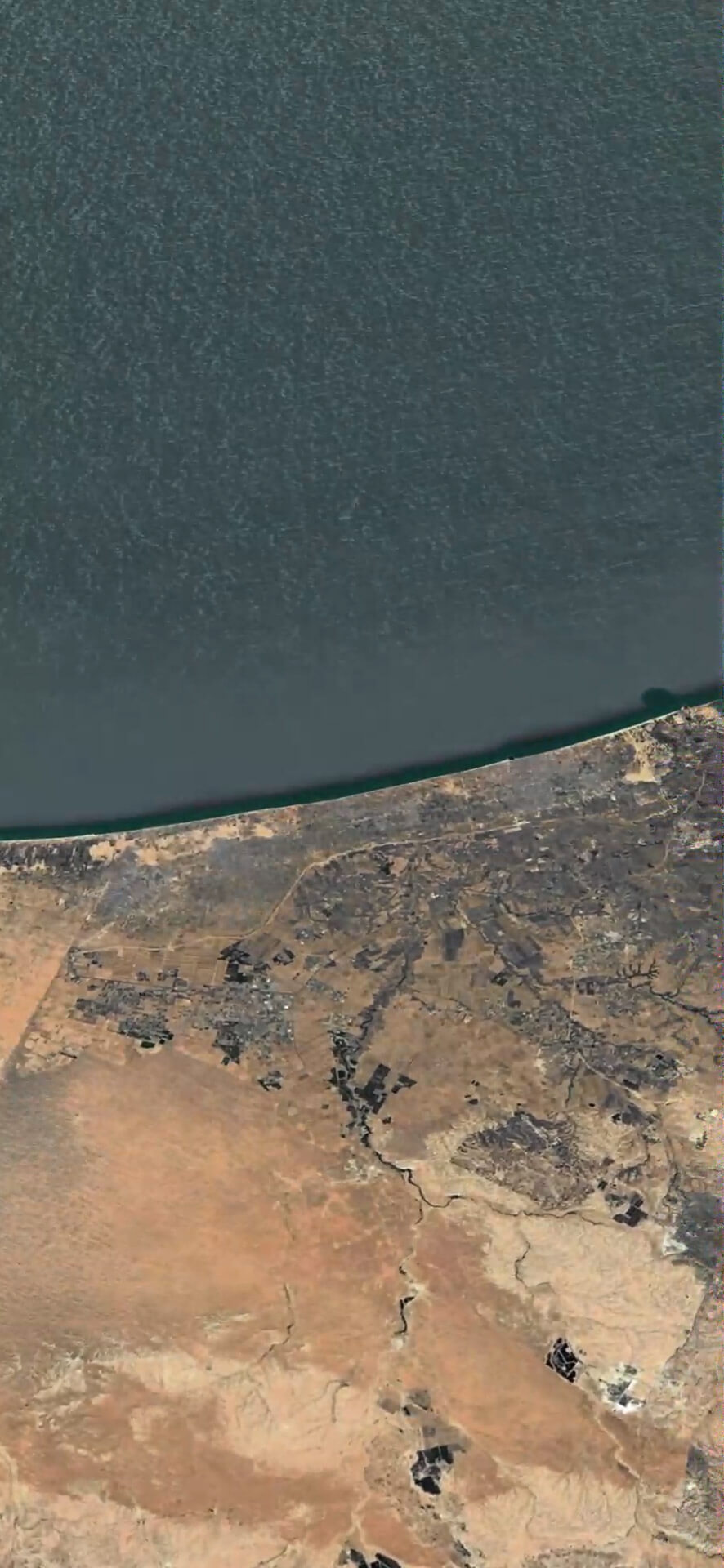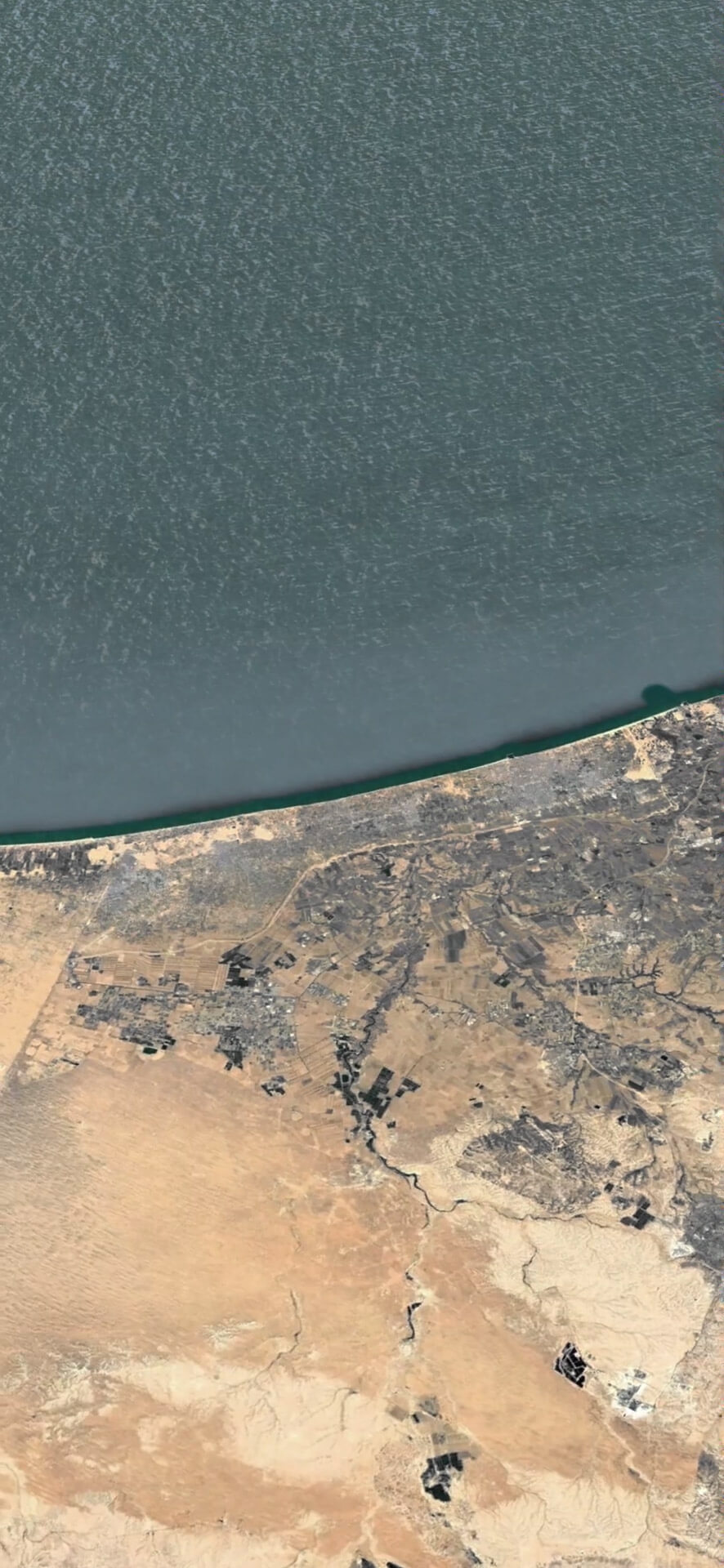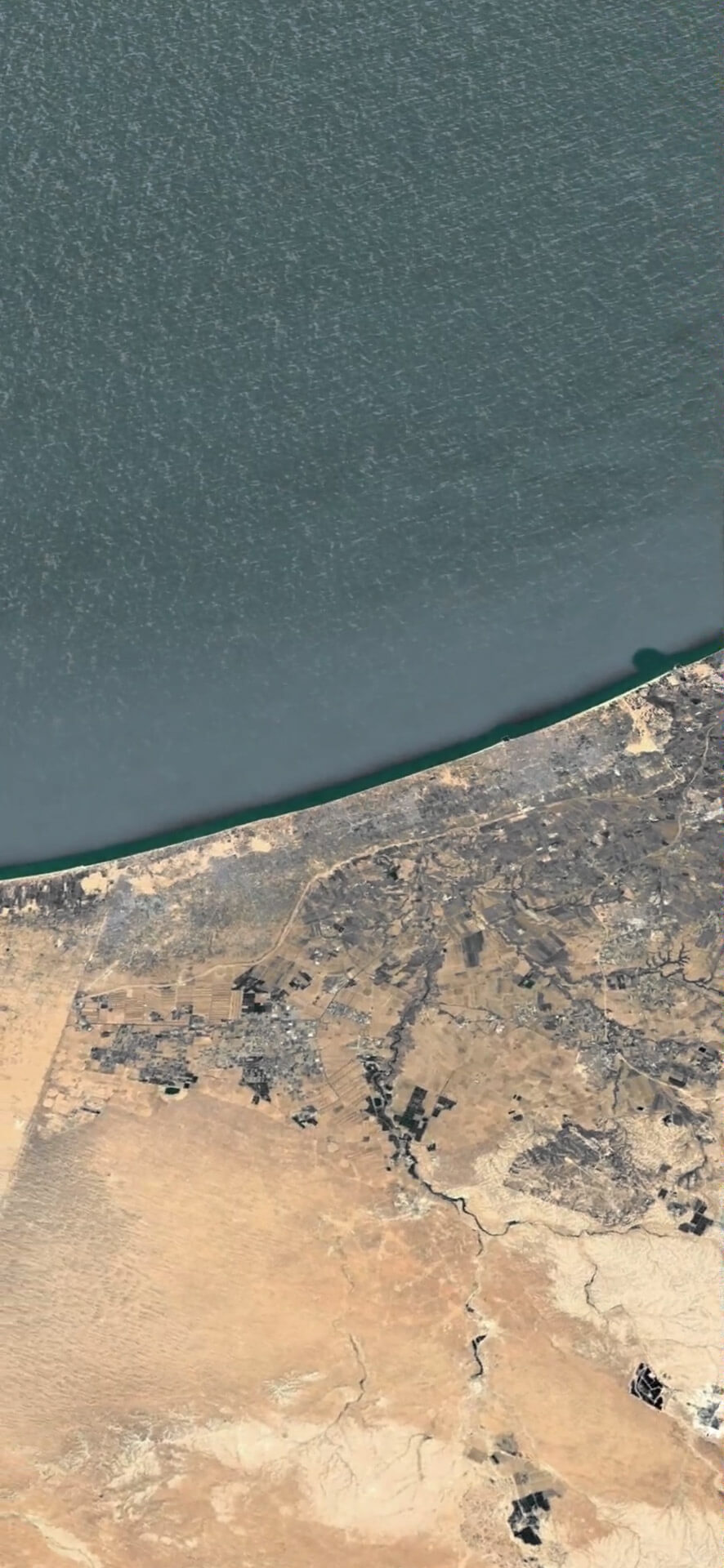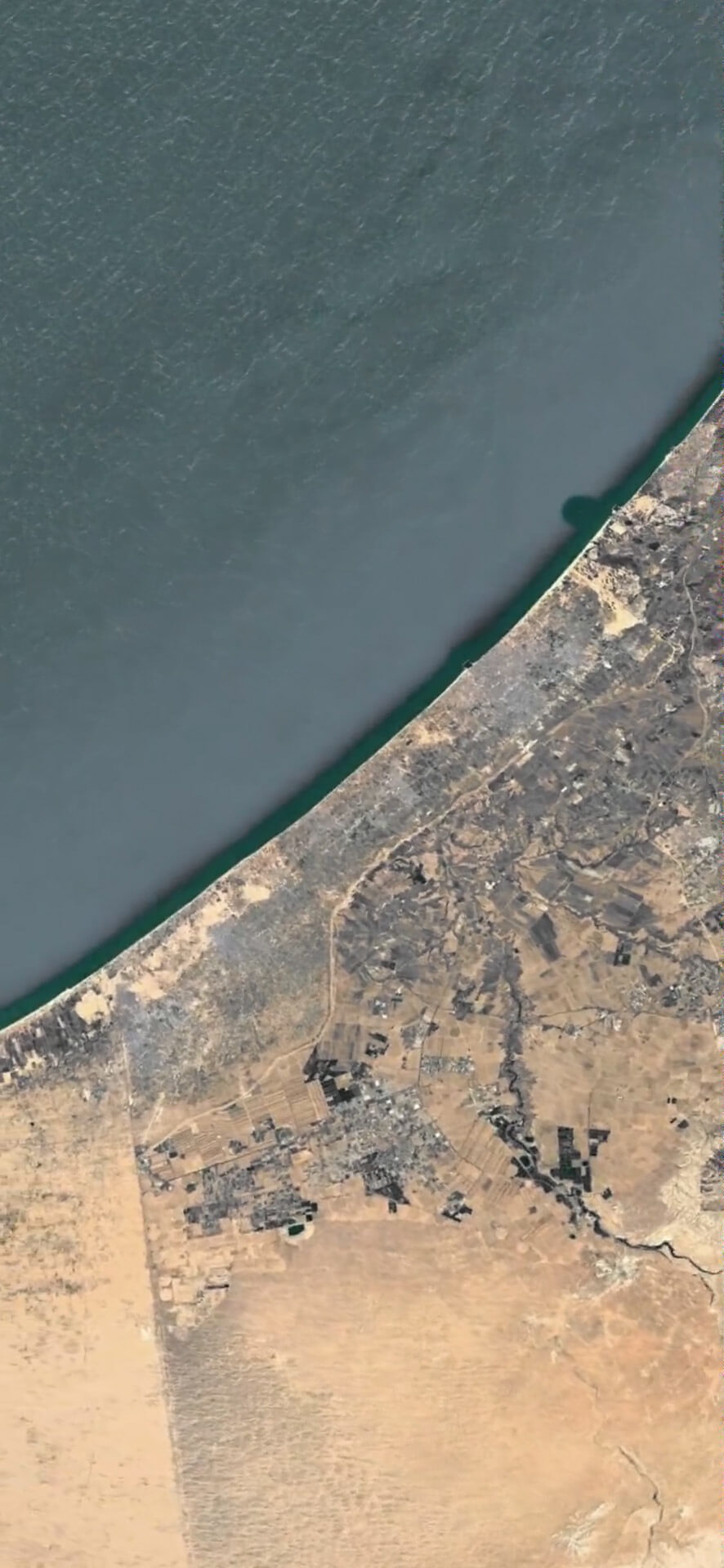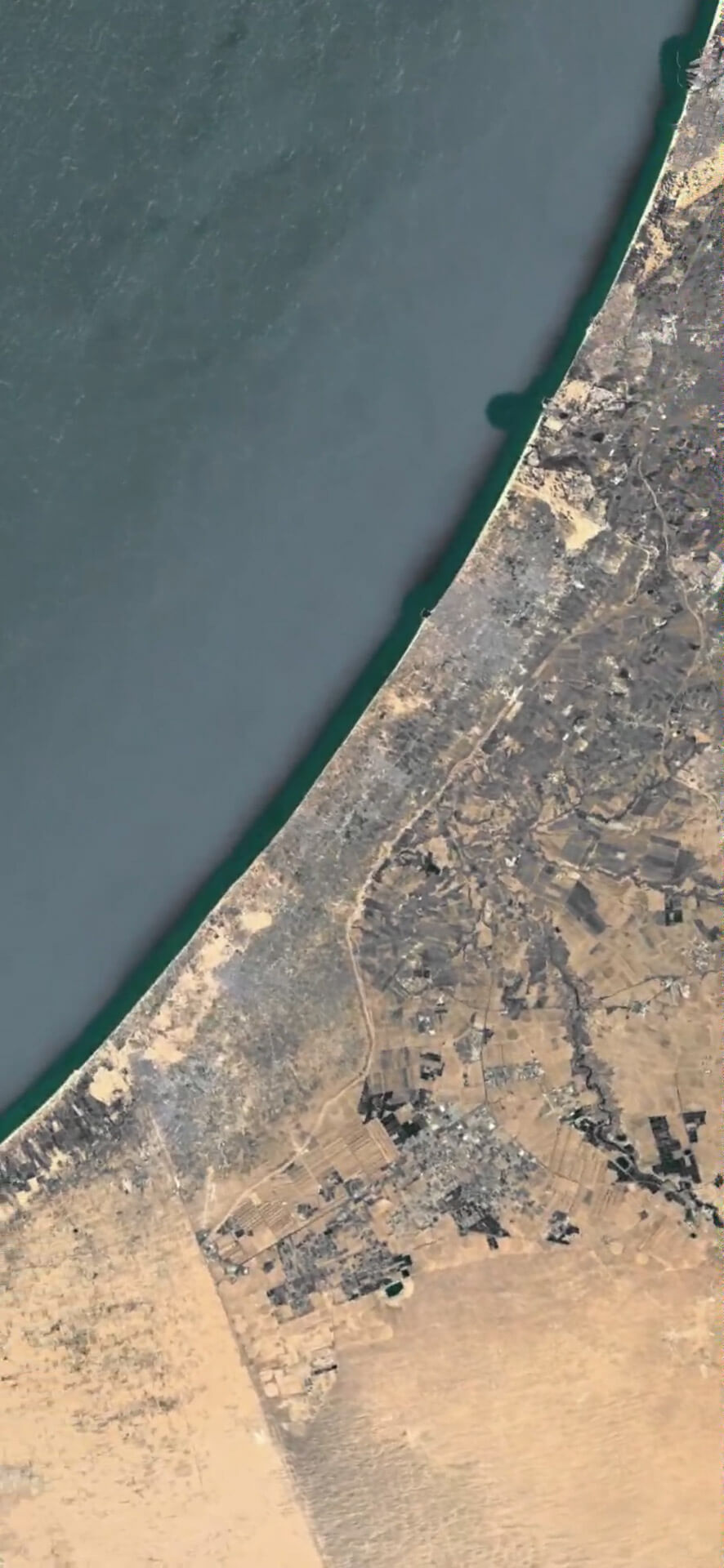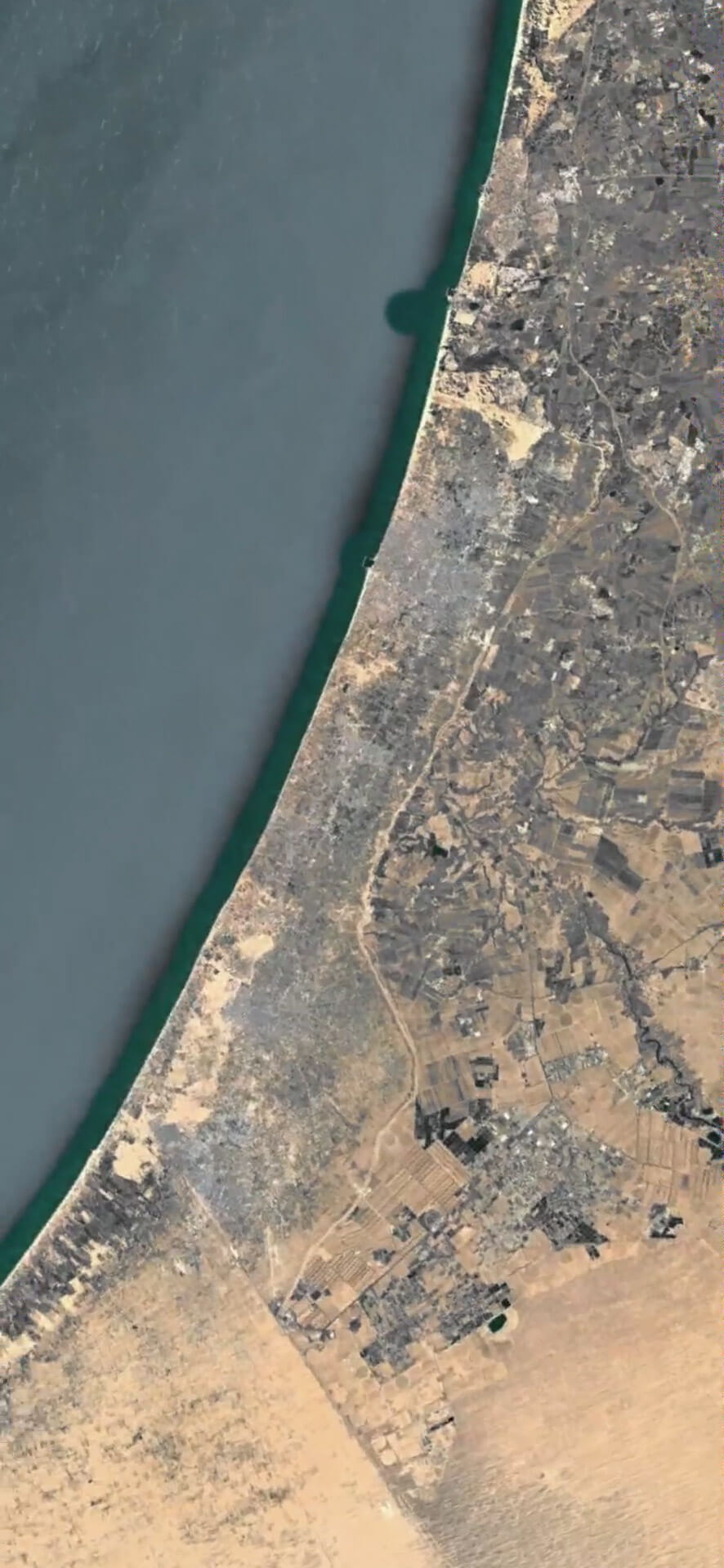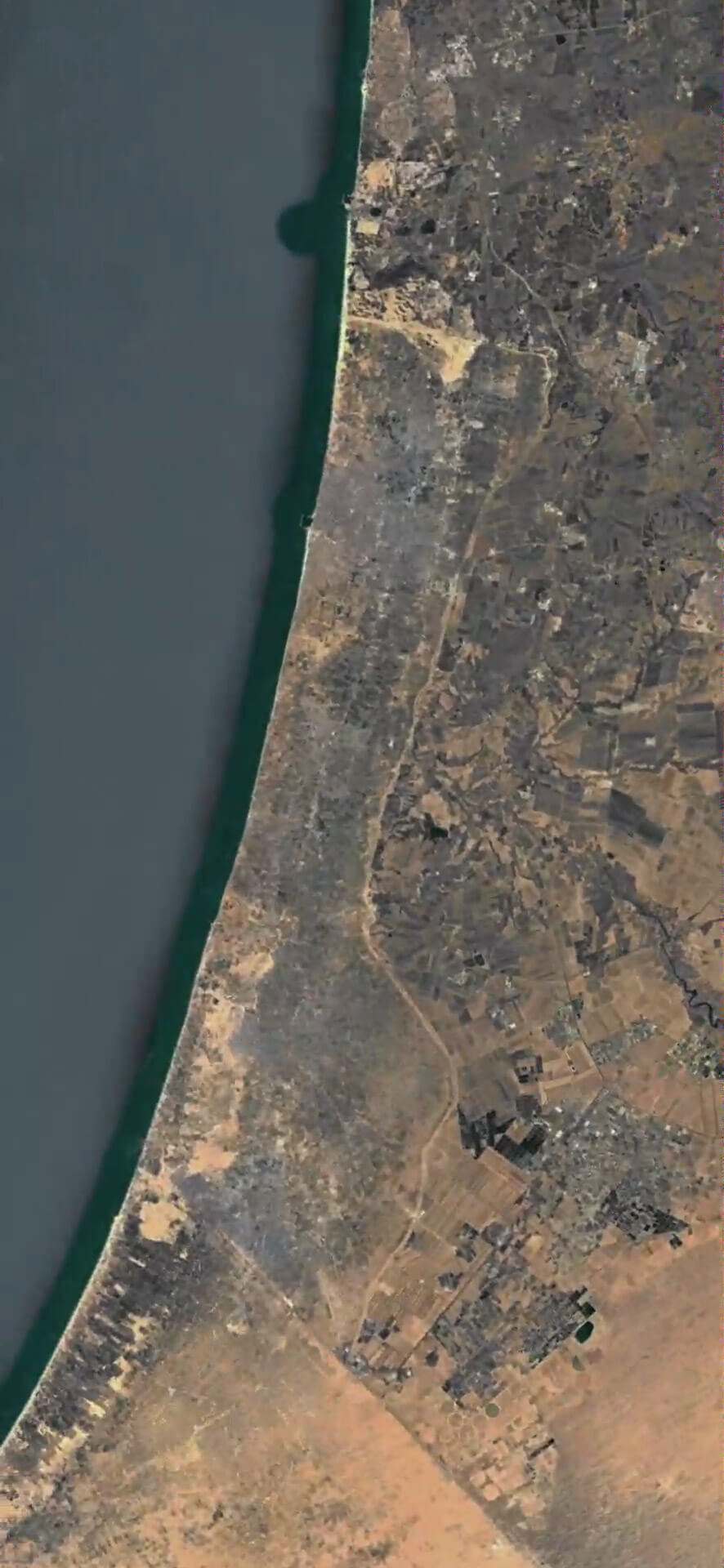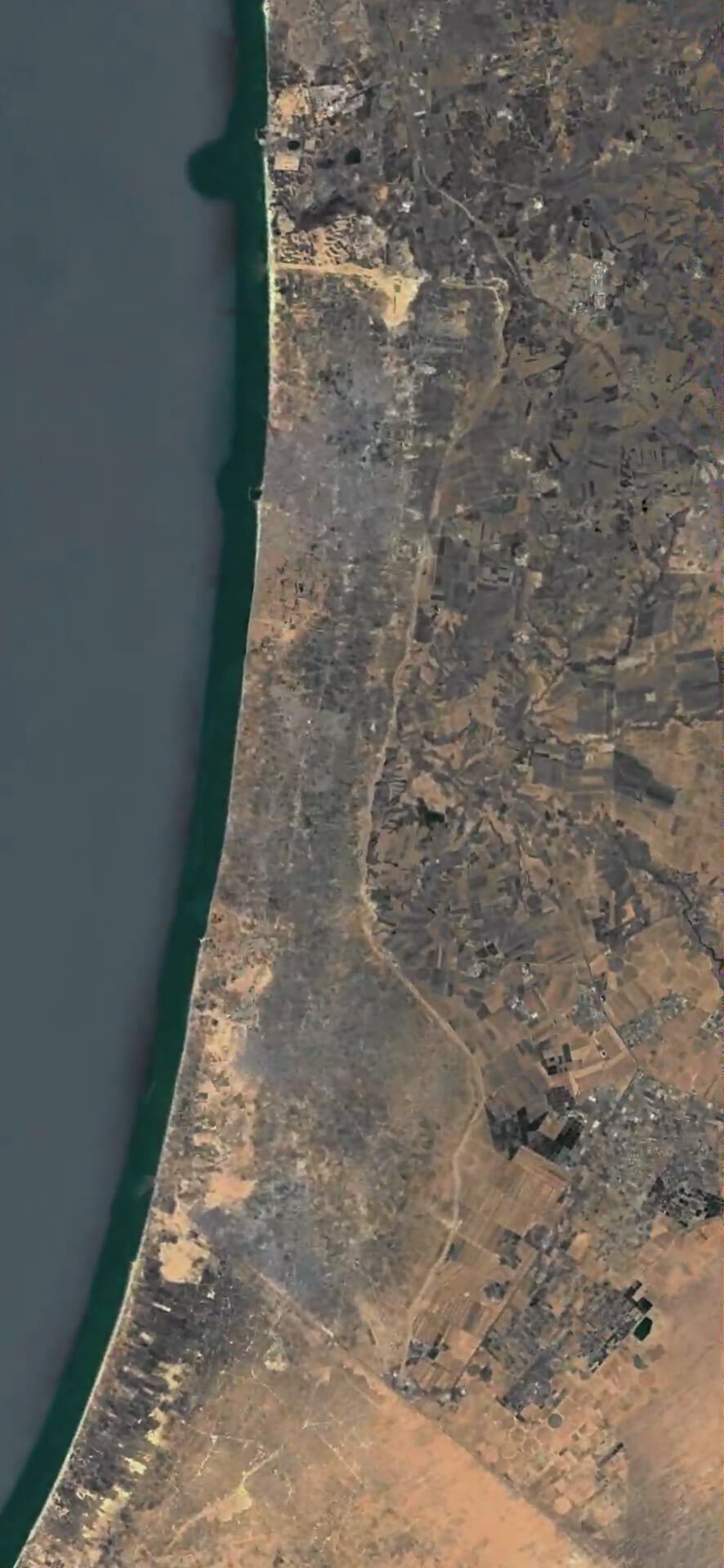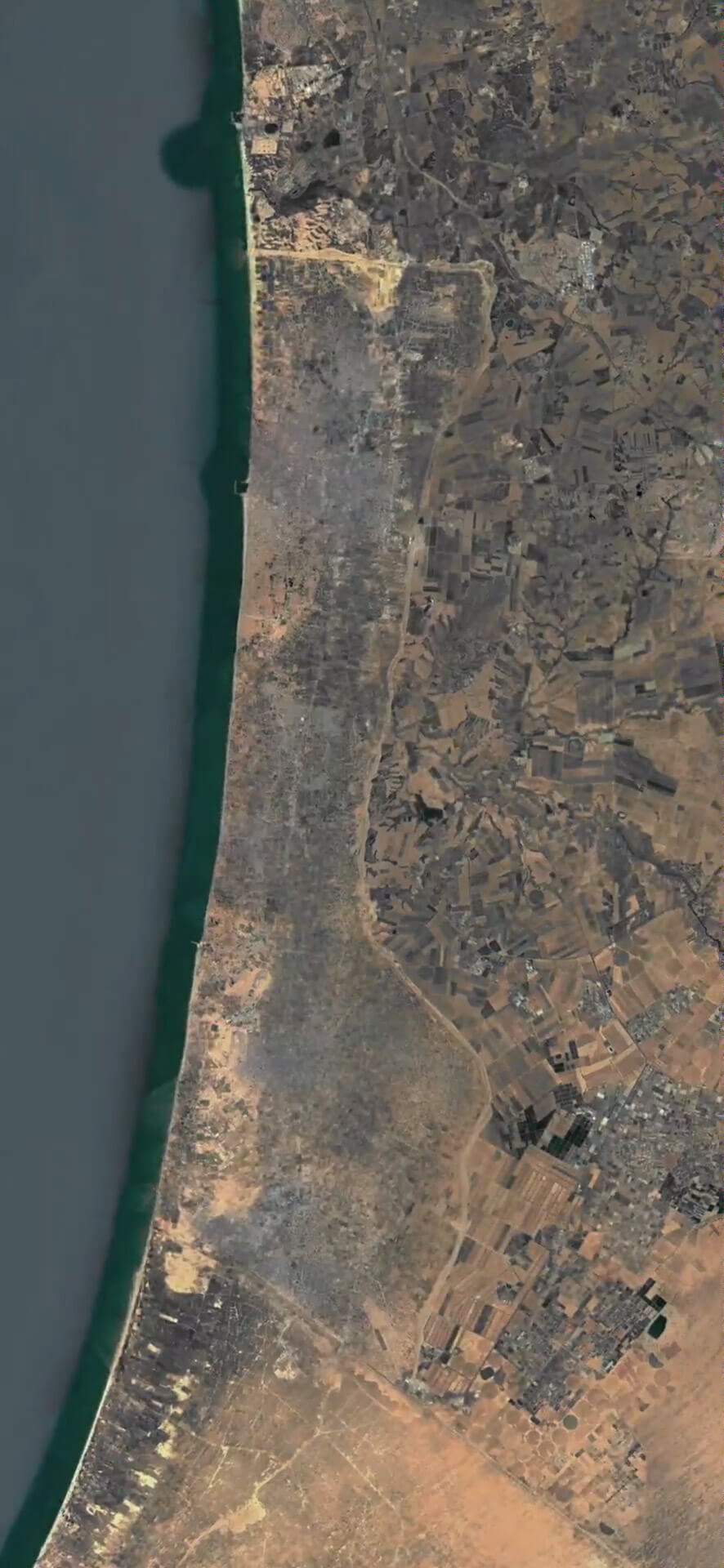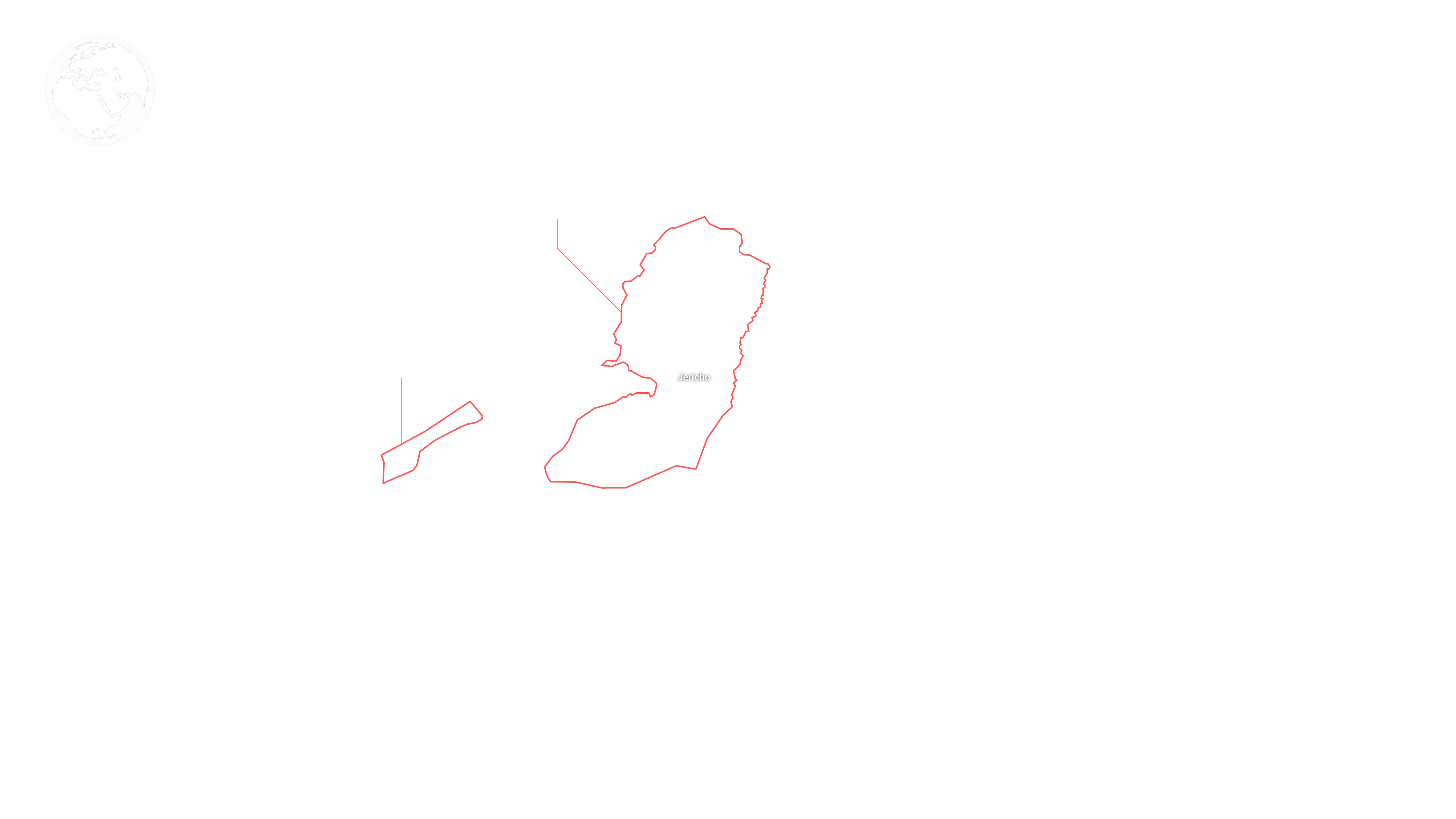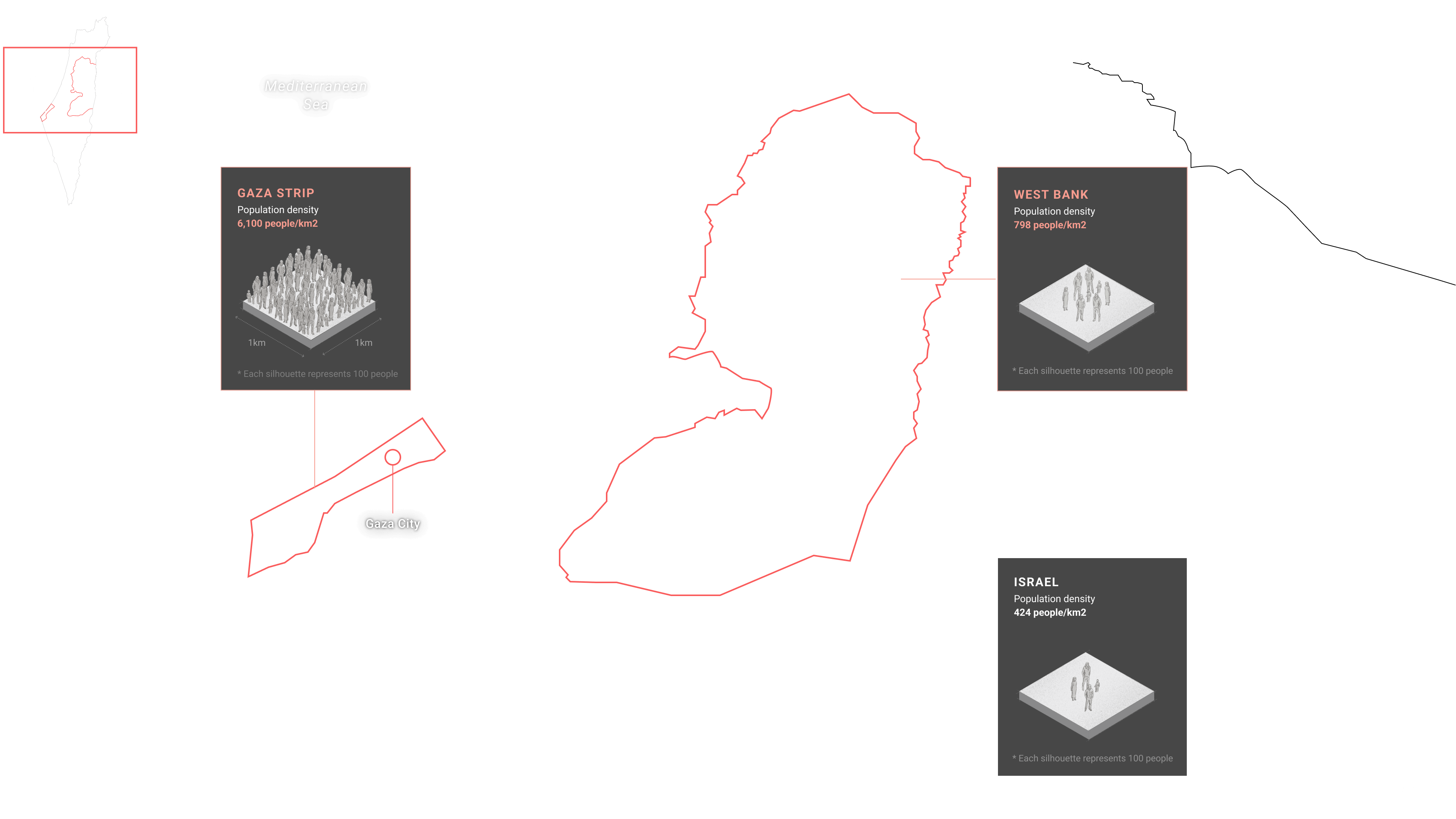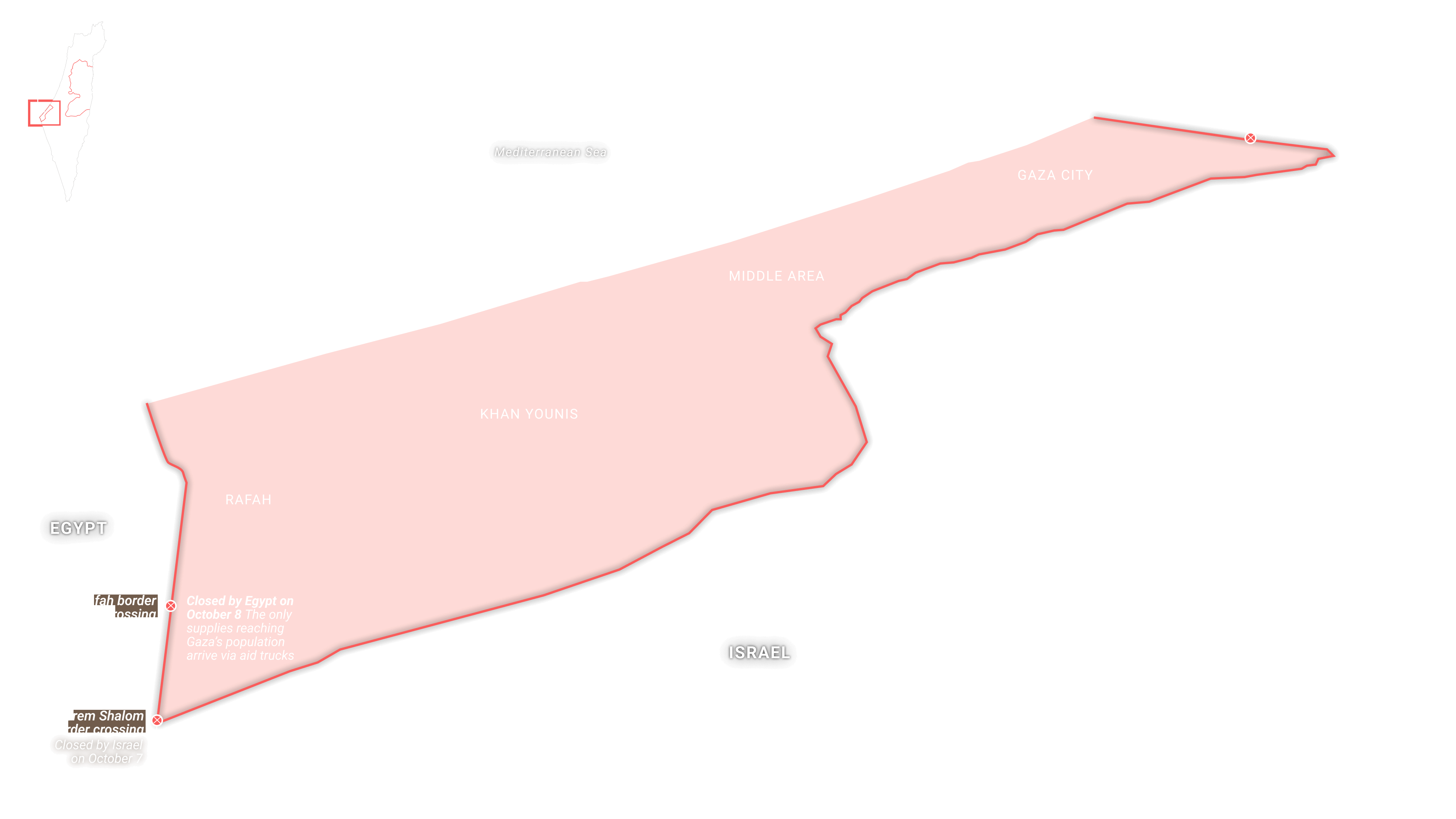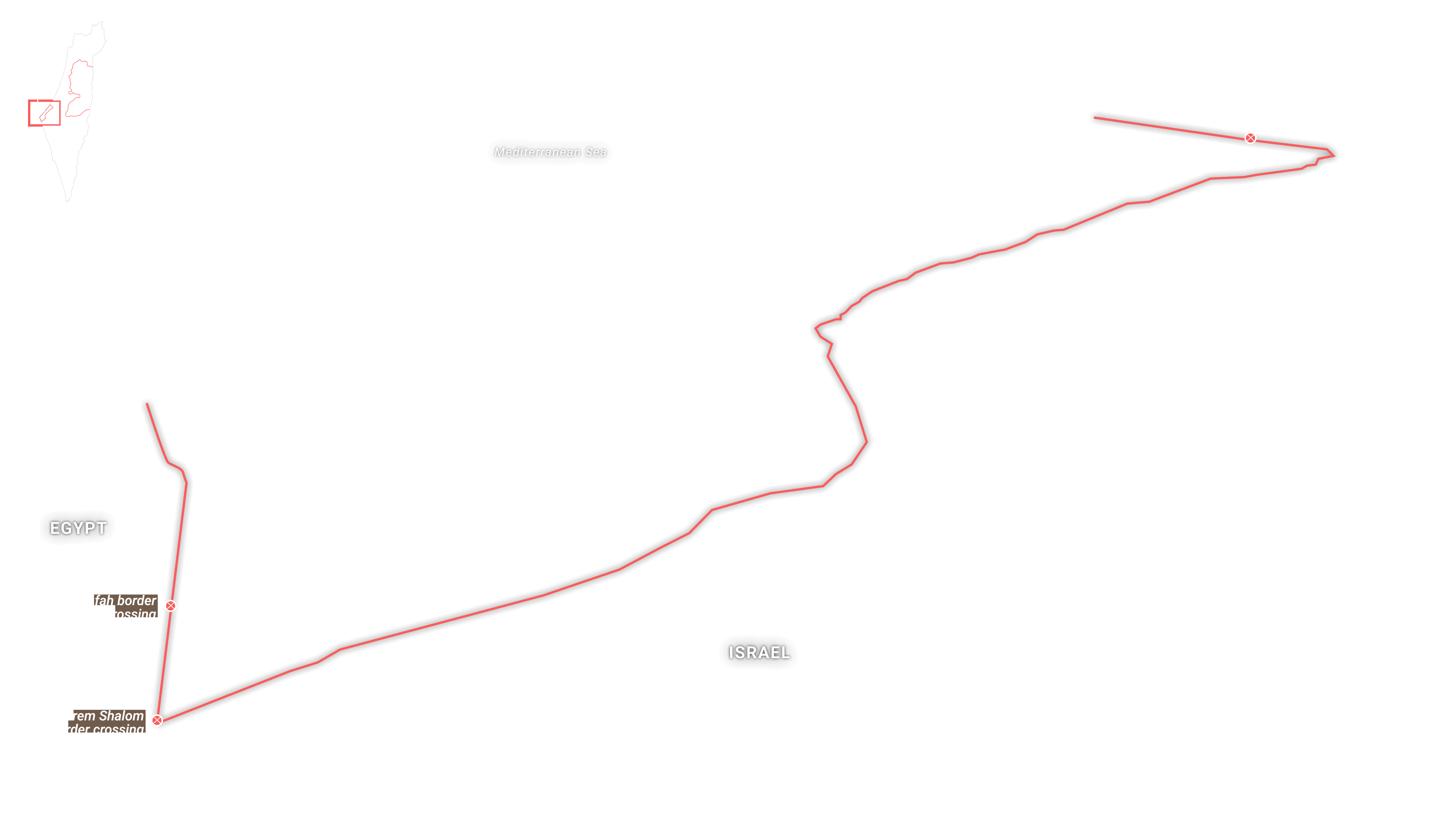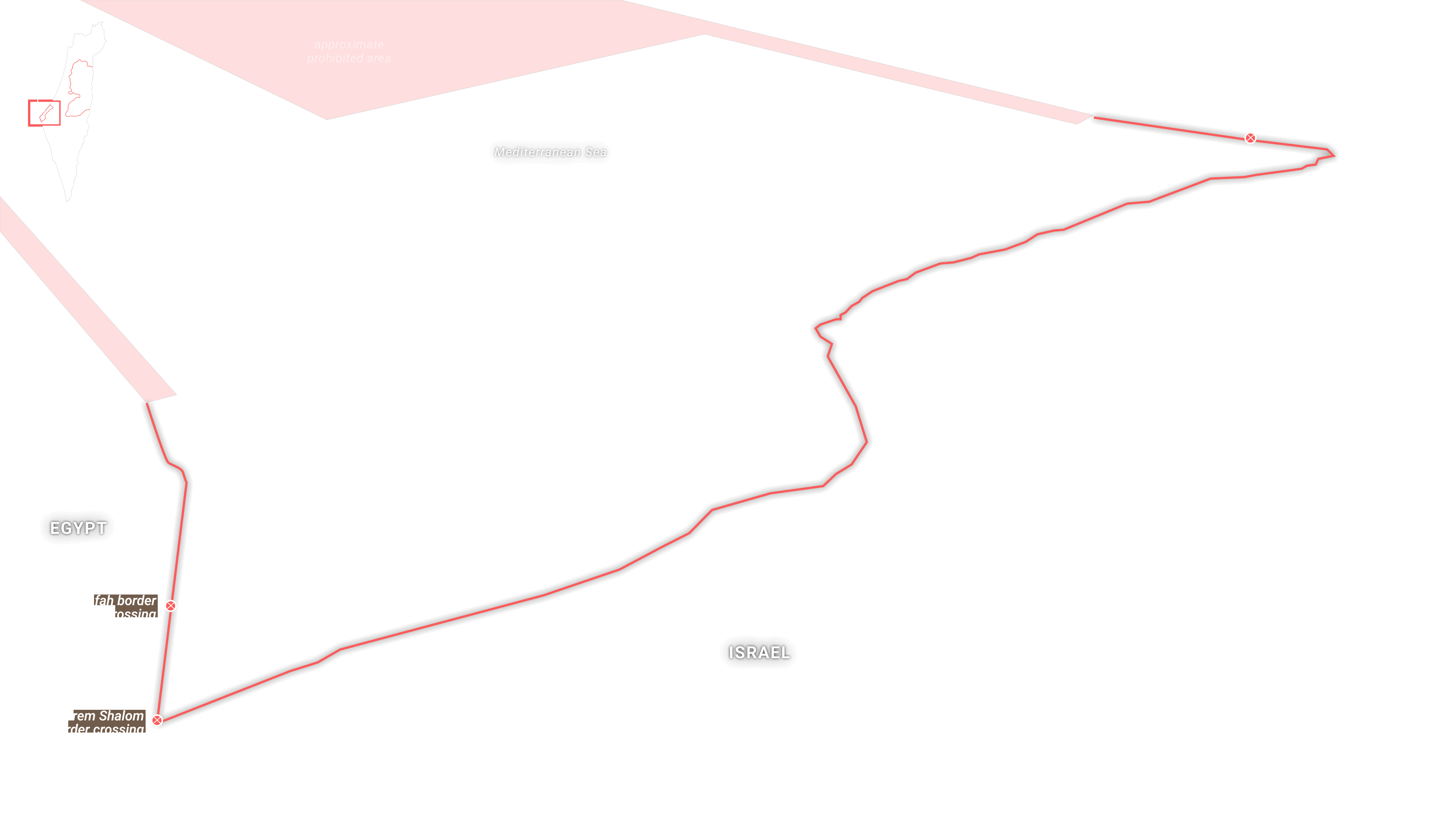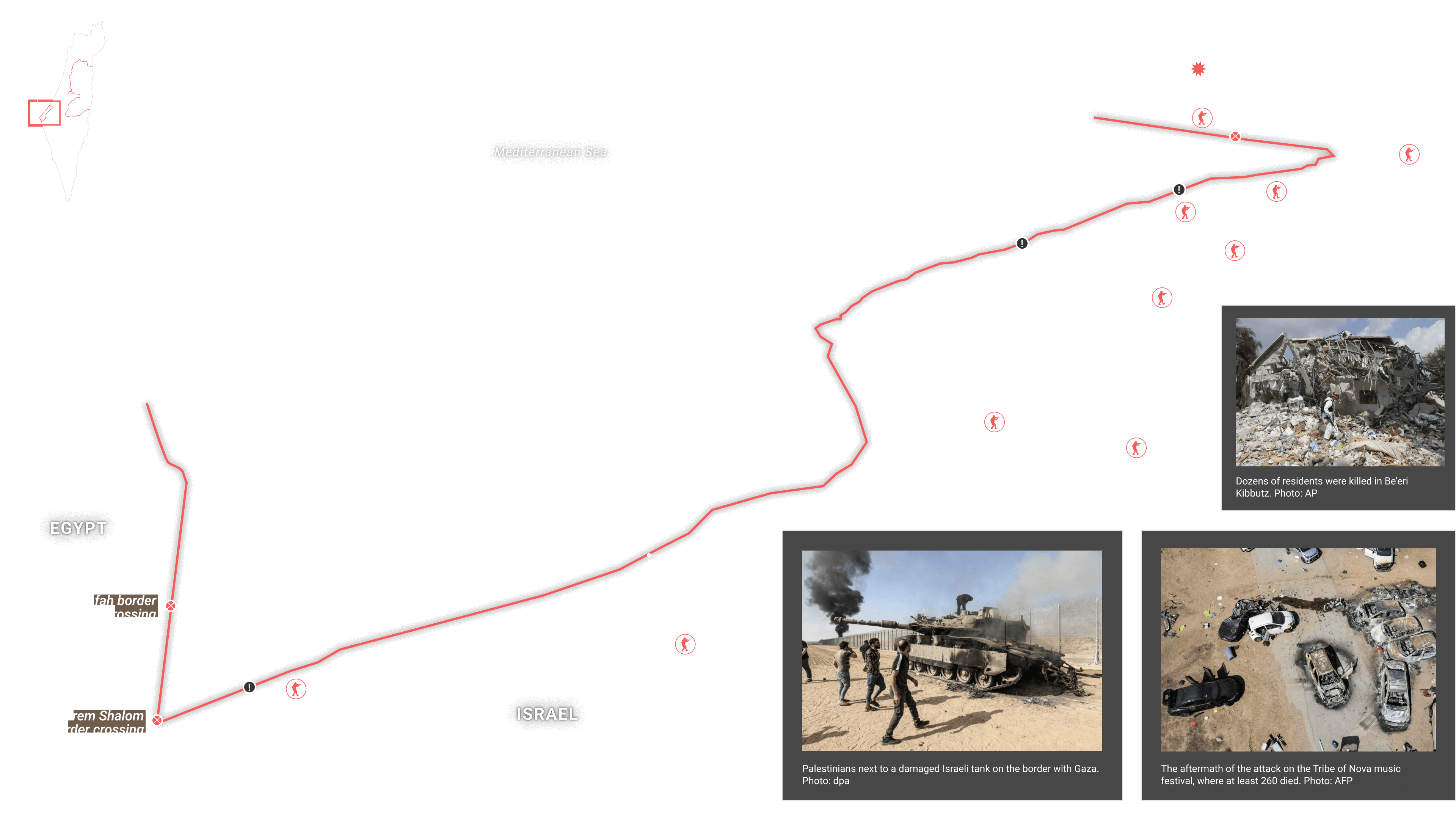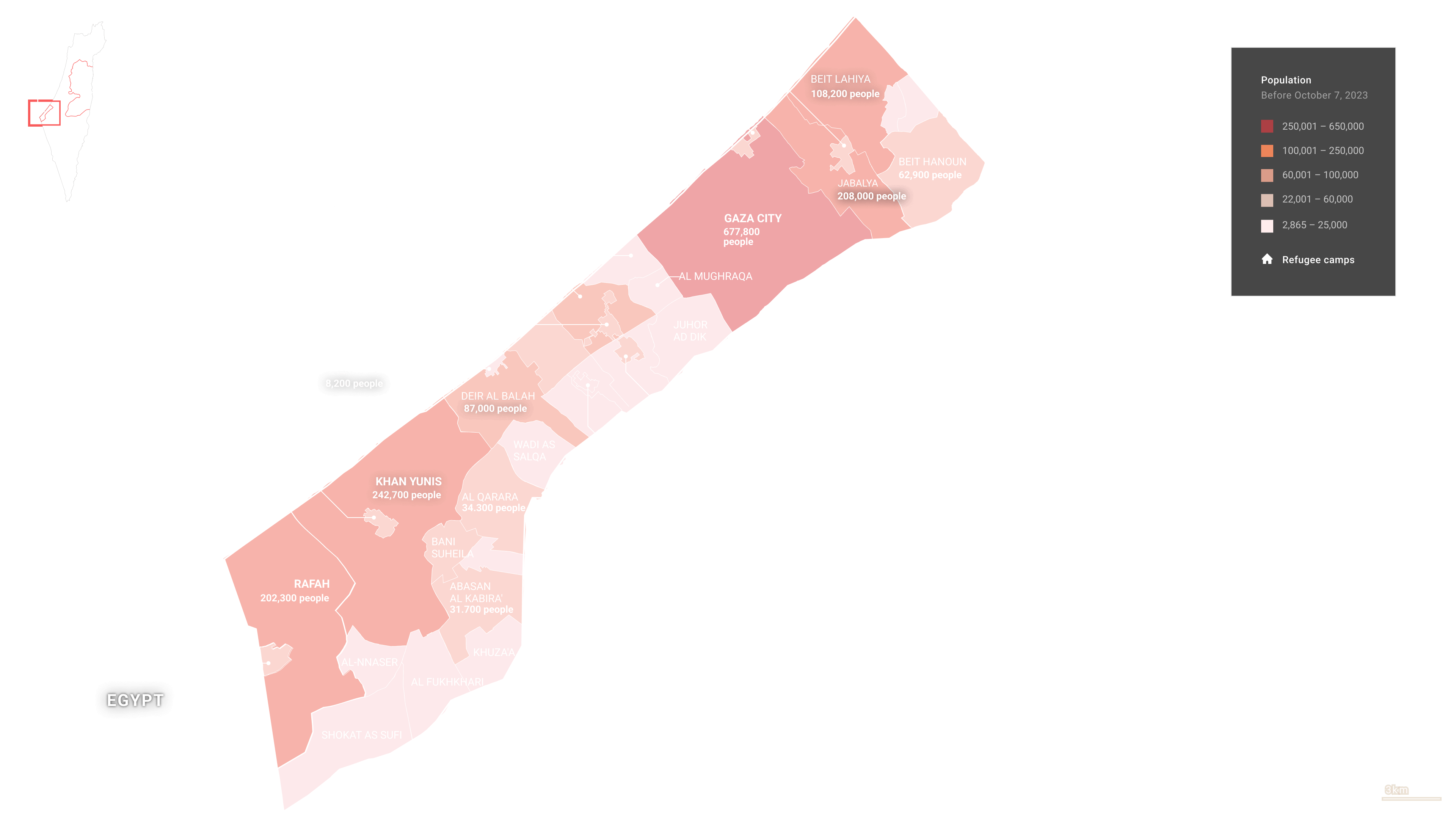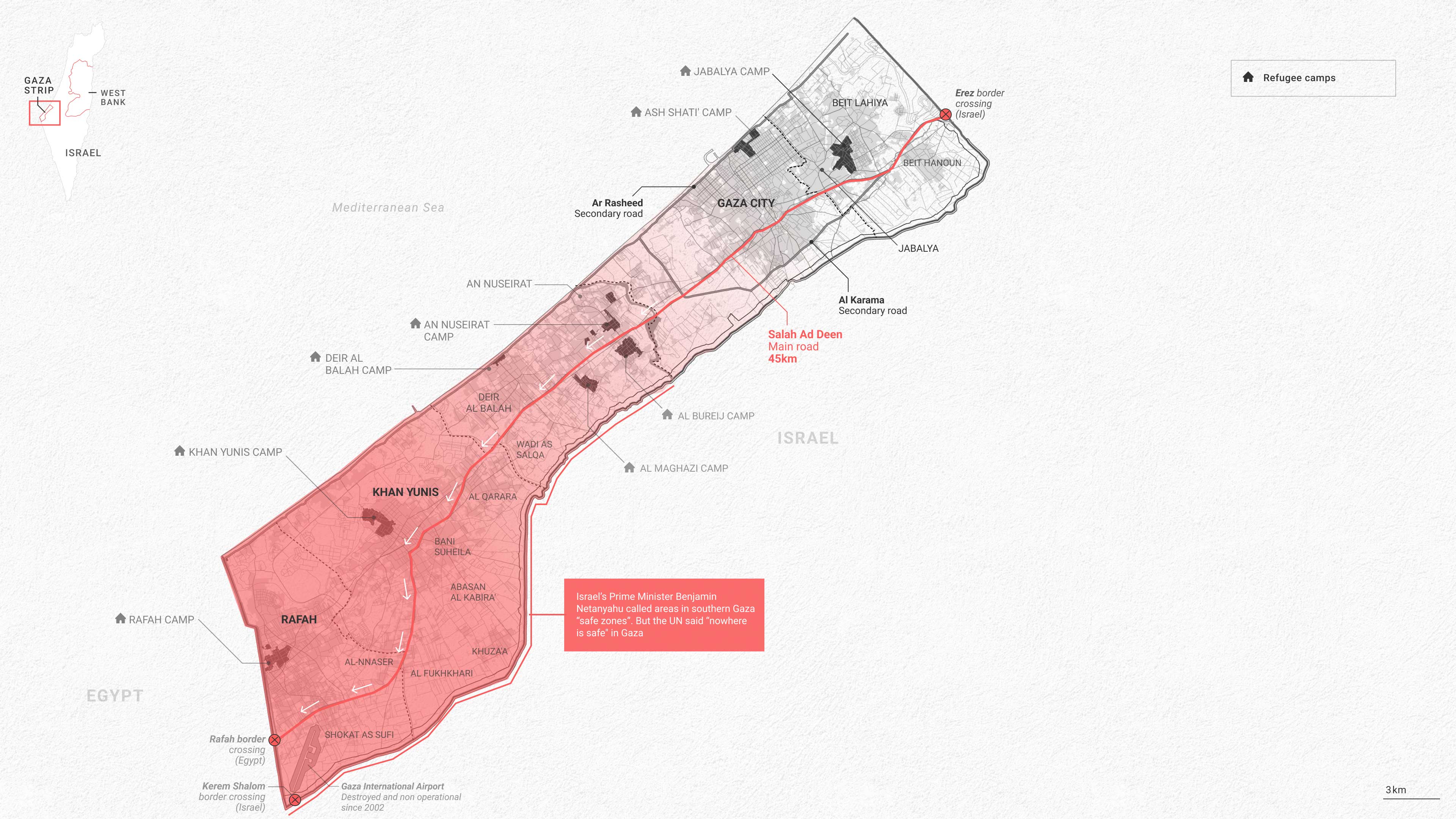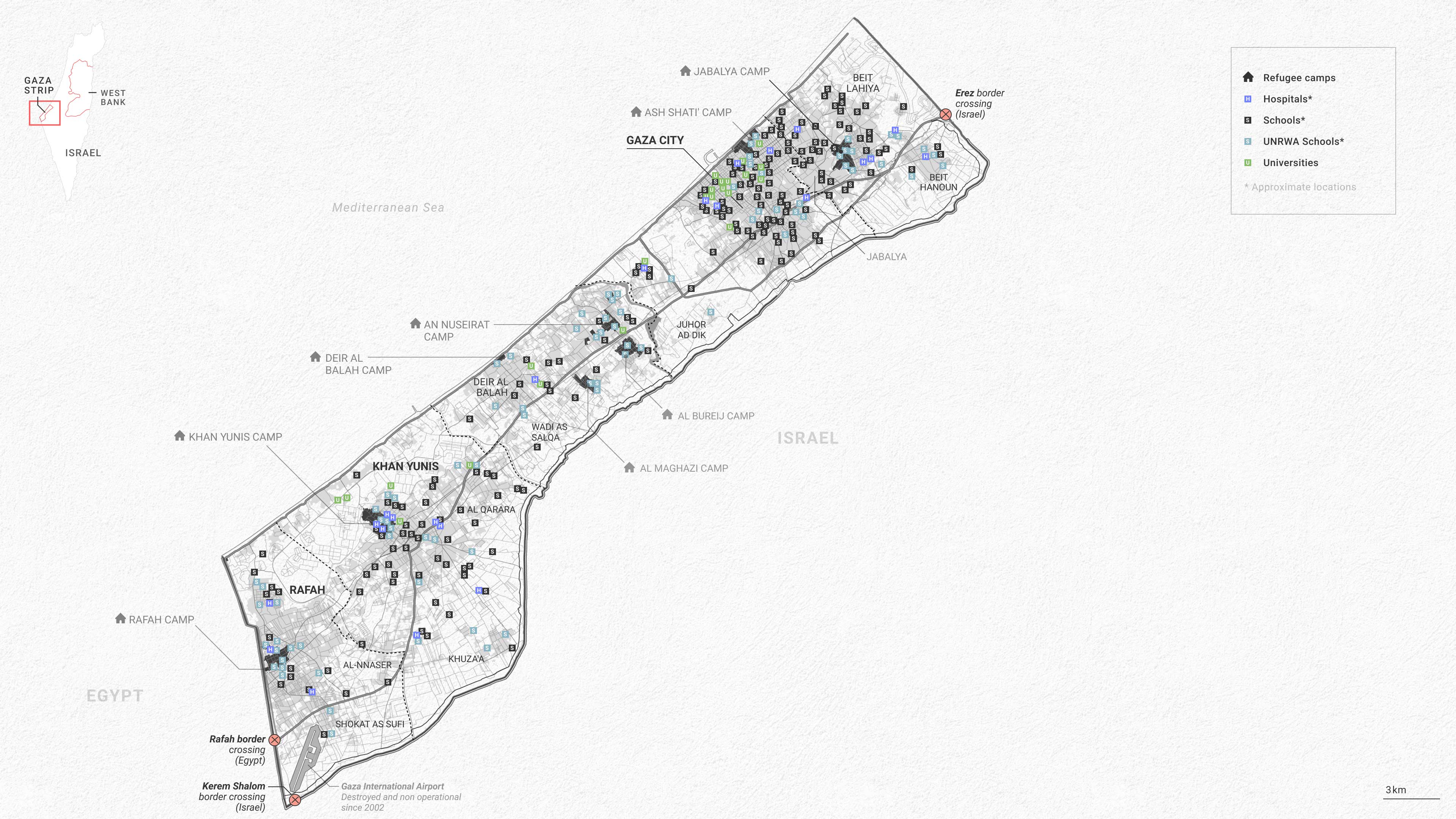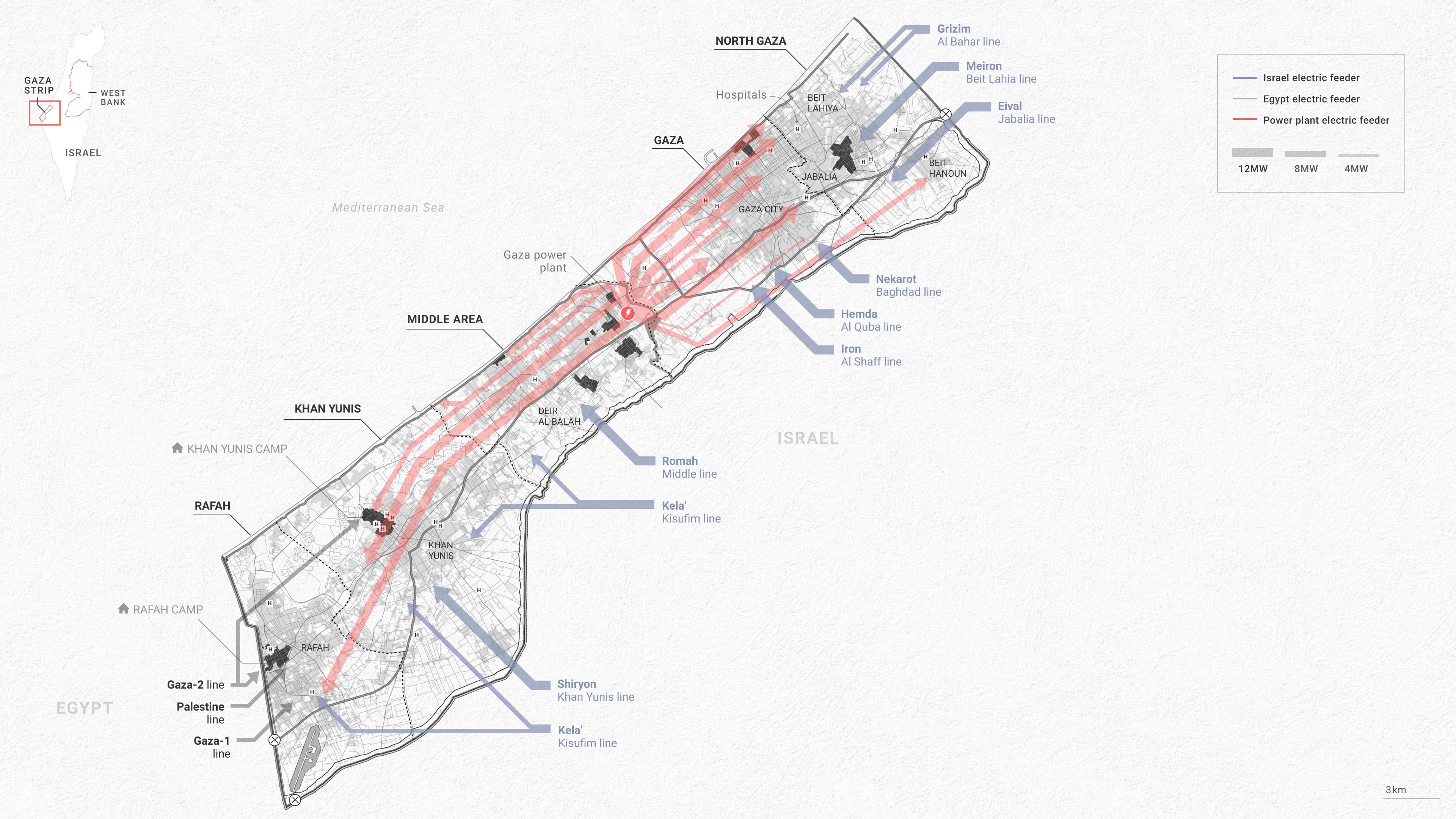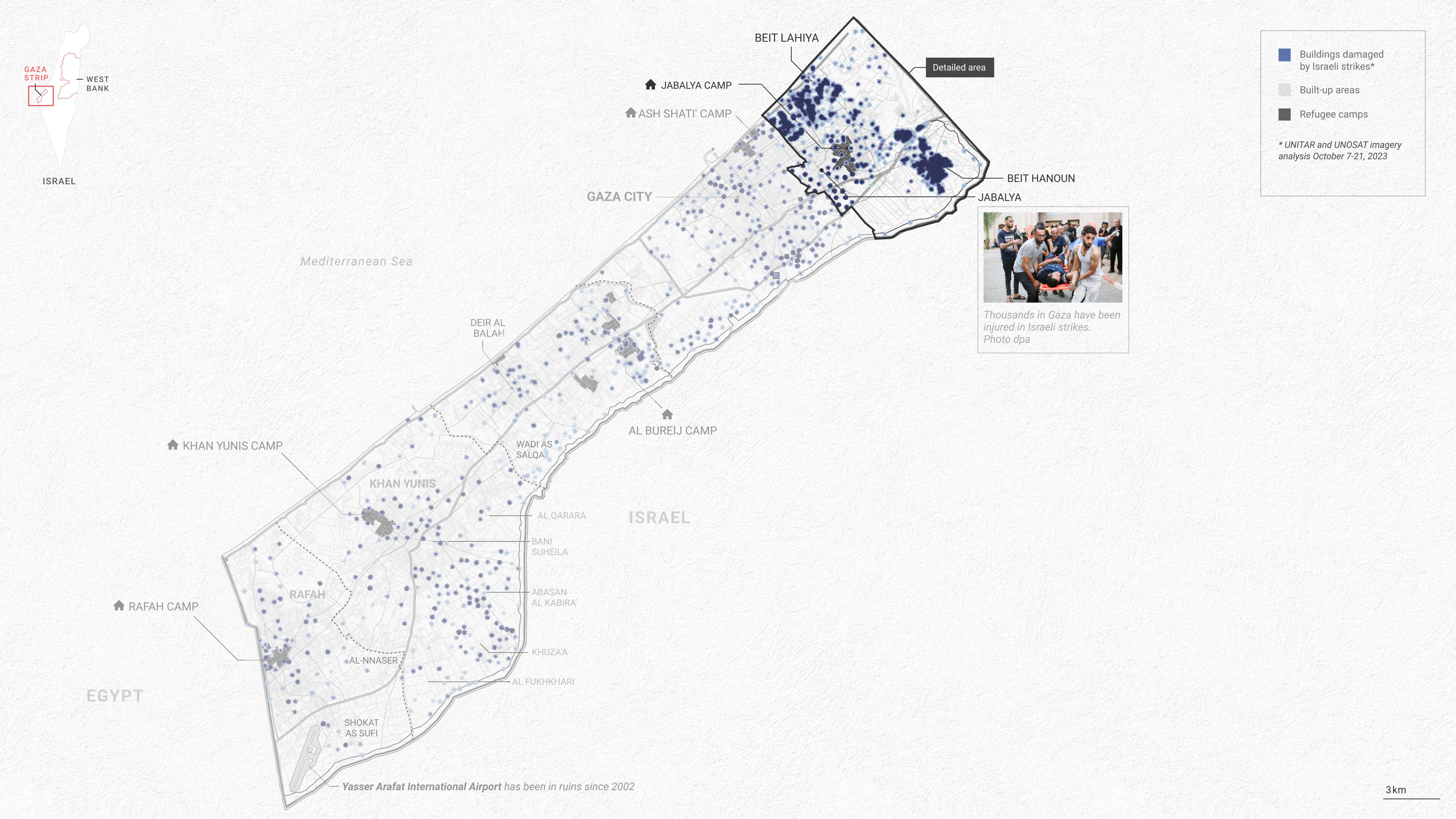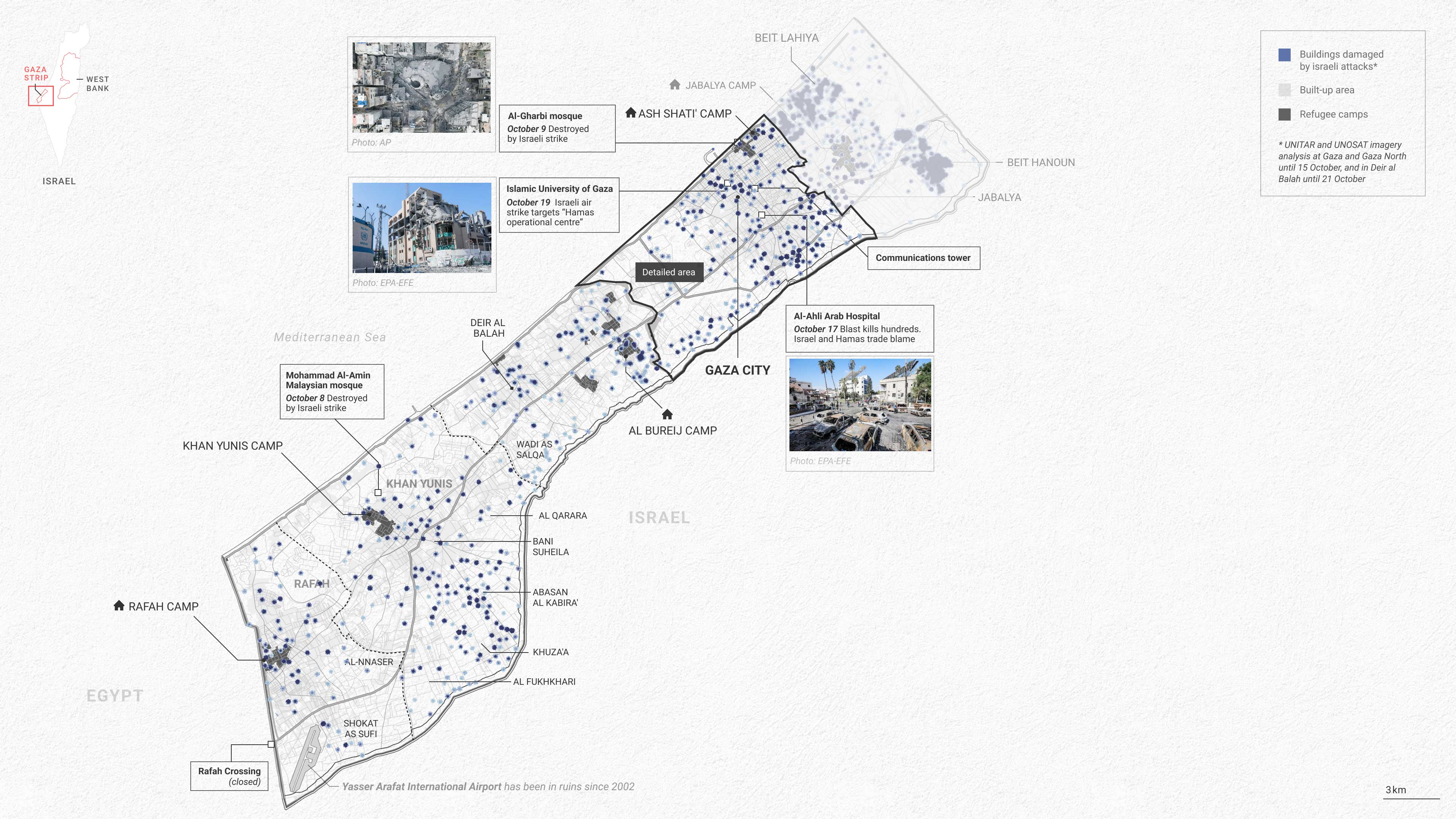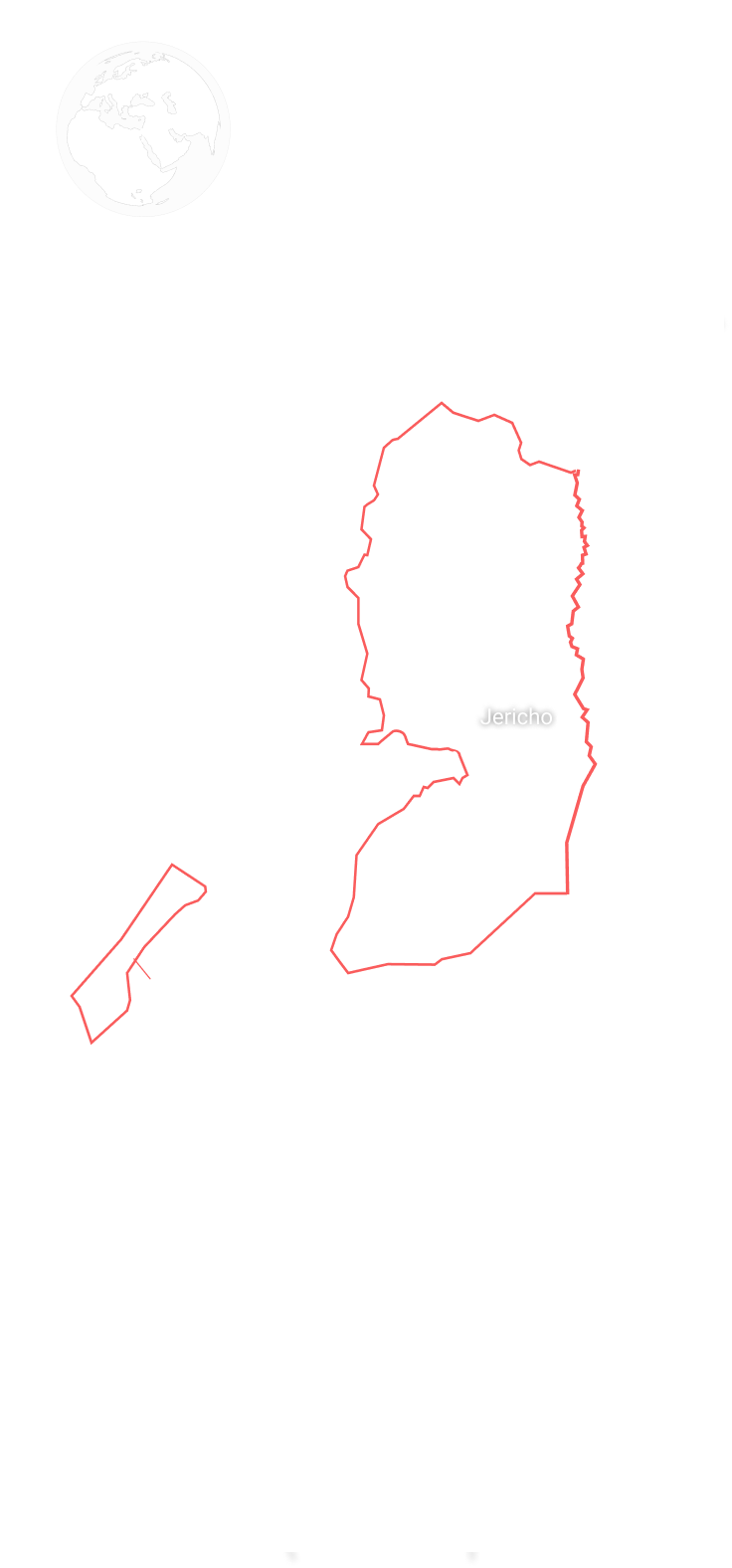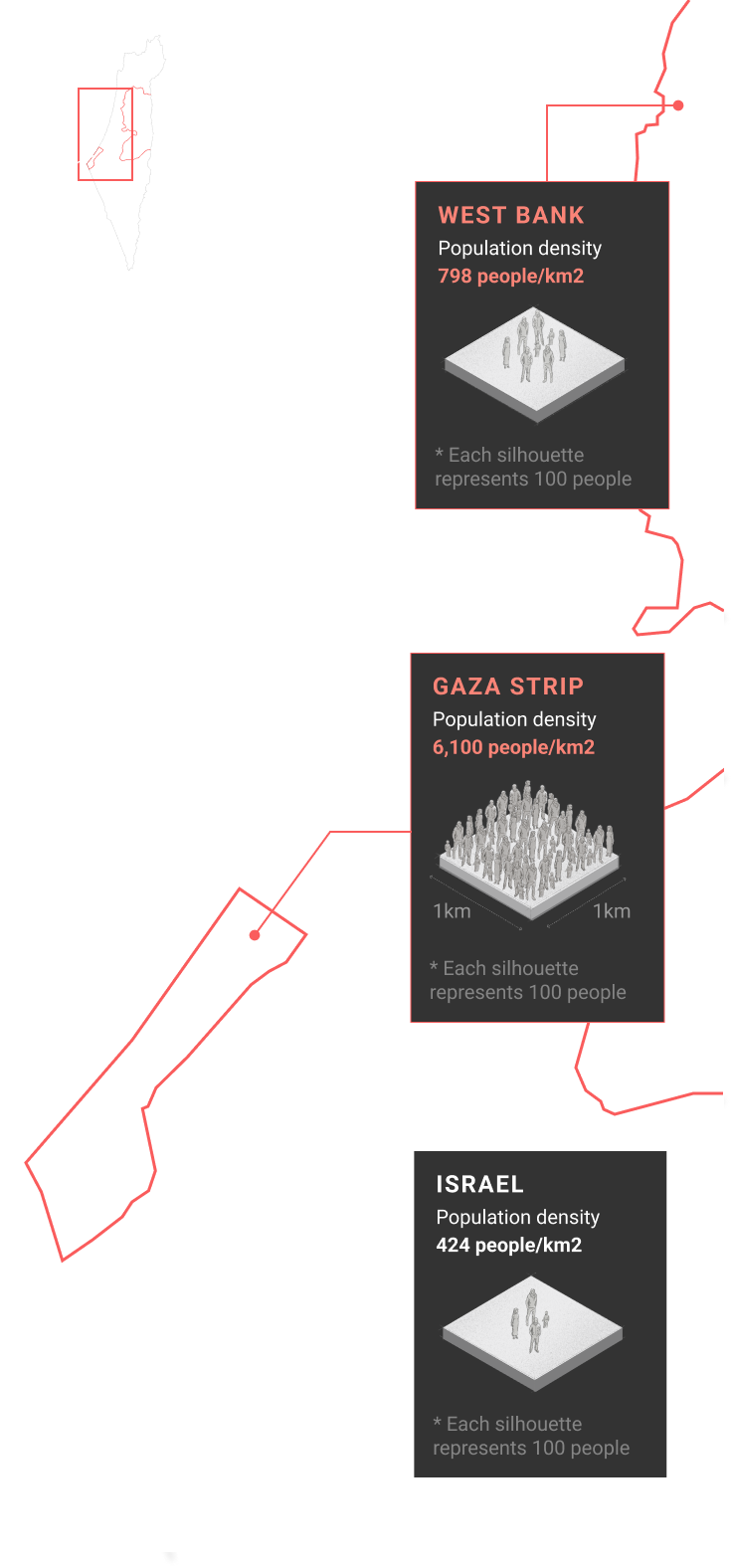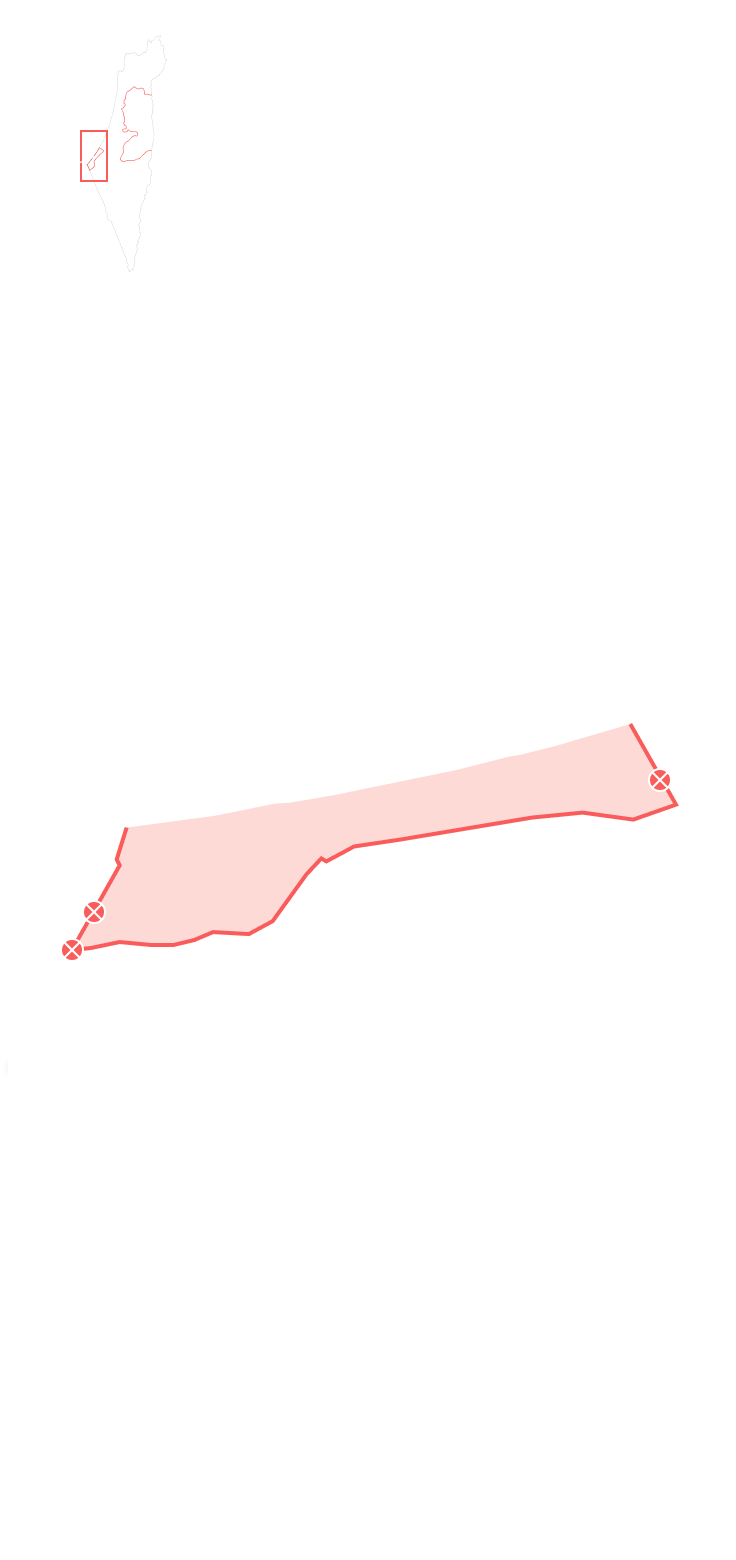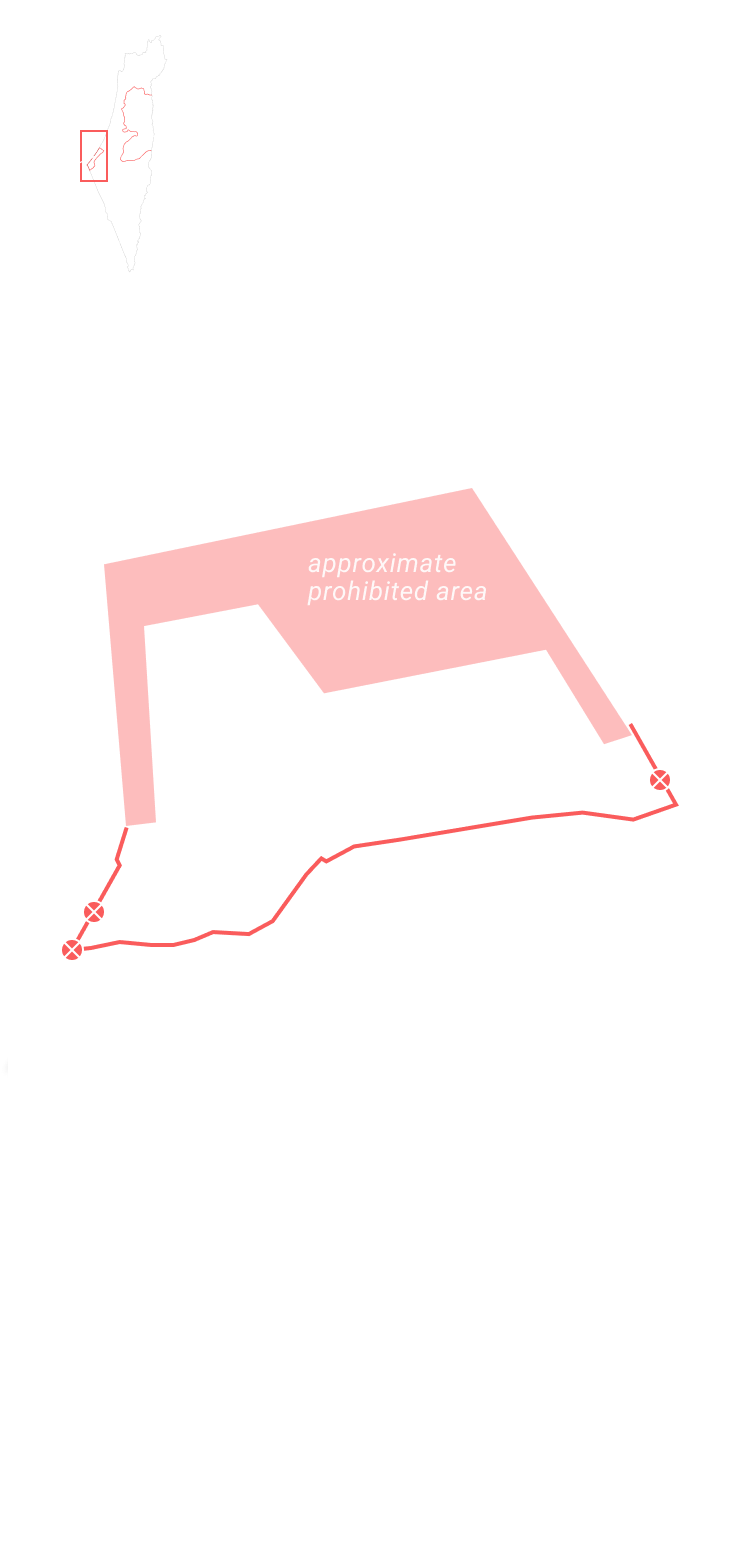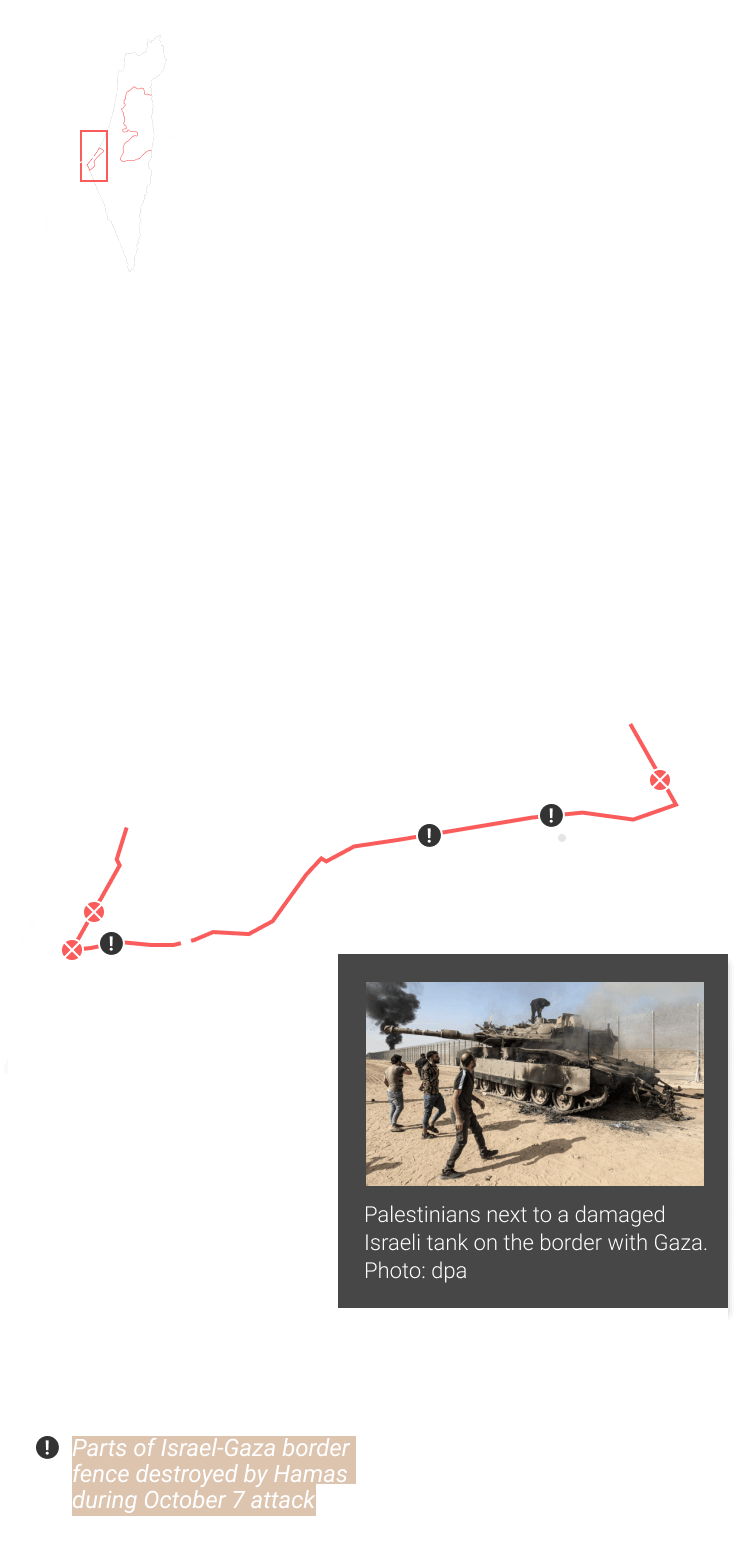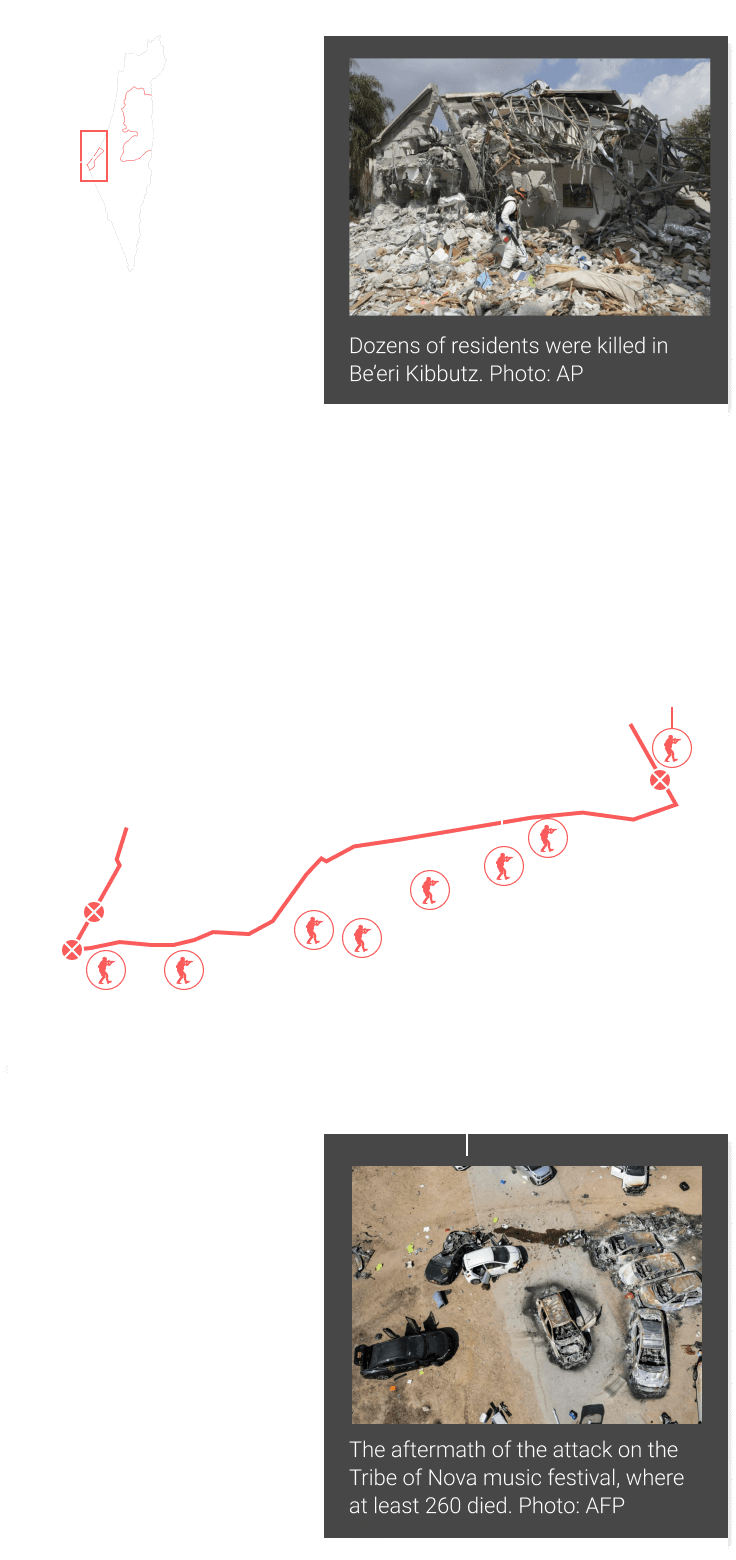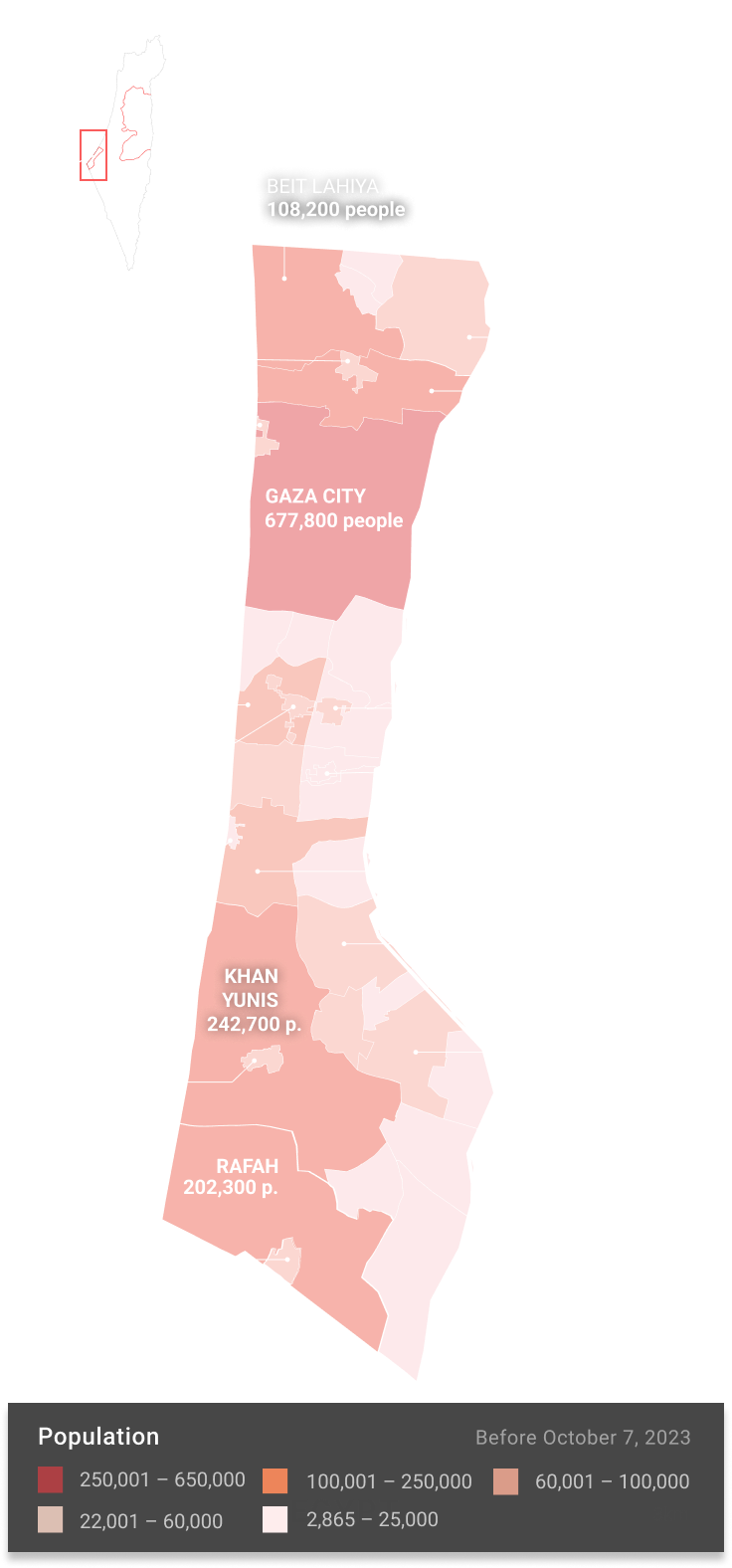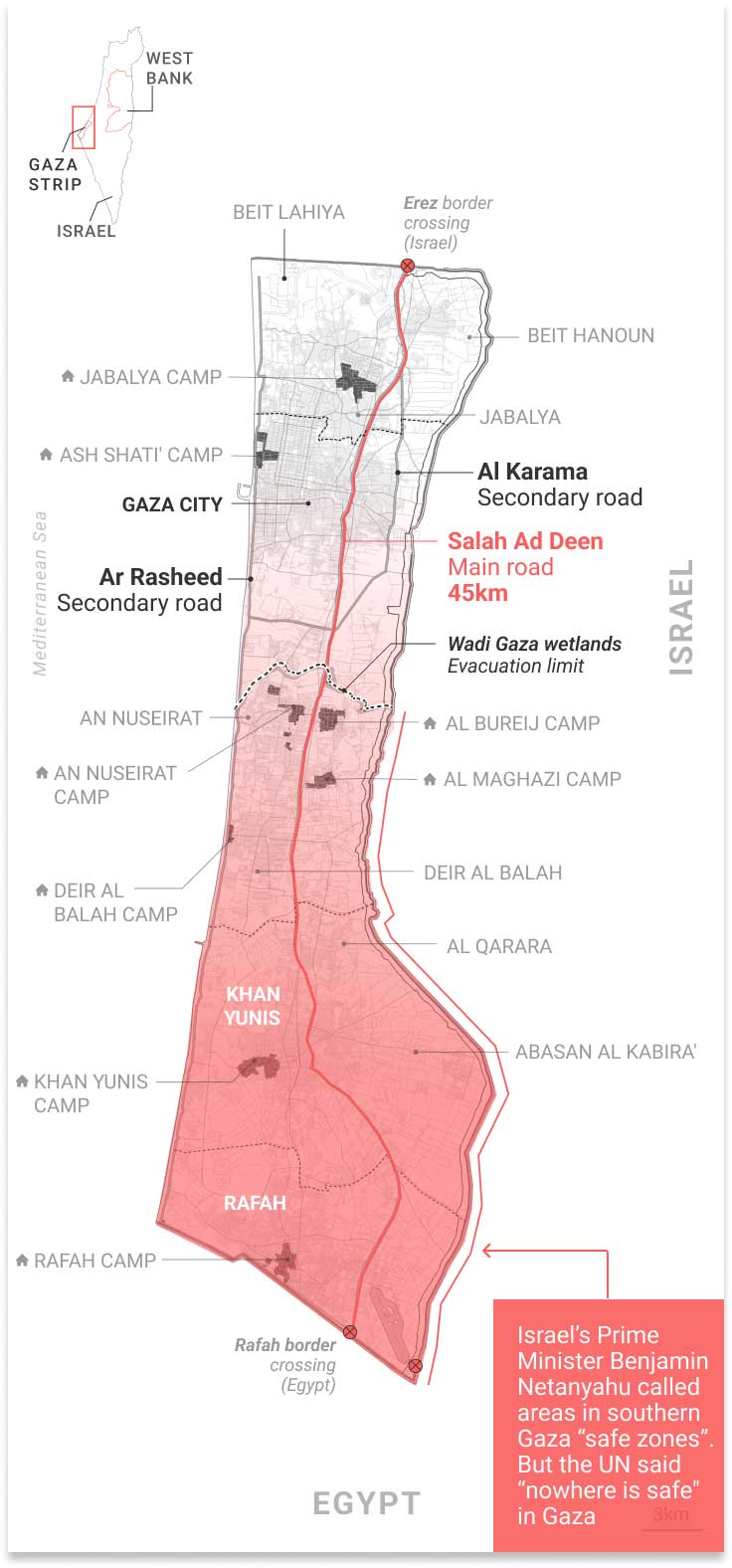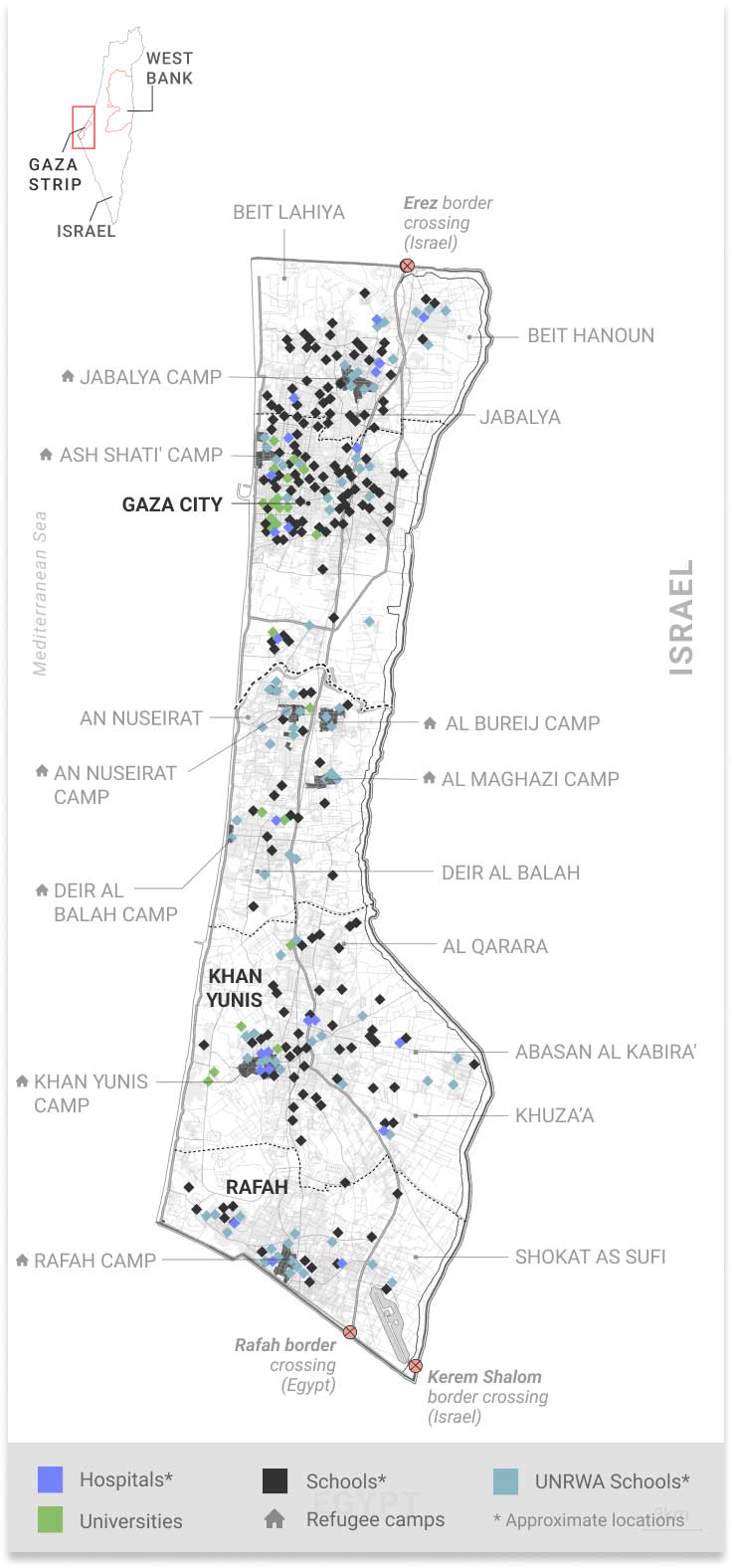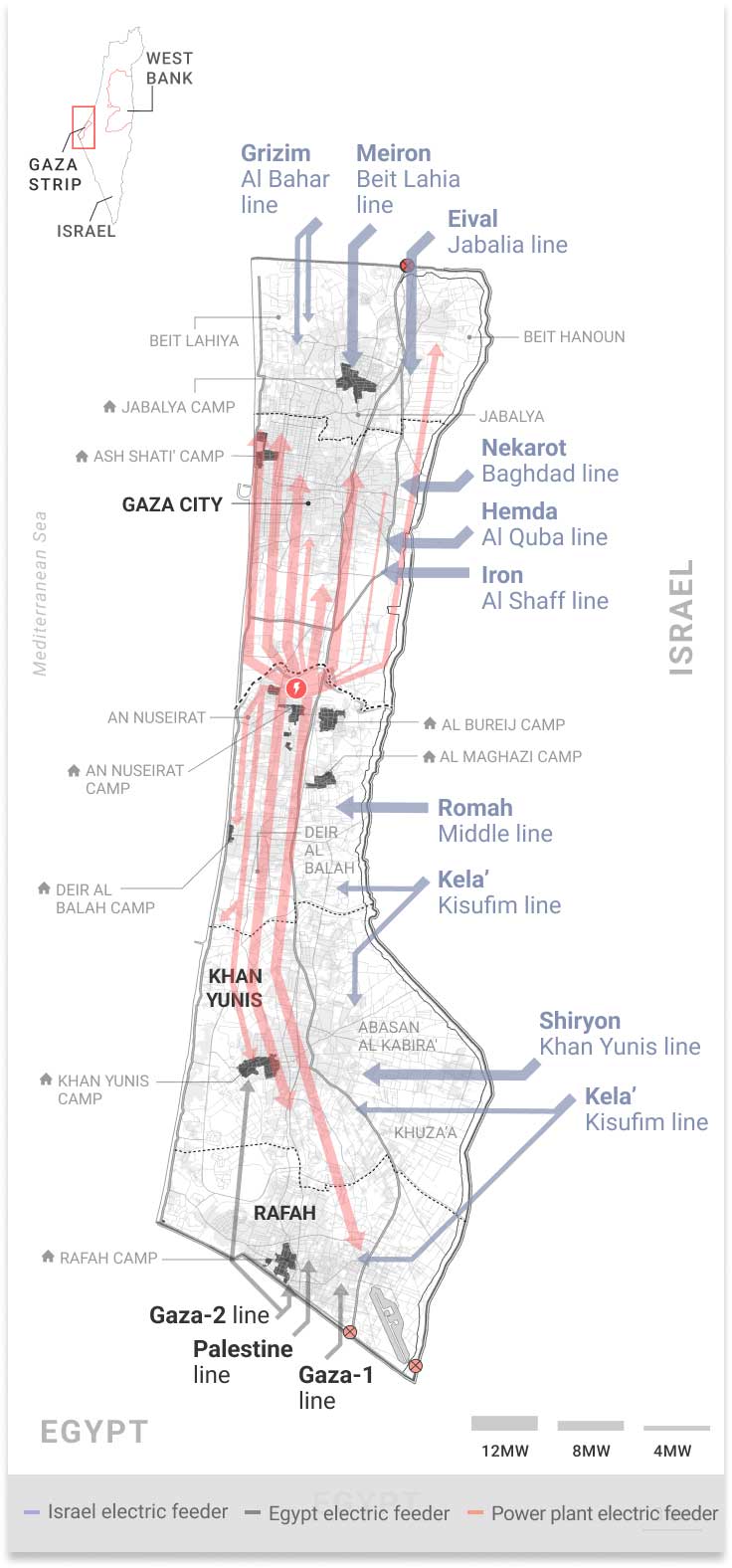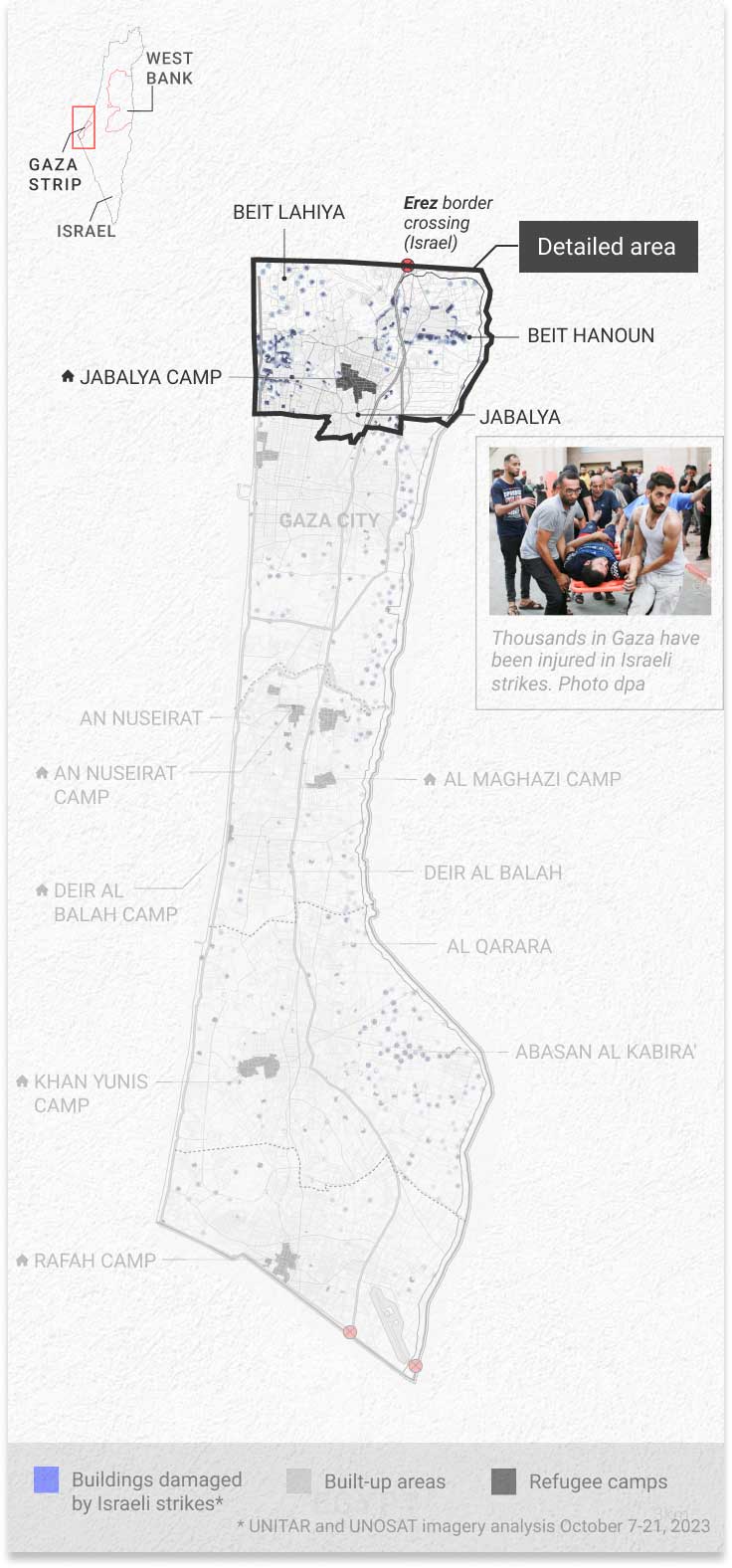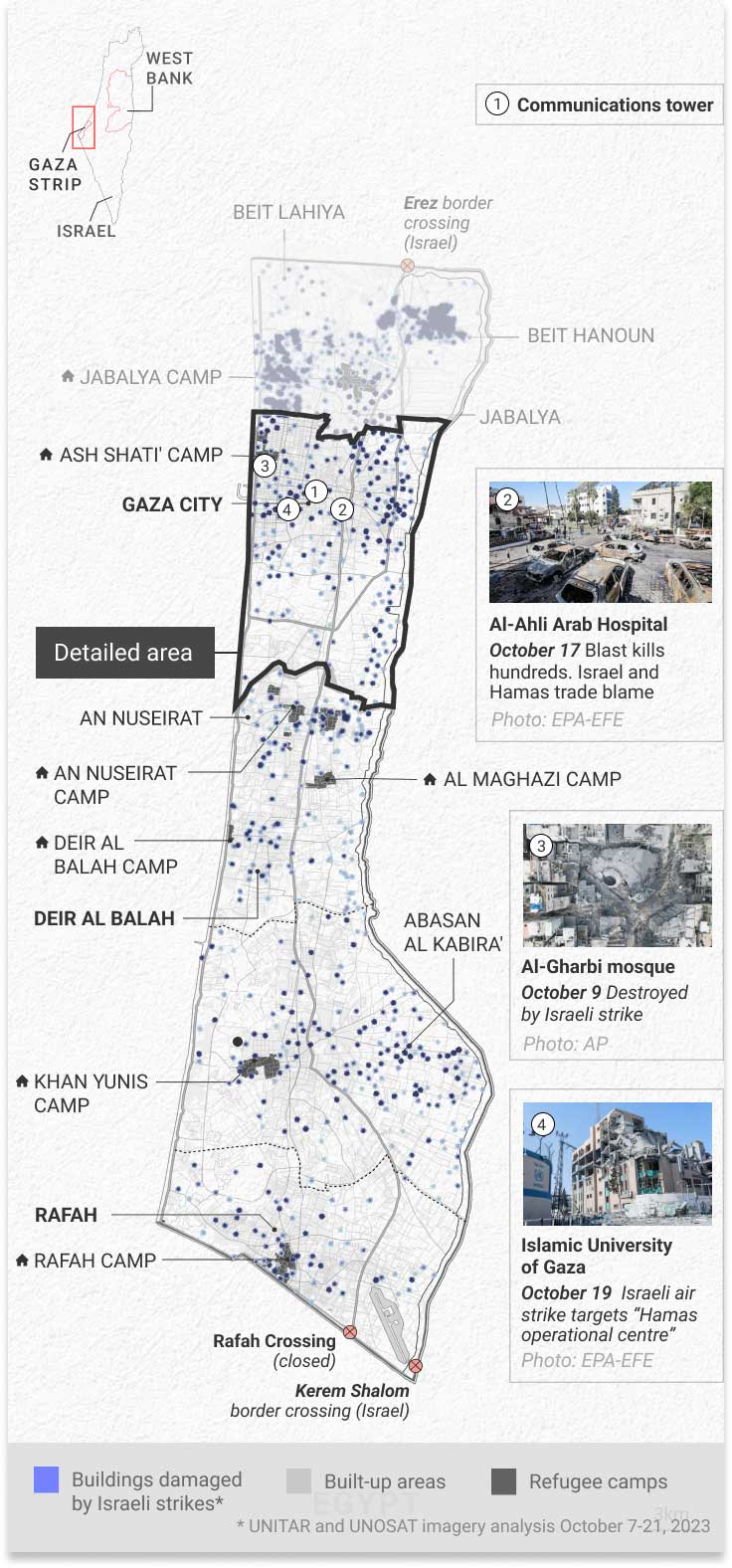 Disputed territory
The
Gaza Strip
and
West Bank
are Palestinian territories that came under Israeli occupation after the Six-Day War in 1967. Both Israelis and Palestinians claim
Jerusalem
as their capital, which is a major source of contention between the two sides. Palestinians staged two major uprisings (1987-1993 and 2000-2005) to end the occupation and establish an independent state.
Gaza population density
Gaza is one of the most densely populated areas in the world.
The 360 sq km narrow slither of land is home to approximately 2.3 million people - or about 6,100 people per square kilometre. By comparison, Hong Kong island is 16,171 people per square kilometre. The southern Chinese city of Macau has an estimated population density of 20,910 people per square kilometre, the highest in the world.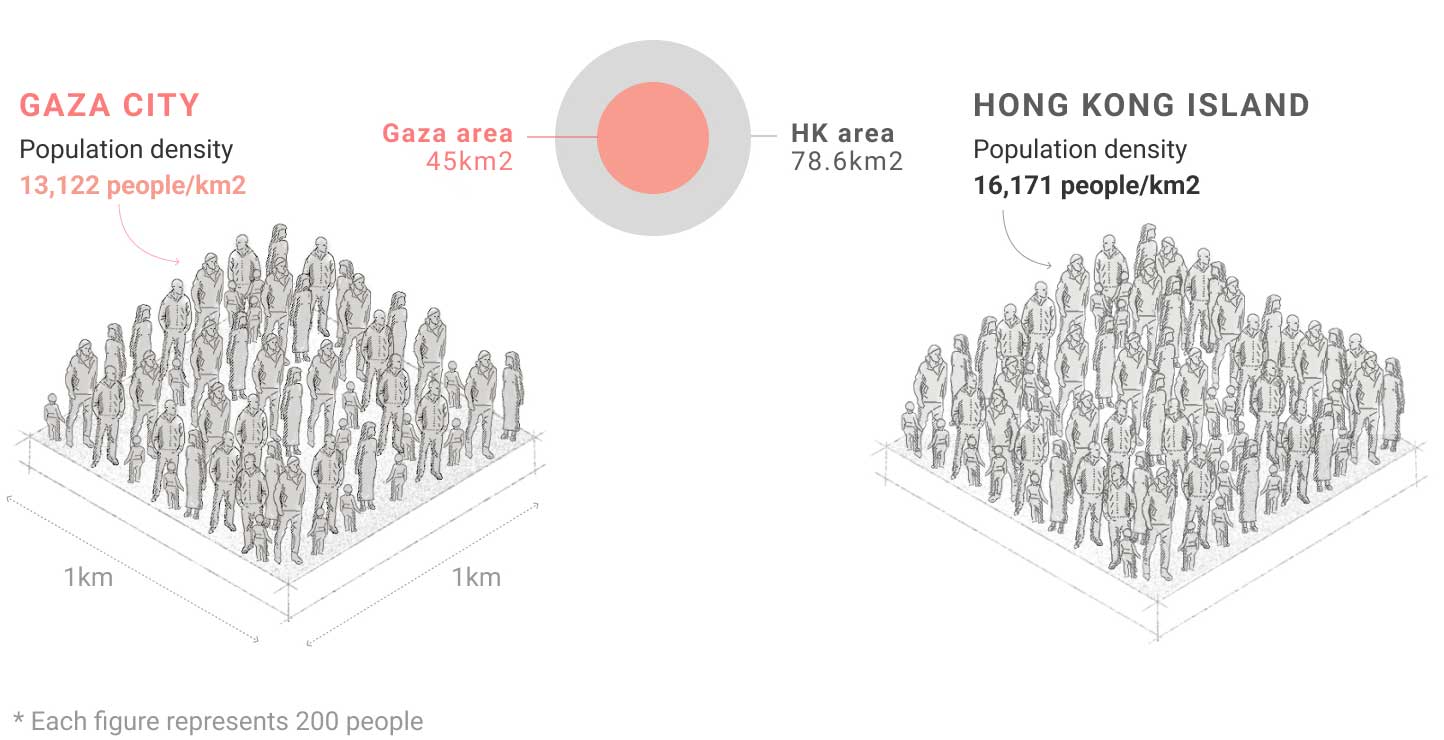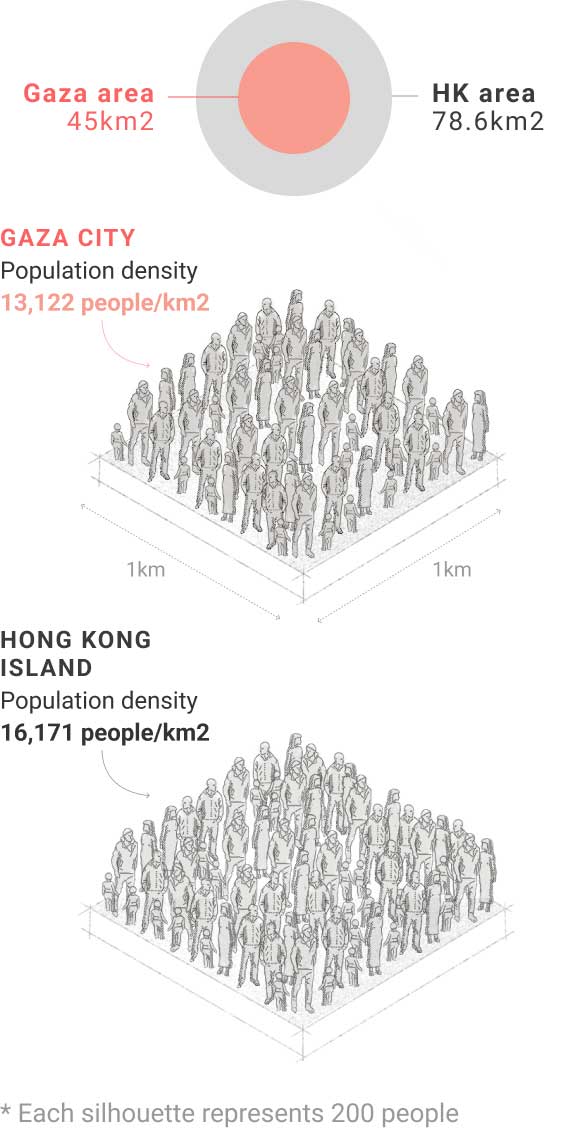 Visualising the size of Gaza
The
Gaza Strip
is 41km long and from 6km to 12km wide. It is about a
third of the size of Hong Kong,
which is home to more than 7.5 million people.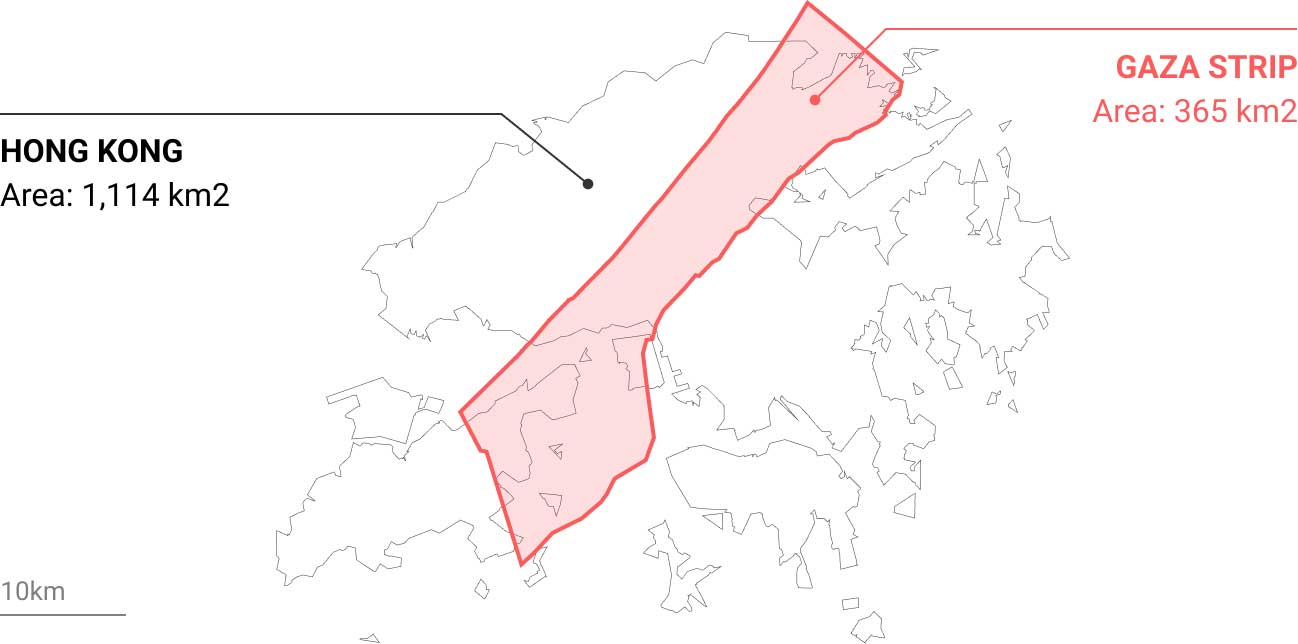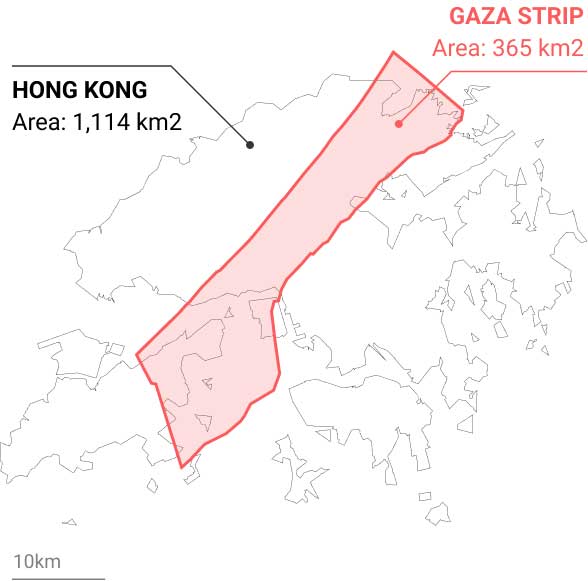 Gaza border barrier
The Gaza Strip is bordered by a
62km-long fence on the Israeli side
and 12.6km-long on its border with Egypt. The barrier is slightly longer than the Hong Kong-Zhuhai-Macau Bridge (HZMB), the world's longest bridge-and-tunnel sea crossing.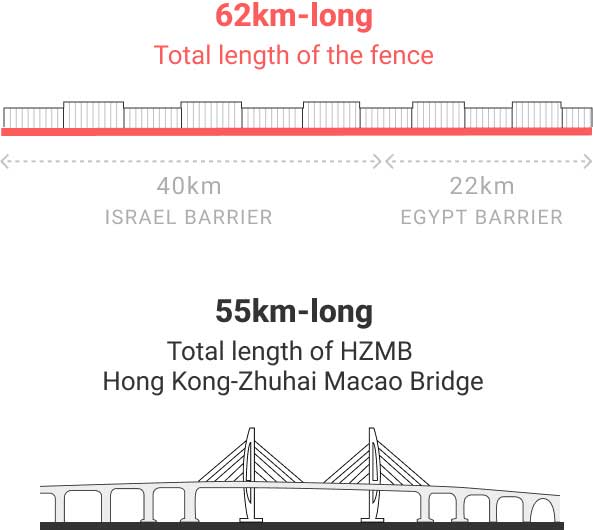 Gaza coastal waters
Israel enforces a tight
maritime embargo
on Gaza that prohibits all sea traffic in and out of the coastal territory. Israel also limits where people in Gaza can fish.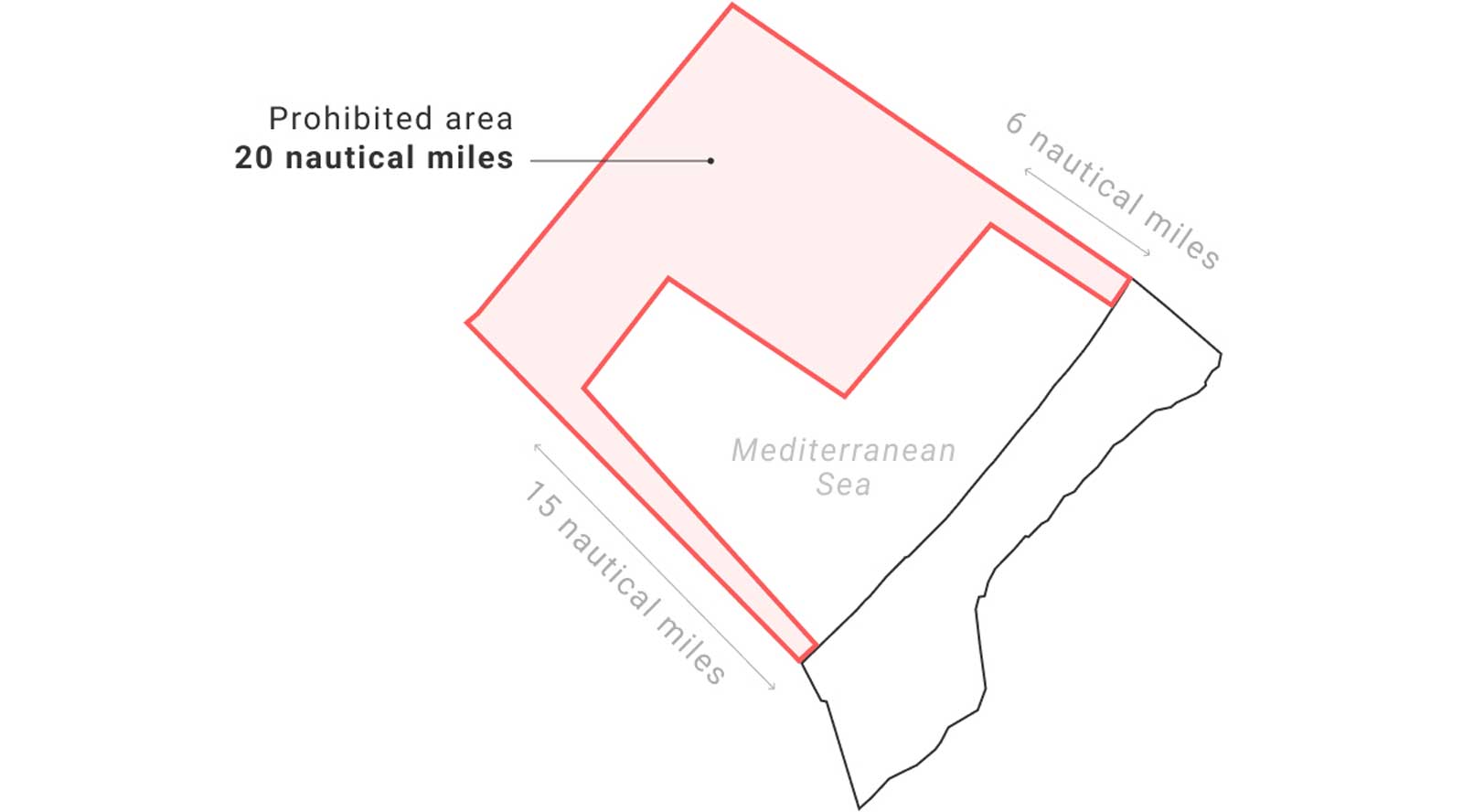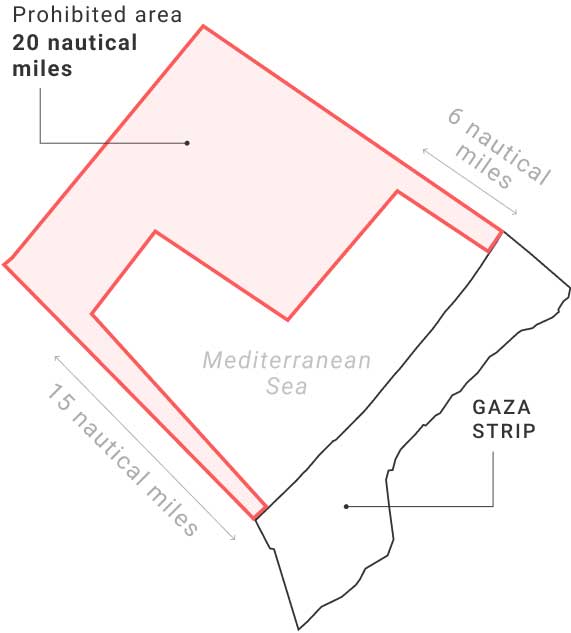 Israel's 'Iron Wall'
Israel built a modified barrier along its border with the Gaza Strip, called the "Iron Wall", after the 2014 war with Hamas. The barrier has a fence, an underground metal wall to counter tunnels, and surveillance equipment.
More than 140,000 tonnes of iron and steel were used in its construction,
which took 3.5 years to complete. Still, militants were able to stage a huge and coordinated
attack on October 7, by destroying some parts of the fortified fence.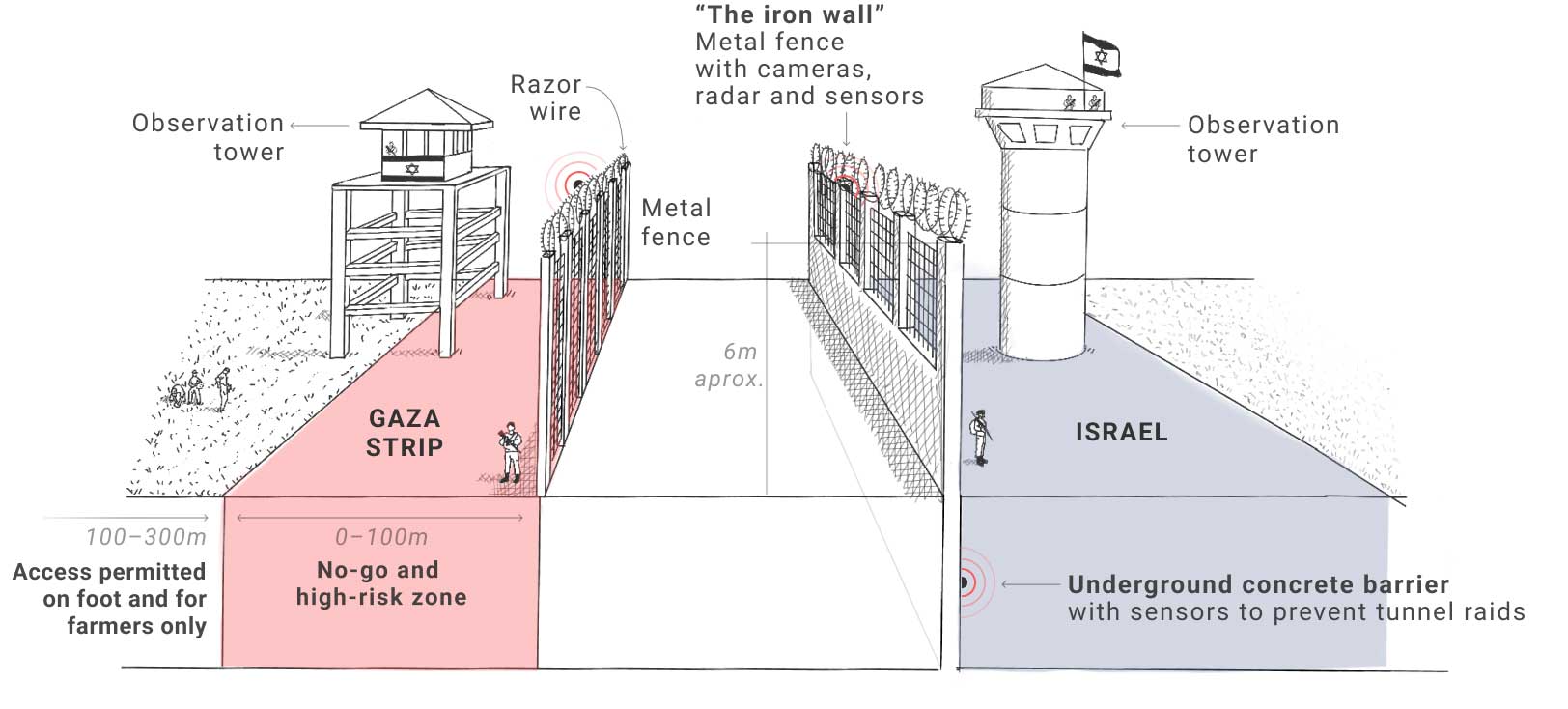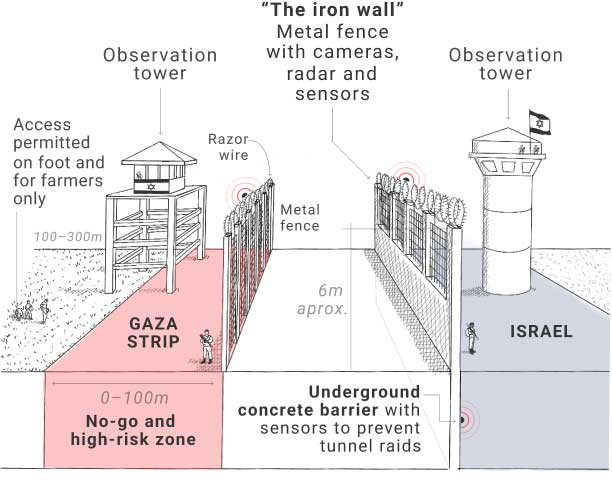 October 7 Hamas attack
Israel was taken by surprise when Hamas militants launched a sudden attack early in the morning with a huge barrage of rockets into southern Israel, which provided cover for a coordinated infiltration involving bulldozers, hang gliders, and motorbikes. Hundreds of Hamas fighters stormed into Israeli towns, killing 1,200 people and escaping with dozens of hostages. It was the deadliest day in Israel's history. An Israeli Defence Forces spokesperson called it "our 9/11".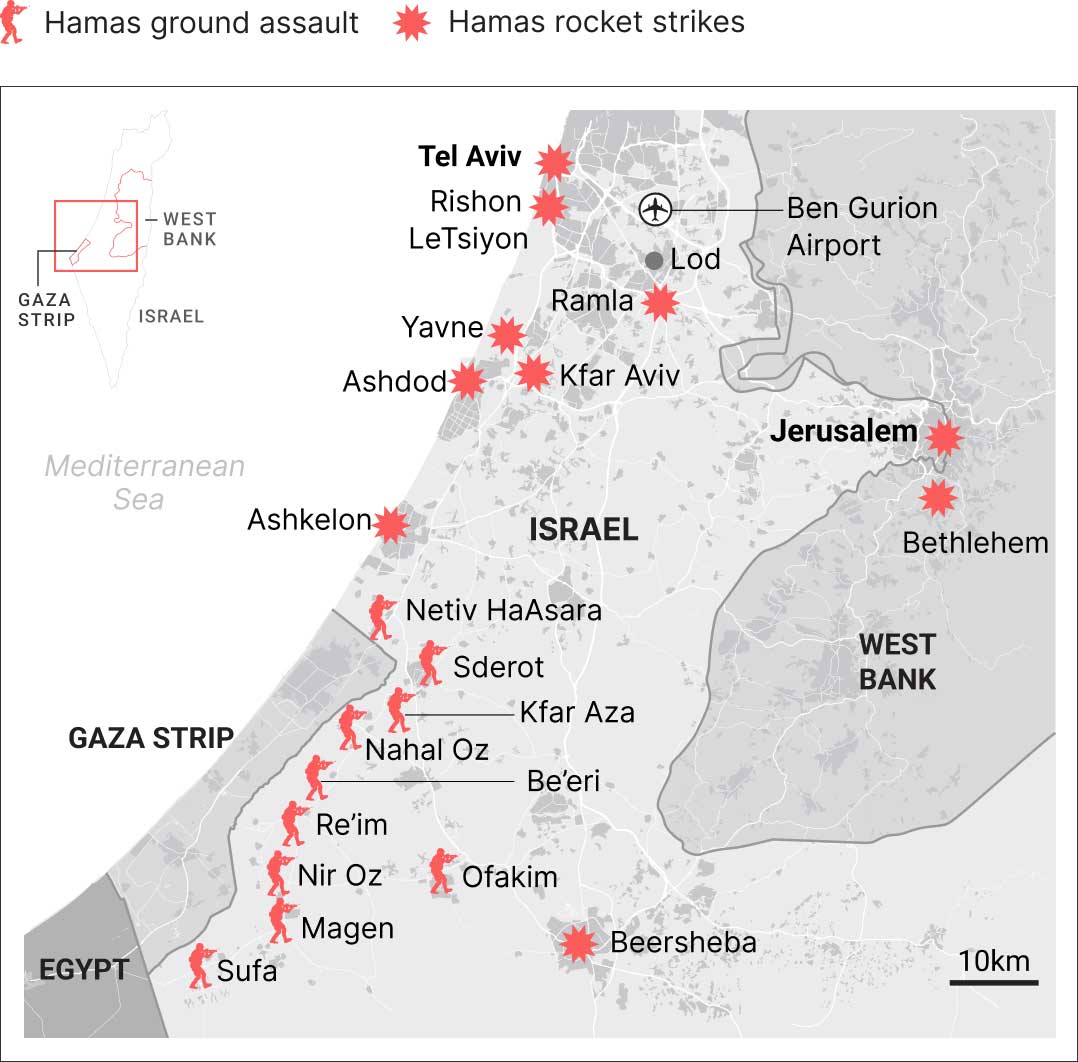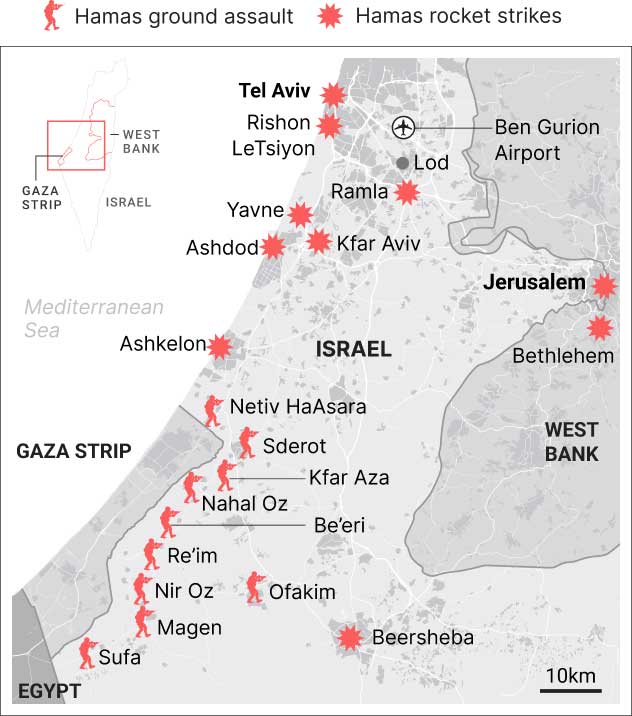 Gaza's demographics
Gaza's population nearly doubled between 2000 and 2020 from 1.1 to 2 million.
The population is
overwhelmingly young, with roughly half under the age of 18.
The median age is also 18. That compares to about 22 in the West Bank and 29 in Israel. In Hong Kong it is about 46.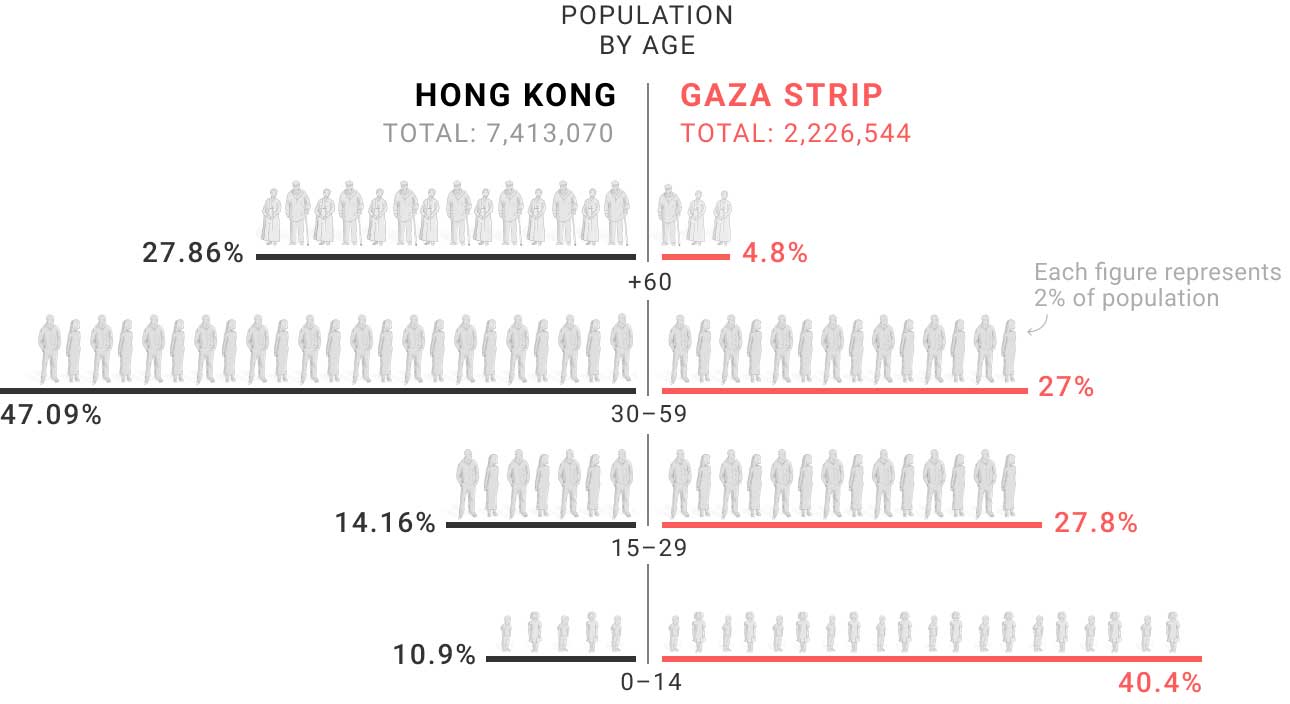 Gaza's displaced
More than 1.4 million people fled their homes. Some who fled the north and Gaza City after Israel's military told them to evacuate sought refuge in crowded UN shelters in southern Gaza, or the homes of relatives. Many, however, were forced to sleep in the open.
Many people sought refuge at Gaza's hospitals and UN-run schools amid relentless Israeli air strikes. At one stage, as many 50,000 people sheltered on the grounds of Al-Shifa Hospital, Gaza's largest, in Gaza City.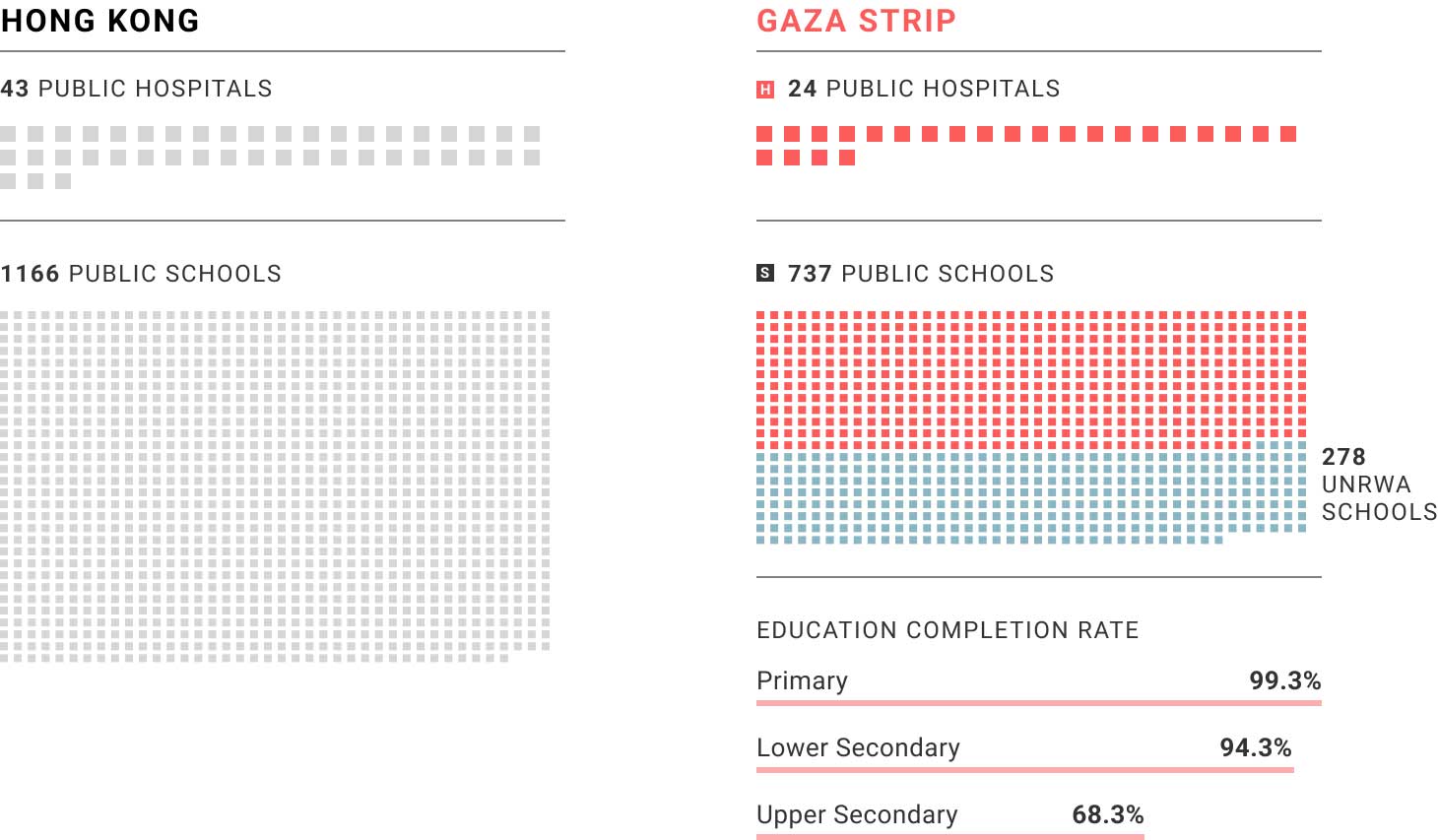 Gaza's electricity and internet
Gaza has two main sources of electricity. Most is normally supplied by Israel via power lines, and the rest is produced by Gaza's sole power plant. But
Gaza's plant stopped working on October 13 because it ran out of fuel.
That came two days after Israel cut off electricity supply to Gaza as part of its siege.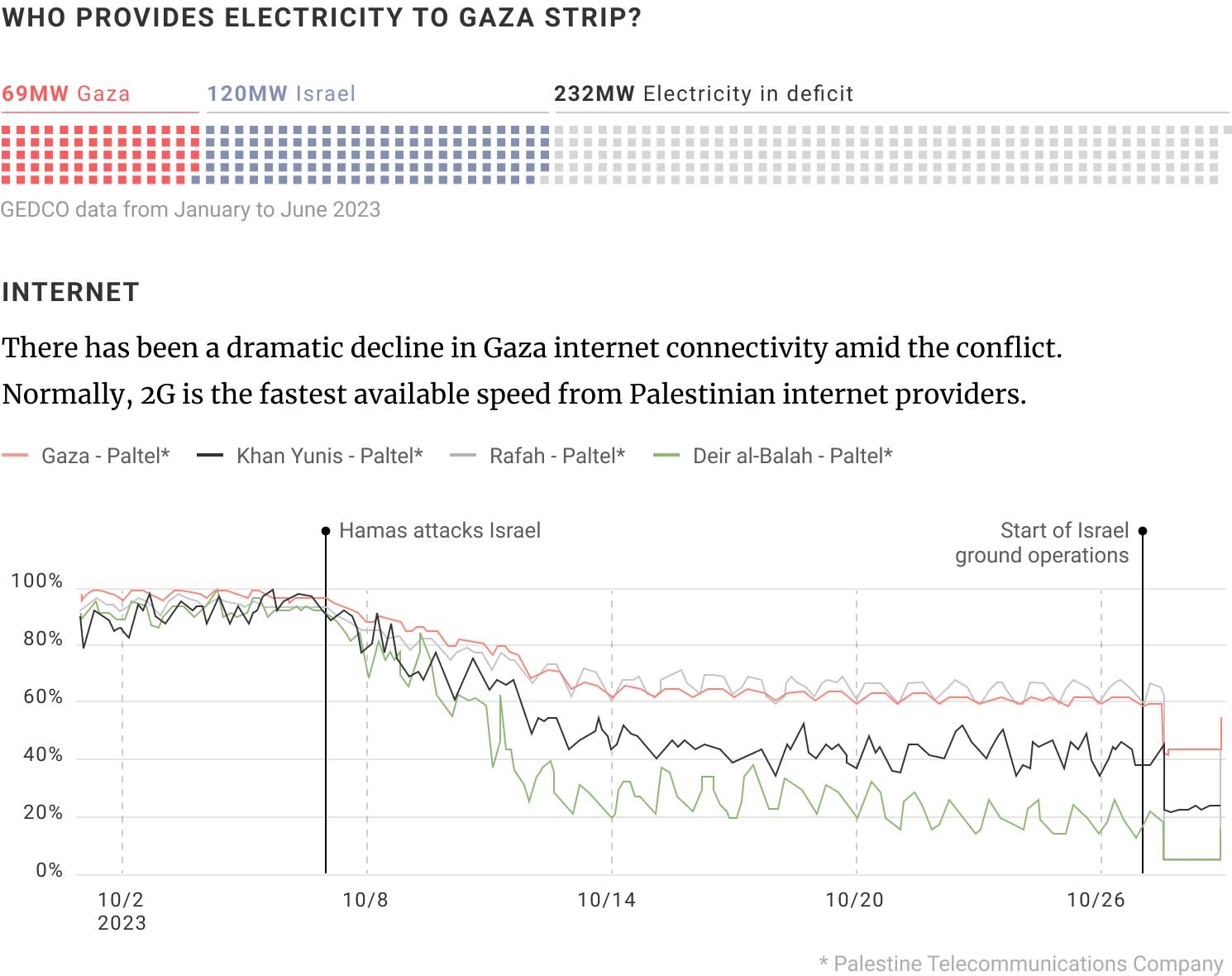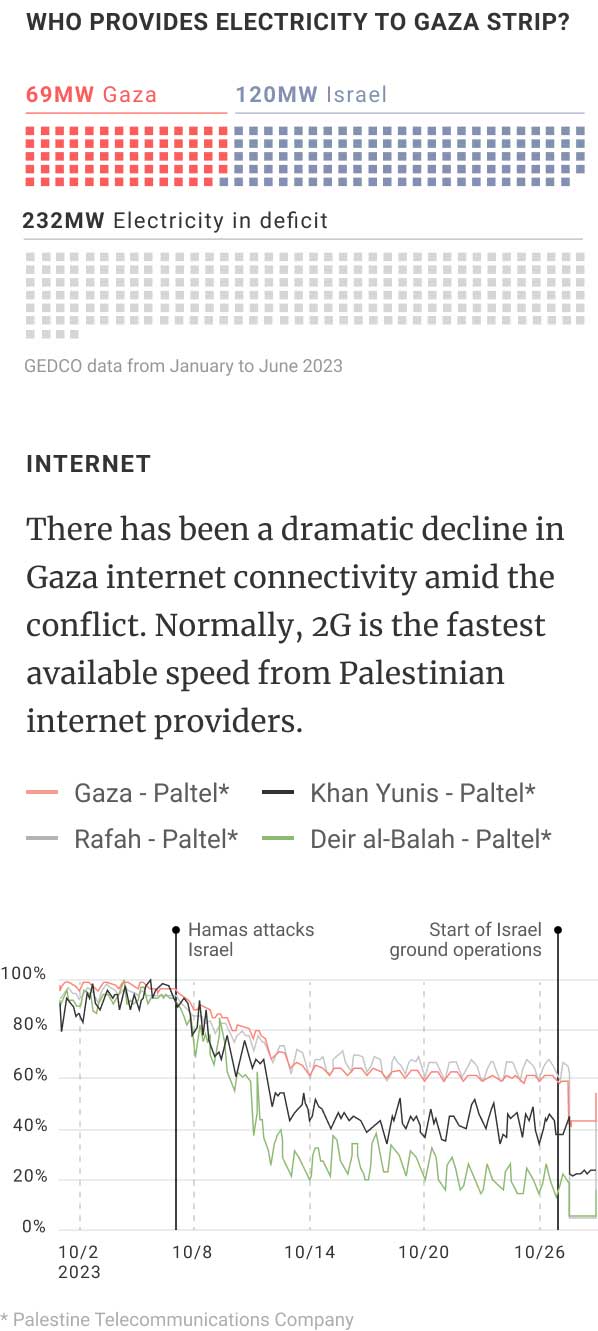 Israel retaliates after Hamas attack
Israel's retaliatory bombardments damaged or destroyed hundreds of buildings in the first week of the war.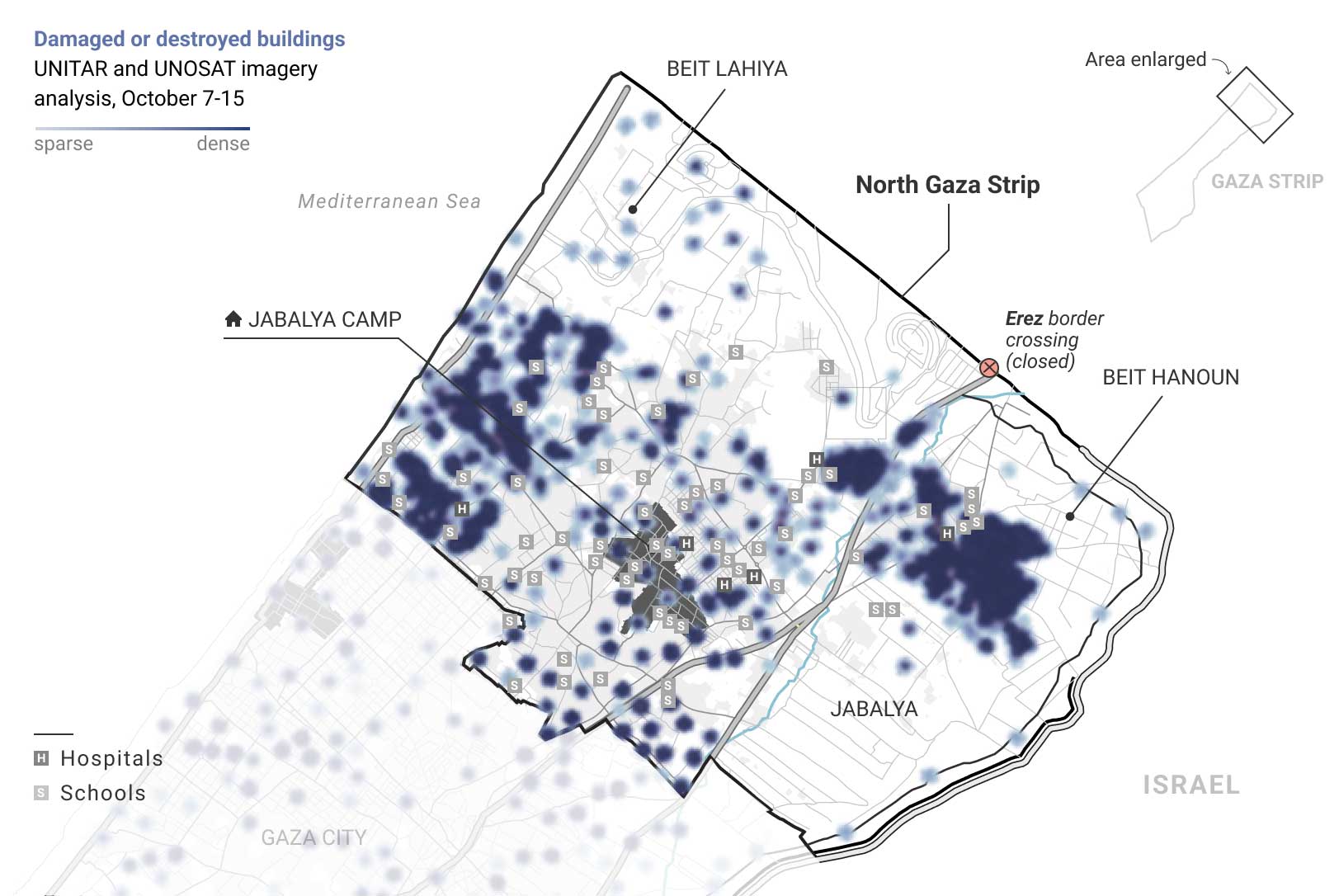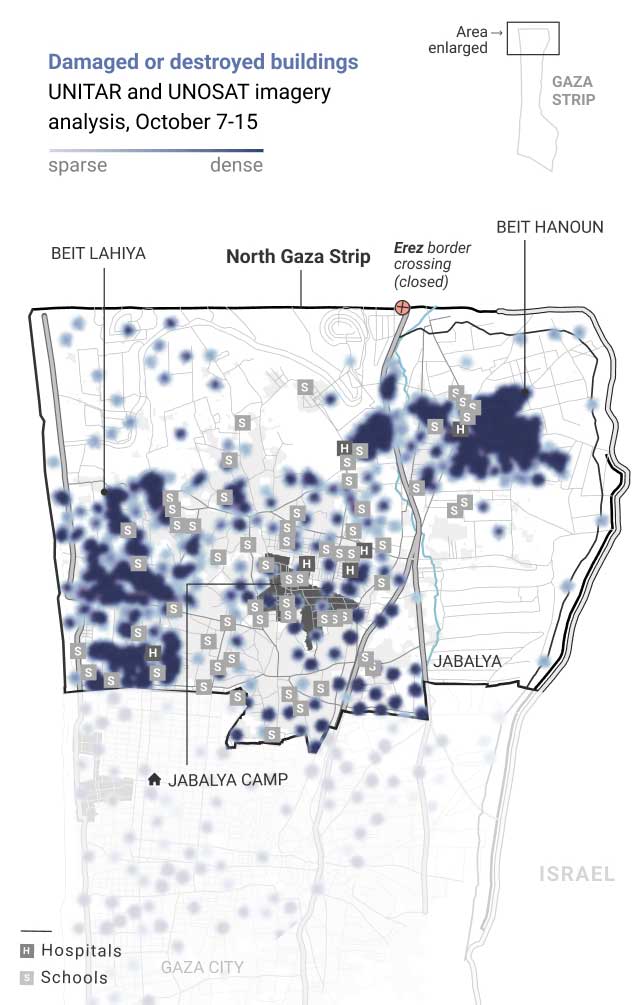 Israel retaliates after Hamas attack
Gaza City is home to more than a million people, and where Hamas is known to operate. Here are some locations hit by Israeli strikes in the week following Hamas' October 7 attacks.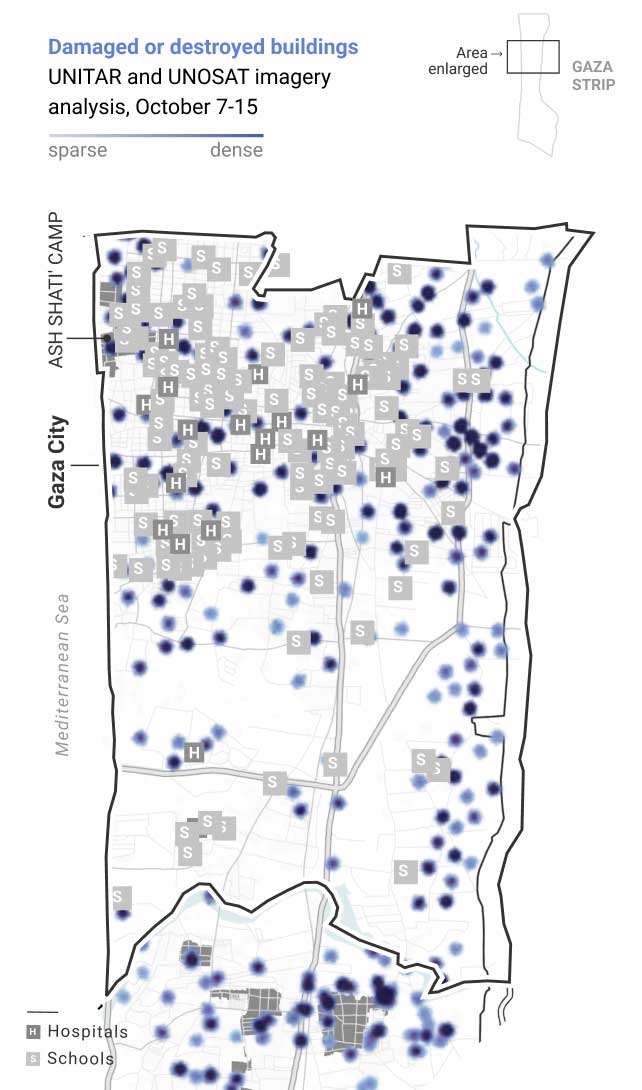 View of Gaza from space
The destruction of areas of northern Gaza is visible from space in satellite images taken before and after Israel's air strikes, which followed the raids carried out by Hamas militants on October 7. Tightly packed streets in Beit Hanoun look obliterated in a grey wasteland.
The pattern of destruction in the Al Karameh neighbourhood can be traced by a widespread pattern the colour of ash.
Regional players
The war between Israel and Hamas risks spiralling into a bigger conflict, with Israel's arch-enemy Iran backing an array of heavily armed groups in the region. Hamas and its Palestinian ally Islamic Jihad are part of an Iran-backed alliance called the "Axis of Resistance". Others include the Lebanese Shiite movement Hezbollah, Shiite paramilitary groups in Iraq and Yemen's Houthi rebels.
Hezbollah, which fought a month-long war with Israel in 2006 that ended in a tense stalemate, poses a serious threat with an estimated 150,000 rockets and missiles aimed at Israel. Iran also backs Syrian leader Bashar al-Assad. During more than a decade of civil war in Syria, Israel launched hundreds of air strikes on its northern neighbour, primarily targeting Hezbollah fighters and other Iran-backed forces as well as Syrian army positions.
The Israeli military has said it was prepared to fight a war on two or more fronts. That potentially might include escalation in the West Bank, where more than 2.7 million Palestinians live under an Israeli military occupation. The West Bank is governed by Hamas' political rival Fatah. Dozens of Palestinians have been killed in the West Bank since Israel began retaliating against Hamas, in the worst surge of violence to have swept the West Bank in some 15 years.
Countries that recognise Palestine as a state
On November 15, 1988, then-Palestinian President Yasser Arafat proclaimed the Palestinian Declaration of Independence. Since then,138 countries have recognised Palestine despite the fact it has no defined borders. Israel is recognised by 165 countries. Palestine is not a full member of the UN, but is a "non-member observer state".
Hover to get more information


Associate Creative Director Marcelo Duhalde
Edited by Andrew London
Additional web development by Dennis Wong
Sources: OCHA, UNRWA, PCBS, CENSTATD, UNOSAT, UNITAR, Worldpop, Gaza Electrical distribution company, NetBlocks, South China Morning Post archives, Associated Press, Reuters, Google Earth, DW.