The Korean war
The 1950-53 Korean war was one of the most devastating conflicts of the 20th century, and tensions are still felt many decades later. China fought alongside the communist North, while the South was supported by the United States and allied countries under the United Nations flag. Hostilities were only halted by an armistice on July 27, 1953, but not a peace treaty, leaving South and North Korea technically still at war. Here's a closer look at the Korean war, the first "hot" war of the Cold War.
Background
In August 1945, two young US colonels arbitrarily partitioned the Korean peninsula along the 38th parallel with a National Geographic map for reference. The Soviet Union agreed to the proposed demarcation line as a condition of the surrender of Japanese troops in Korea. The American-backed Republic of Korea (South Korea) was founded on August 15, with Syngman Rhee elected as president. Soon after, the Soviet-backed Democratic People's Republic of Korea (North Korea) was proclaimed on September 9, with Kim Il-sung (born Kim Song-ju) as leader.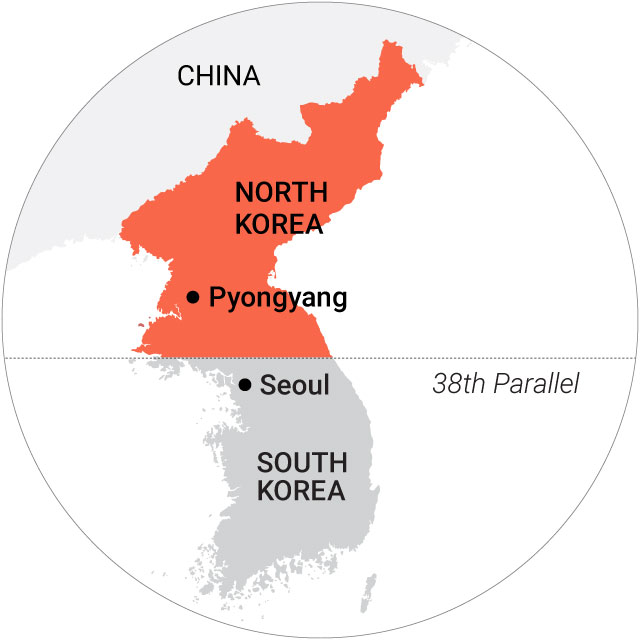 The invasion
June–September 1950
On June 25, 1950, communist North Korea invaded South Korea, which marked the start of the Korean war. Despite anticipating a possible North Korean attack, the Pentagon was caught off guard. The North Korean army, equipped with Soviet tanks and heavy artillery, swiftly overpowered their opponents and made rapid advances towards the south. It captured Seoul, South Korea's capital, on June 28, 1950.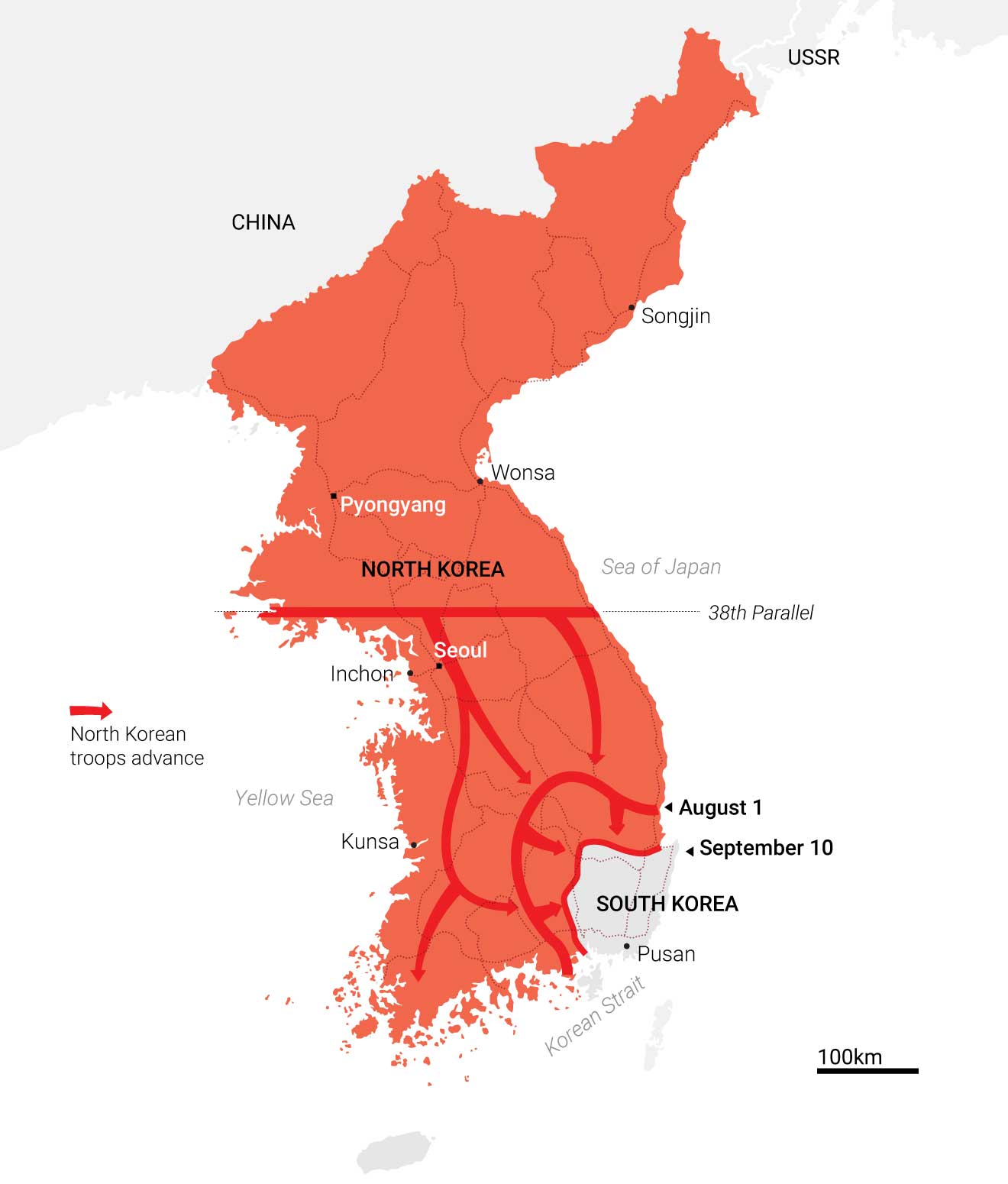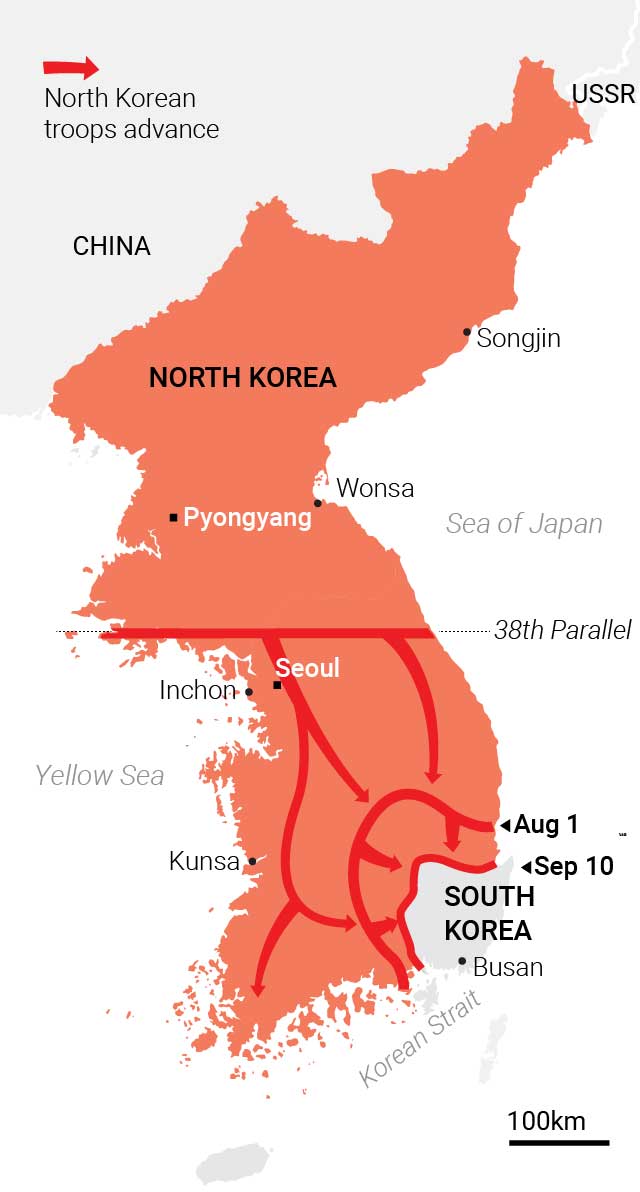 US-led offensive
September–October 1950
US and South Korean forces recaptured Seoul on September 27, 1950. In less than a month, the US-led UN forces managed to push North Korean troops back to the Chinese border.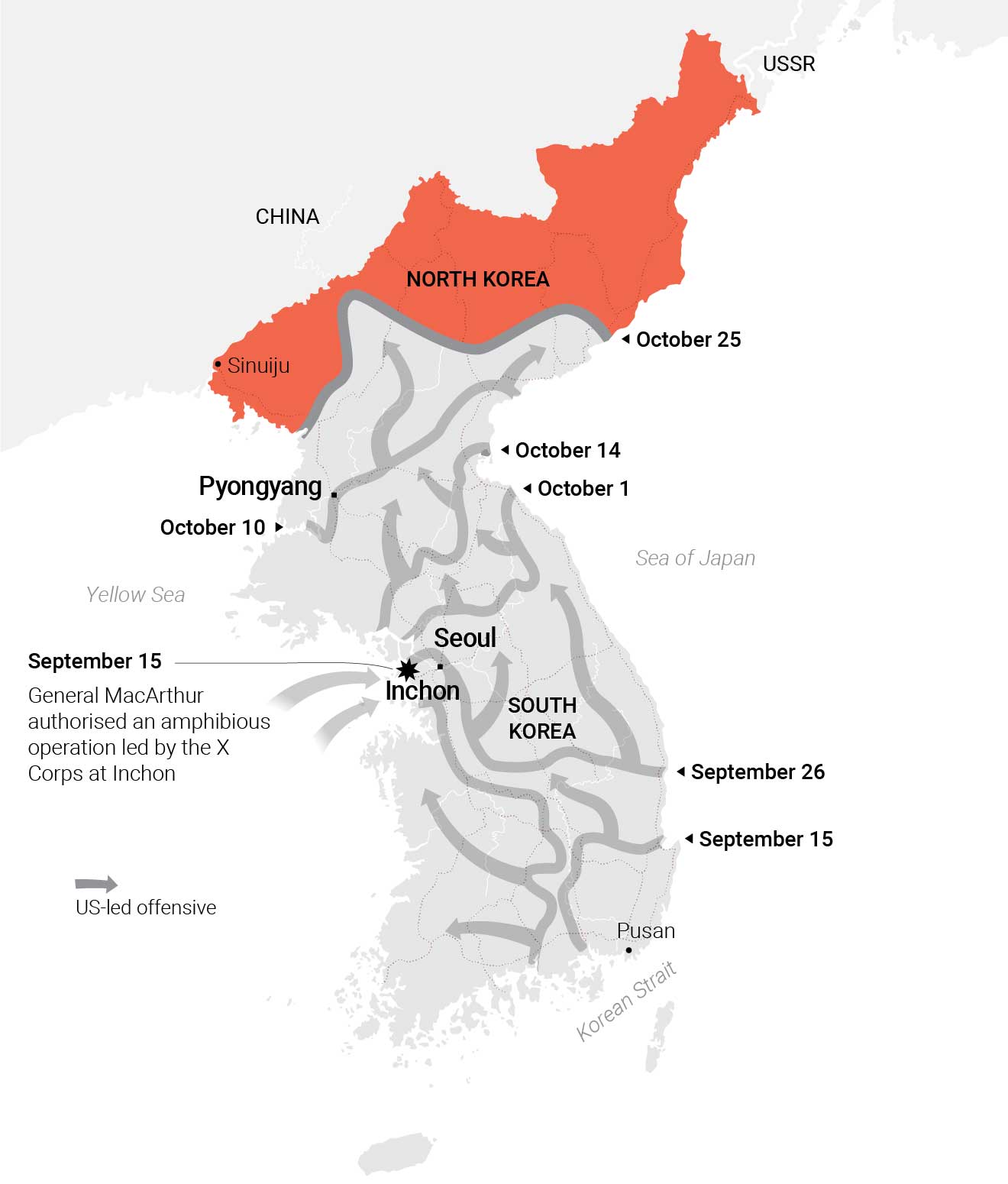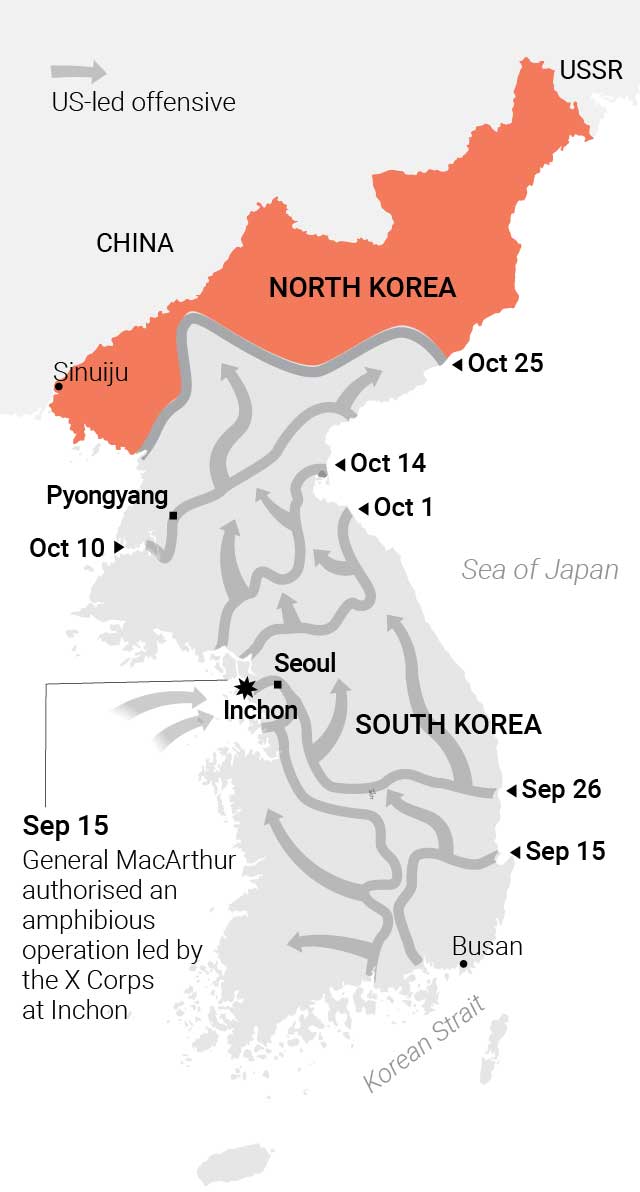 China's intervention
October 1950–July 27, 1953
In October 1950, the Chinese Communist Party Politburo debated whether to send Chinese troops into Korea. Chinese leader Mao Zedong eventually secured Politburo approval for intervention after Chinese military commander Peng Dehuai made a case that the US would use its position on the Chinese border to subvert the state. Then, the Chinese People's Volunteer Army launched its "First Phase Offensive" and officially entered the Korean war. Although 18 countries participated in the war, China has long known the conflict as the war "to resist United States' aggression and aid North Korea". It sent a massive influx of troops - nearly three million in all - stunning the US and its allies.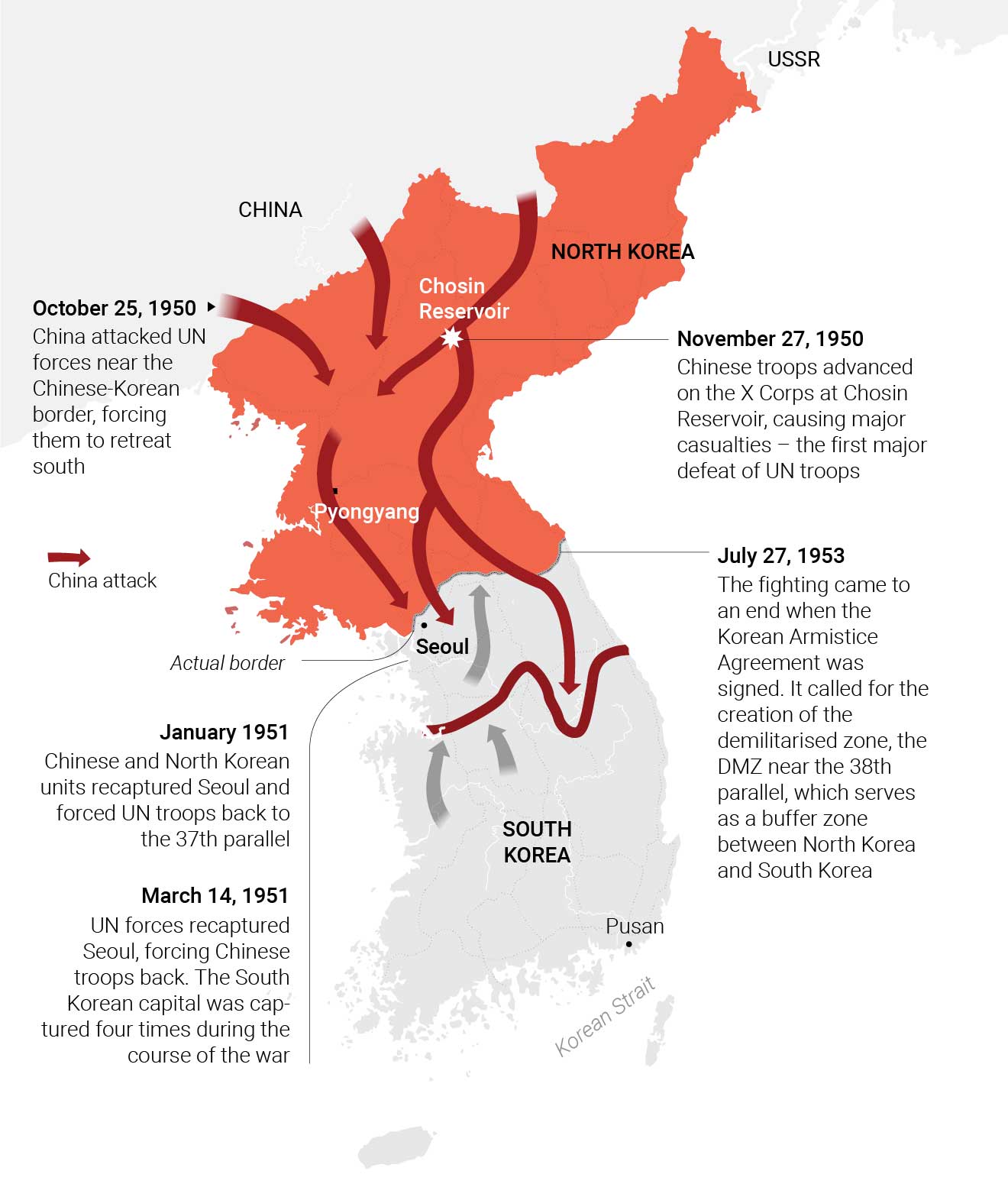 The military forces


Key players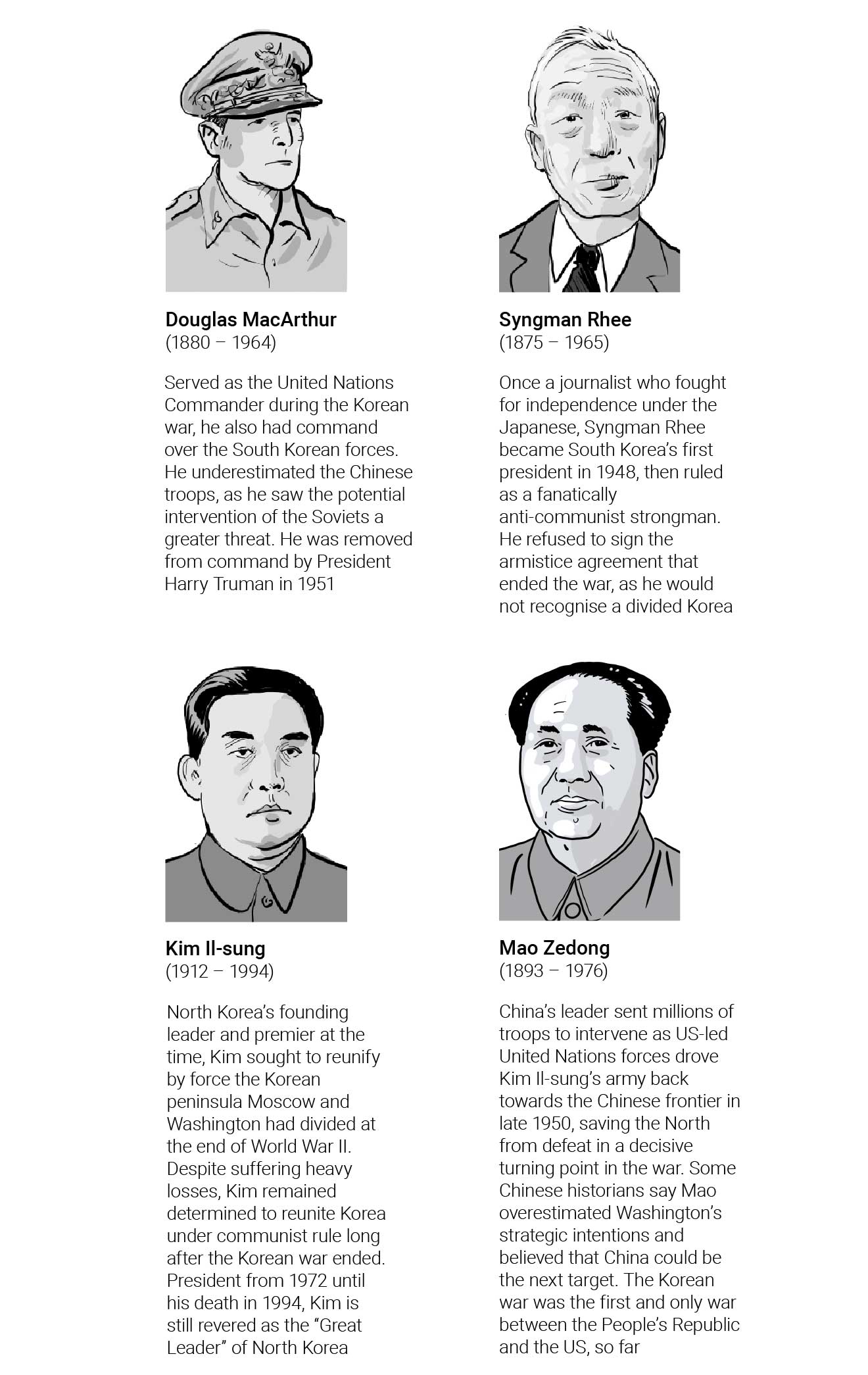 Death toll
Exact casualty numbers are difficult to establish, given the scale of the conflict and contradictory figures on all sides.


Associate Creative Director Marcelo Duhalde
Edited by Andrew London

Sources: South China Morning Post archives, US Department of Defence, Agence France-Presse
View the print version here