By Christy Choi
Beneath the city's skin, behind its walls and under the concrete runs a labyrinth of pipes and tunnels. These are the lifeline of Hong Kong's waste-water treatment works; veins and arteries of a mammoth undertaking that cleans the water.
"2.9 million cubic metres," said Edmond Ho Wai-kwong, the senior engineer at the Shatin Sewage Treatment Works. That's the amount of waste water that's treated in Hong Kong every day – enough to fill 1,160 Olympic-sized pools.
In the past, it was just organic matter and pathogens that most worried those caring for our water, but our obsessions with health, cleanliness, personal care and the advances in sanitation and medicine have added other hazards.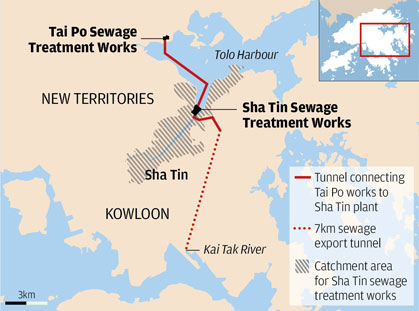 Swimming in our waste water is a mix of bacteria, human hormones, chemicals that mimic hormones, half-processed drugs and antibiotics, detergents, sunscreen, as well as urine, faeces and the little organic remnants of meals washed down when you do the dishes, all from the 7.7 million inhabitants and visitors to the city.
This cocktail of chemicals and organic matter, if released straight into the ocean, is bad news, especially for areas where the water stays for days before exchanging and circulating with the wider seas.
"Before the treatment works were built, Tolo Harbour was a dead zone," said Kenneth Leung Mei-yee, associate professor at University of Hong Kong's school of biological sciences. Leung is an expert in marine toxicology who studies the effects of chemicals found in laundry detergent, sunscreen and other substances we use in our day-to-day lives.
Before the late 1990s, the problem for Tolo Harbour was run-off from the pig farms entering the waterways. A potent fertiliser of faeces and urine contaminated the water and caused frequent algal blooms which used up the dissolved oxygen in the water and then died off, only to deplete the oxygen levels even more as bacteria took over to digest their carcasses. Without dissolved oxygen, most life stops in the oceans.
The pig farms are gone now, replaced with new towns home to around 650,000 people whose excreta is just as potent as that of the pigs. And, of course, all the chemicals of modern convenience and personal care, which do more than keep us clean and make us pretty.
"

Before the treatment works were built Tolo Harbour was a dead zone.

"
"The effects of nonylphenols have been well-documented to show that they can change the sex of fish," said Leung. Found in some detergents, pesticides, cleaning agents and cosmetics, nonylphenols are chemicals which mimic the hormone oestrogen. In high enough concentrations, they trigger gender changes by changing the balance of hormones in the bodies of fish, frogs and other organisms.
Scientists studying polluted areas of the Colorado River in the United States have found anti-depressant medication concentrated in the brains of fish, while Rebecca Kalper, an ecologist at the University of Wisconsin-Madison, found a chemical in the drug Prozac made male fathead minnows, a common US freshwater fish, stop reproducing and behave aggressively, even killing female minnows, while larvae exposed to a chemical found in birth-control pills, 17β-estradiol, found it harder to avoid predators.
There's also the matter of the antibiotics that Hong Kong doctors are so prone to giving out. Between 80 and 90 per cent of antibiotics we consume pass through the body without being broken down and end up in our waste water, allowing bacteria to develop resistance to life-saving antibiotics, according to the Alliance for the Prudent Use of Antibiotics at Tufts University in Boston.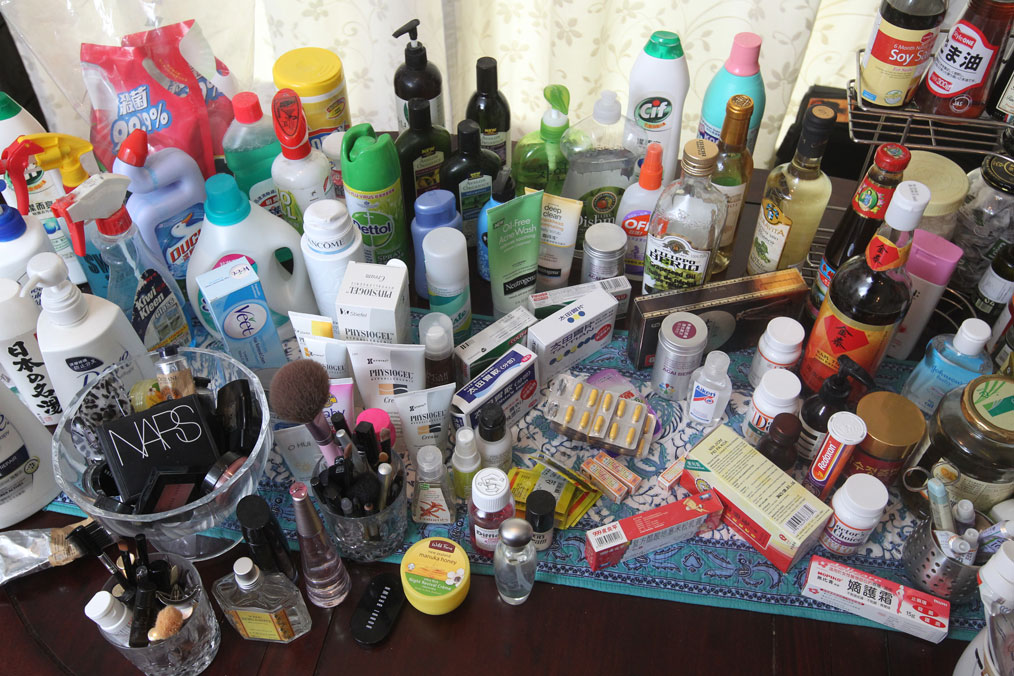 In Hong Kong it's hard to say what the impact has been. The few studies are inconclusive, with some showing results that are detrimental and others that there is no effect, says Professor Rudolf Wu Shiu-sun, director of HKU's school of biological sciences. "What's clear is that [chemicals are] all around."
But the effect, he says, would be much worse without primary treatment, in particular at the Sha Tin Treatment Works which can filter out between 50 and 90 per cent of most chemicals before they hit the water. And they're helped by unlikely allies.
"Amoeba, protozoa, tiny worms, bacteria, they're all in there," said Sammy Lee, the plant's resident chemist pointing to the murky grey water swilling about, bubbling, popping in the open-air aeration tank about the size of a small swimming pool. Lee stands at the fringes of the 28-hectare plant just off Tate's Cairn Highway, overlooking the once polluted Tolo Harbour. Life has returned to the dead zone, because of these micro-organisms that change the chemicals into their less harmful parts – nitrogen, carbon dioxide, and other basic elements.
Oxygen is pumped into the tank to encourage micro-organisms to multiply and eat away at the waste in the water. The balance is delicate, with temperature, oxygen levels, salinity and other factors altering the microbial ecology.
If the temperature is too low or there is not enough oxygen, the organisms that help the process begin to die off and the sewage starts to smell bad and produce an unsightly foam. It's a bit of an art getting the balance right, says Ho. "Plans are important, but experience is more so," he said.
Screening
Solids >6mm are trapped in the screen.
Degritting
Large sediments, such as sand, are removed.
Primary sedimentation
Removes 50% of suspended solids.
Biological treatment
Bacteria and other micro-organisms (activated sludge) are mixed with waste water to remove organic content.
Final sedimentation
Activated sludge is seperated from treated water.
UV disinfection
Ultraviolet light used to disinfect treated water and remove pathogens.
Discharge
Effluent is released into Kai Tak River, which connects to Victoria Harbour.
Sludge thickening
Liquid content is removed from sludge through press or centrifuge.
Anaerobic digestion
Sludge is treated in the absence of oxygen, and biogas generated is used to produce electricity.
Sludge dewatering
Sludge is further reduced to minimum 30% solid content.
Activated sludge is returned
Move over each step to see related media. Click the play button to see an animation of the process.
The team takes samples from the different tanks, around the clock, several times a day, to monitor how well the organisms are removing suspended solids, nutrients, toxic substances and inorganic nitrogen, among others.
On this summer day, the smell in the air is a little acerbic like the smell of a high school chemistry lab, but not the full-on assault on the nostrils prompted by raw sewage. "That's a healthy smell," Ho says.
The Sha Tin plant is able to clean up to 90 per cent of pollutants from the roughly 260,000 cubic metres of water it treats every day. But only 17 per cent of Hong Kong's sewage goes through this kind of secondary treatment.
Almost all of the rest is either simply screened or chemically treated to remove sludge and kill pathogens before being released in the surrounding seas by submarine outfalls. The bulk of it ends up in Victoria Harbour, flushed out by the Stonecutters Island Treatment Works at West Kowloon.
Unlike Tolo Harbour, Victoria Harbour's constant flows of fresh seawater in and out of the channels makes the possibility of pollutants accumulating in problematically high concentrations unlikely, Leung says. But he cautions that there could be cumulative effects in other areas around the Pearl River Delta that have yet to be recorded.
With this possibility in mind, the government has for over a decade considered turning the Stonecutters Island facility into a secondary treatment plant like Sha Tin, as part of Stage 2B of the Harbour Area Treatment Scheme.
Stage 2A is linking up more of the current network to the existing Stonecutters Island plant to reduce the amount of raw sewage that makes it into the water. Currently around 30 per cent of Hong Kong's waste water is released without chemical or biological treatment.
There are even ways to turn waste water into pristine, drinkable water.
"It all depends on how much you are willing to spend," says Professor Chen Guanghao of the Hong Kong University of Science and Technology. "The technology is there."
"

It'll be several hundred years before we change our ways.

"
In 2008, it cost around HK$1.2 billion to provide sewage services to the city. The Environmental Protection Department estimates the cost of secondary treatment to be about four to five times higher than primary treatment. And the cost of reverse-osmosis, which filters the water into pristine condition, is even higher. "It's not affordable," says Wu. He was unable to give a figure for how much it would cost.
But even if the science is there, the crux of the issue is human consumption and the habits of the city. "It'll be several hundred years before we change our ways," Leung says.
"I did a simple experiment with 120 students," he said. "Put a little sesame oil on their fingers and, once cleaned with detergent, another time with ordinary soap ... they all said they'd rather use the detergent, it took longer with the soap.
"Even after I told them the effects of what happens to the environment, they said: 'We'll try and use soap when we have time, but if we're in a hurry, the detergent is better'."